Suzy Amis Cameron (wife of Titanic director James Cameron) is calling all designers for the Red Carpet Green Dress design competition.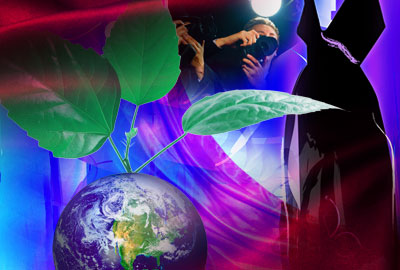 Through January 22, 2010, designers are challenged to create a red carpet-worthy gown made of natural/organic or sustainable materials. In addition, they are encouraging the designers to estimate their carbon footprints when creating their clothing lines.
The designs that are submitted will be reviewed and one will be chosen by Suzy Amis Cameron. The winner will have their design made by Academy Award winning Costume Designer Deborah Scott (who just so happened to dress the cast of Titanic as well as Wild Wild West, The Patriot and the upcoming film Avatar) and worn by Amis Cameron on an awards red carpet between February and March 2010. In addition, winner will get a trip to Los Angeles to consult with Scott on the design. They will also get a four-night stay at the Fairmont Hotel & Bungalows in Santa Monica; receive a private VIP tour of MUSE Elementary; and meet with Amis Cameron and her husband James Cameron.
Visit redcarpetgreendress.com to get full details about the competition – or watch this video:
Suzy Amis Cameron for Red Carpet Green Dress from Red Carpet Green Dress on Vimeo.
Follow the jump to find out more about MUSE Elementary.

MUSE Elementary, a non-profit, educational organization in Topanga, California, is dedicated to empowering children to realize the full potential of their lives through academic excellence, personal responsibility, compassionate relations, global consciousness and environmental awareness. On a magical 22-acre campus in Topanga Canyon, California, children from across the socio-economic spectrum come together at MUSE Elementary, a progressive, independent, non-profit school presently offering Early Childhood Education through 5th Grade. Here, young minds are stimulated and respected experienced-based learning, bodies are nurtured with fresh organic foods and an honor for all living things, including the planet, is cultivated daily. The MUSE Elementary Scholarship Fund enables us to provide financial aid to nearly 50% of our families.
MUSE Global, our growing international education and outreach program, facilitates real-world friendships, deep cultural understanding and meaningful shared projects between MUSE Elementary students and students at partner schools Mana Tamariki in New Zealand and Good Morning School on the Thai/Burma (Myanmar) border. The Global Program also enables us to provide educational and financial resources to a partner school with substantial needs. In Mae Sot, Thailand, just across the Thai/Burmese (Myanmar) border, Good Morning School educates the children of migrant workers who have escaped genocide in Burma (Myanmar.) As MUSE works to help them achieve a sustainable future, the children are sharing curricula, working cooperatively and experiencing the cultural appreciation that brings the concept of compassionate global citizenry to life.
SOURCE MUSE Elementary