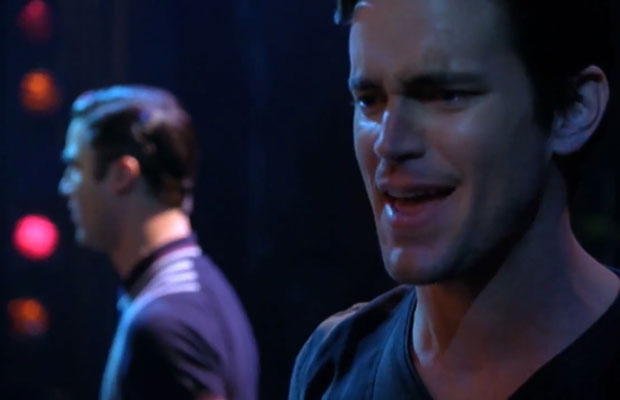 Darren Criss and Matt Bomer performing Somebody That I Used to Know on Glee.
Gotye's amazing duet with Kimbra, Somebody That I Used Know, has been stuck in our heads since the first time we heard it. We've literally played the song so many times, that if we had a record, it would be worn out. And as it goes with all hit songs in this day and age, it's only a matter of time until they're given a makeover by the cast of Glee. In this case, we LOVE it.
The song is performed by Blaine (Daren Criss), and his older brother Cooper, played by the unbelievably hunky Matt Bomer, whom you may recognize from White Collar. There are clearly some pent up feelings between the two characters, which they're able to beautifully express through song – and all that anger makes for some seriously sexy brooding. But, just before they're able to set aside their problems, the song is over. Maybe they could try singing it again? We sure wouldn't complain.
We're beyond excited to see Gotye perform the original at Coachella in less than two weeks – but we have to admit, we wouldn't be disappointed if Criss and Bomer decided to make a suprise cameo.
Follow the jump to watch the performance!
Source: Refinery29