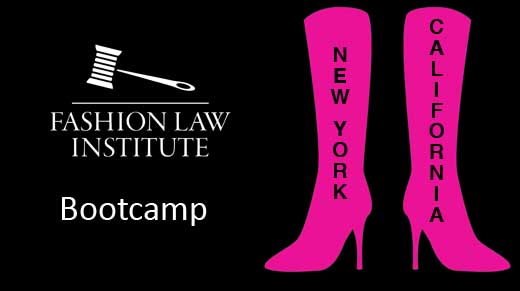 Ever feel like you need a crash course in legal issues and how they apply to building a successful fashion brand?  The Fashion Law Institute runs a summer intensive program, Fashion Law Bootcamp, for design professionals and students from all over the world, and it provides a comprehensive introduction to the substance of style, from intellectual property and international trade to sustainability, funding, and wearable tech.  Fashion Law Bootcamp – West Coast Edition is organized in collaboration with Levi Strauss & Co., and a full-tuition scholarship is available to the Academy of Art Univeristy community. Applications are open now, but hurry — Fashion Law Bootcamp starts soon!
DETAILS
WHEN:  August 3-8 (Monday-Friday 4-7:30pm, Saturday 10-7pm, plus optional field trips and a closing dinner).
WHERE:  Most classroom sessions will take place at the Fashion Institute of Design & Merchandising, 55 Stockton Street, San Francisco.
WHO:  Designers or their non-attorney employees are eligible to apply for a full scholarship ($3,900 value).
SCHOLARSHIP APPLICATION DEADLINE:  As soon as possible! Fashion Law Bootcamp starts August 3rd, and applications will be considered on a rolling basis in the order received.
Click here to apply now!   Under the last question, "Scholarship application (designers only)?" click  "Yes" and then submit.  (You can ignore the PayPal form — once you click "Submit Application," you're all set.)
More details about Bootcamp here, and about the Fashion Law Institute here.