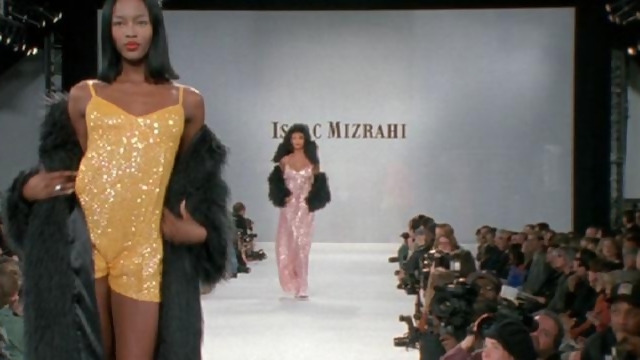 Naomi Campbell walks for Isaac Mizrahi. Image courtesy of MovieClips.com
With our New York Fashion Show coming up, and all the crazy cutting and sewing happenings here in the studio, my thoughts daintily tiptoed towards documentary fashion movies that focus on the backstage, pre-show happenings.
"Unzipped" (1995) is 80 minutes of highly entertaining fashion fluff! Directed by Douglas Keeve, the film follows Isaac Mizrahi through the months of creation for his Nanook inspired Fall 1994 Collection. I should qualify – Isaac is way, way down on the list of designers I pray to but, as a character on film, he engages us from beginning to end. As Roger Ebert pointed out in his review of the documentary, "He is smart, funny and a little crazy".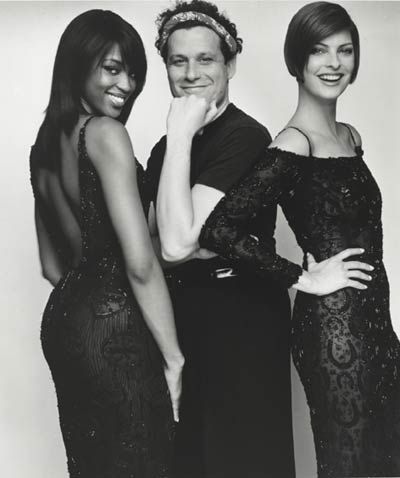 Naomi Campbell (left) with Isaac Mizrahi and Linda Evangelista. Image courtesy of Buena Vista Pictures Distribution, Inc.
Also, remember this period was the hey-day of Les Supermodels, so we get multi scenes of Naomi, Kate, Christy, Linda, Yasmin, Helena, and so on…think lots of fittings and kissing and walking. Priceless moments are in abundance. Particularly amusant is Kate's eye rolling expression and response when asked if she's okay with the audience seeing her get changed during the show, as well as the moment when Isaac finds out he's been  "Nanook'ed" by Jean Paul Gaultier. Add to that a splash of Eartha Kitt and Sandra Bernhard and you're good to go.
This weekend I'll be replacing the walls of my apartment with white scrim and hurriedly changing in and out of pastel pink, fun-fur frocks…just for the sheer, irresistible, goddamn glamour of it all.
Watch the above trailer from "Unzipped" and for more "Friday Box Offices" by Rob Curry, click here.