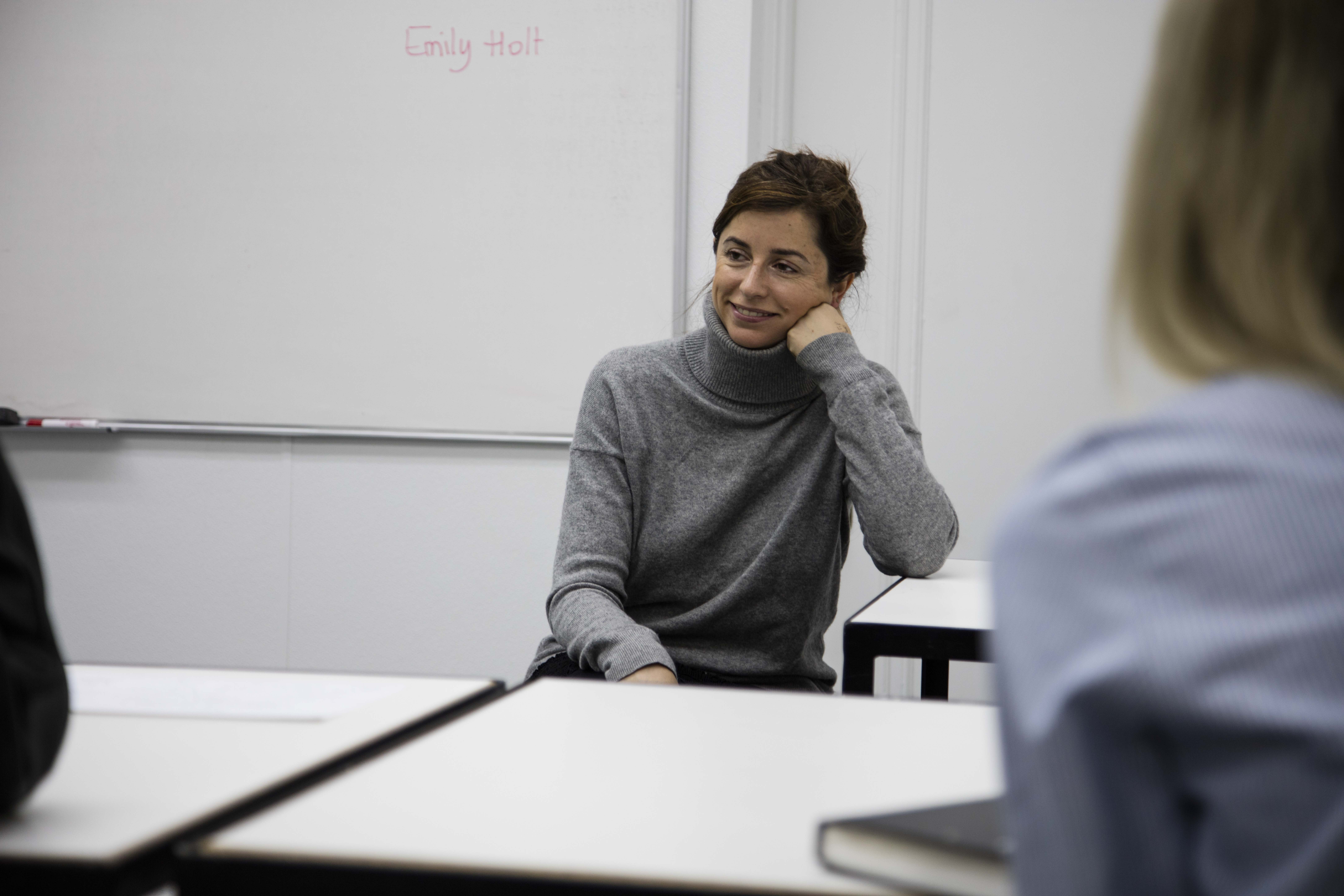 San Francisco is known for many things—tech, fog, bridges, food, counterculture—but of all the things the city is celebrated for, fashion is not usually one of them. In fact, the Golden Gate City is notorious for its style apathy, which isn't totally fallacious considering the number of locals that dress in the city's unofficial normcore uniform of Levi's jeans, cotton tees and basic hoodies. It's 2016 though, and the tides are turning. While San Francisco may be an outlier in the fashion world, all that may change come summer due in no small part to fashion maven Emily Holt. The former fashion news editor of Vogue visited the School of Fashion to talk to FSH 478 Editorial Styling students about her plans to revamp the city's sartorial reputation via her up and coming fashion and lifestyle concept store, Hero Shop.
Having worked alongside Anna Wintour for four years at the "fashion bible," along with an accumulated 11 years as the eye editor at W Magazine and Women's Wear Daily, Holt's keen perspective reflects years of hard-earned experience in a high fashion background. But Holt is a Californian at heart, and after years of working in the New York City fashion juggernaut, she decided to return to her Bay Area roots and use her bi-coastal fashion sensibilities to tap into the budding relationship between fashion and tech—an auspicious puzzle that is on everyone's mind, but has yet to be cracked.
Holt noticed that one asset missing from the urban milieu is a multifaceted fashion retail and concept store. London has Dover Street Market, Paris has Colette, New York has Opening Ceremony, and Milan has 10 Corso Como. Sure, San Francisco has the beloved Modern Appealing Clothing (M.A.C.), and a slew of other high-end boutiques scattered throughout the Marina, Hayes Valley, and Pacific Heights, but the city is still missing a novel retailer that's not only conceptually inspiring and consumer friendly, but that also encapsulates the area's eclectic and nuanced sartorial spirit. This apparent void prompted Holt to take matters into her own hands.
The first step in launching her concept store was figuring out the stubborn, if not elusive style mentality of the San Franciscan. Style is established through choice, and for locals, the daily decision of what to wear revolves around comfort and convenience, which makes sense considering most people live active lifestyles and there's no pervading pressure to dress to impress like a street style star. But somewhere along the line, comfort turned into lethargy, or in the worst offenses, indifference—the most unpardonable of style sins.
And despite the misconception that style and comfort are mutually exclusive, the two can coexist. "You don't have to look flawless," said the Bay Area native. "It's not about perfection, it's about personal expression."
Thus came the birth of Hero Shop, a style-centric, highly-curated fashion and lifestyle store that prioritizes individuality and personal expression. The retailer will (hopefully) jump-start the city's latent style identity and inspire everyone from the style savvy to the fashion illiterate to shop and dress with purpose.
The store is set to open summer 2016 in the Tenderloin on Post and Larkin Street—so get ready SF, it's time to step it up!
Written by Angela Han, BA Fashion Journalism.