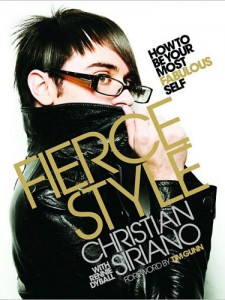 First or second week of October
CBS/KPIX Chanel 5 – website and the 10pm, 11pm and 6am newscasts
See faculty member, Robert Curry drops some knowledge about "the history of the necktie" with CBS 5's "Good Question" host, Ken Bastida.
Tuesday, Oct. 13th
2-3pm, Saks Fifth Avenue
Christian Siriano and his hair will make a personal appearance and book signing for Fierce Style: How to be Your Most Fabulous Self. We expect it will be a "hot tranny mess" of a good time.
Wednesday, Oct. 21st
Halloween window
Boris James-Davison and the merchandising students will install a sartorially spooky Halloween-themed window at 79 New Montgomery.
Saturday, Oct. 24th
9am-5pm Open House/Open Studios
School of Fashion Open House / Open Studios at 180 New Montgomery.

Sunday, Oct. 25th
6pm at Dogpatch Studios
Simon Ungless, Director of the School of Fashion, will join the B-52s' Kate Pierson as a guest judge for Wee Scotty's Project Junior Runway, featuring the creations of junior designers, ages 9-17. Tickets are $20 and include food and drinks and are available at www.brownpapertickets.com. Food? Drinks? Kate Pierson? Count us in. It sounds like a "wee" good time.