NEW YORK — Industria, the hub of everything New York Fashion Week: Men's, has been buzzing with designers and industry insiders filing in and out of fashion shows this week — and among them are a dozen recent fashion and textile graduates from the School of Fashion, Academy of Art University.
The Academy's students were selected as part of a partnership between the Council of Fashion Designers of America (CFDA)and New York City Economic Development Corporation, whose annual "Made in New York" initiative invites top talent from the country's design schools to present their work. Now in its second year, the  Fashion Future Graduate Showcase (FFGS) includes 53 graduates chosen from the fields of apparel, accessories, jewelry, textile and technical Design.
This week, I caught up with our recent graduates at the showcase. As they walked me through their presentation areas, I watched them connect with industry spectators and design students from other schools. They spent the past year researching, designing and creating their collections; it's exciting to see such a positive outcome.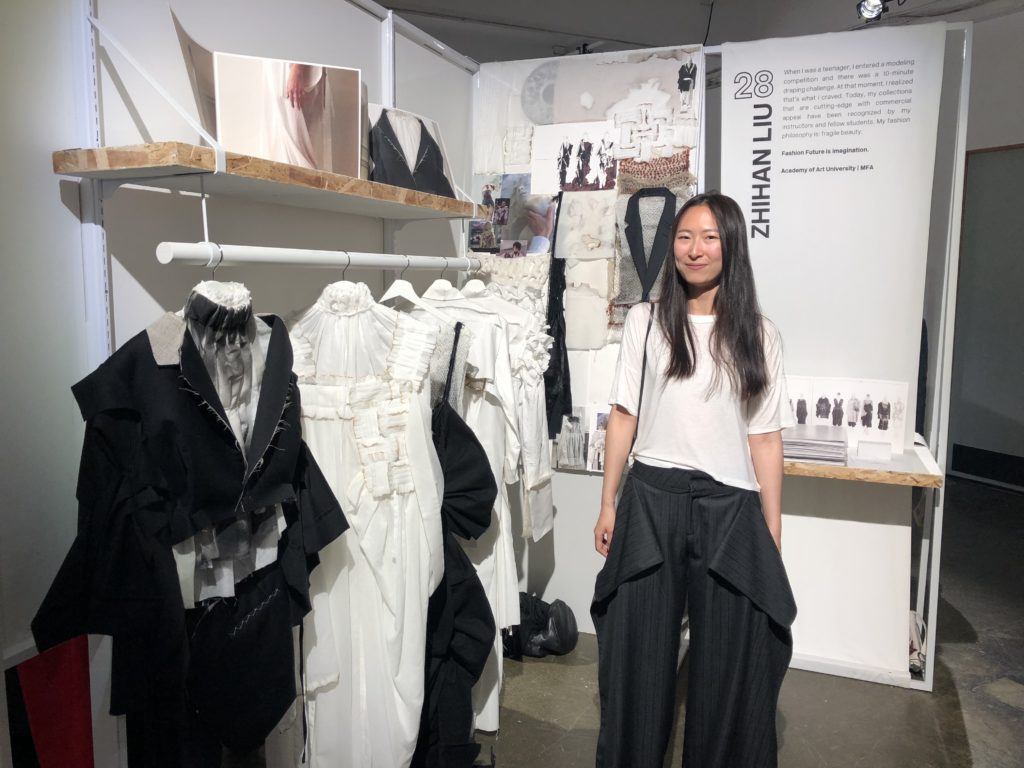 "I really like how Academy of Art University and the CFDA have supported us through everything," said Zhihan Liu, MFA Fashion Design, whose projects received recognition for their urban aesthetic. "I really appreciate that it has given us a chance to talk to other designers and get suggestions. This experience has been really cool."
It's been a long process for these designers, most of whom arrived during the weekend to check out the space, set up, and get ready to show their work. Emily McCarty, BFA Textile Design, and her collaborative partner, Hanh Nguyen, BFA Fashion Design, cozied up together in a back corner, hailing down people to discuss their senior collection.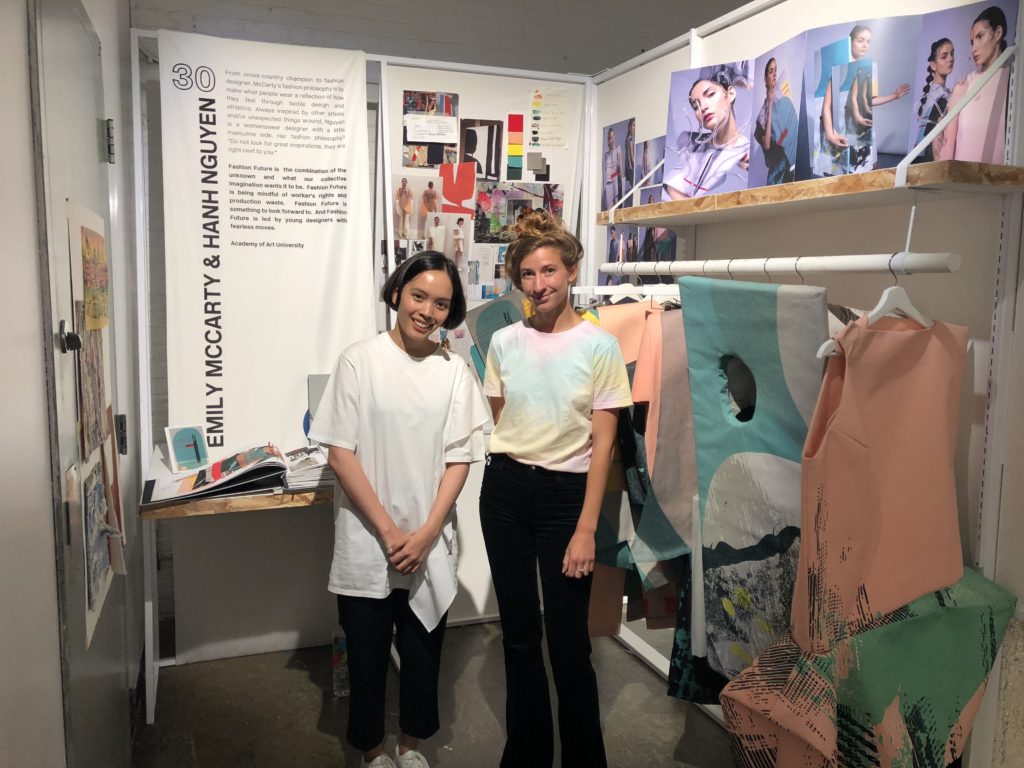 "Setting up was really fun. We got to 'collage' and put all our artwork up," says McCarty, whose textiles for their senior collection came from King Krule's album The Ooz. " It wasn't necessarily nerve-wracking, but the first day you don't know what to expect. As soon as people started coming in and asking questions, I understood what to say about my project. It was really exciting to evaluate how I created my project in a perspective that is a little further removed from when I was actually doing it. It made me appreciate all the work I put into it a lot more."
Some challenges did arrive. Academy of Art University attracts students from all over the world; "It can be difficult for a designer to express themselves in a different language", said Changsheng Yu, MFA Fashion Design, who occasionally found it difficult to convey his design concepts.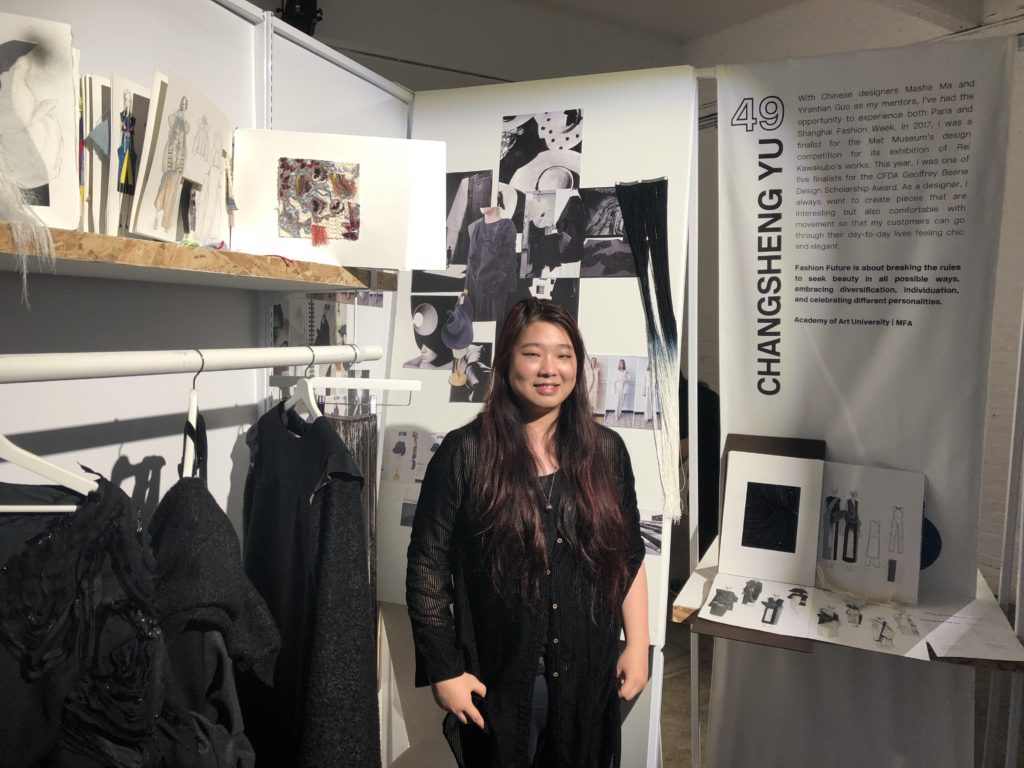 "English isn't my first language, so I have to think of the inspiration in my head and then say it aloud; that transition has been a little difficult," he said. "It's interesting because it has made me more fluent when I am explaining my work, so I am grateful that I am getting better at that."
If the first day was filled with jitters, the second day seemed to come with a lot more ease. After having gone through the motions a couple times, the designers began to find their groove, feeling more confident about what they aim to portray.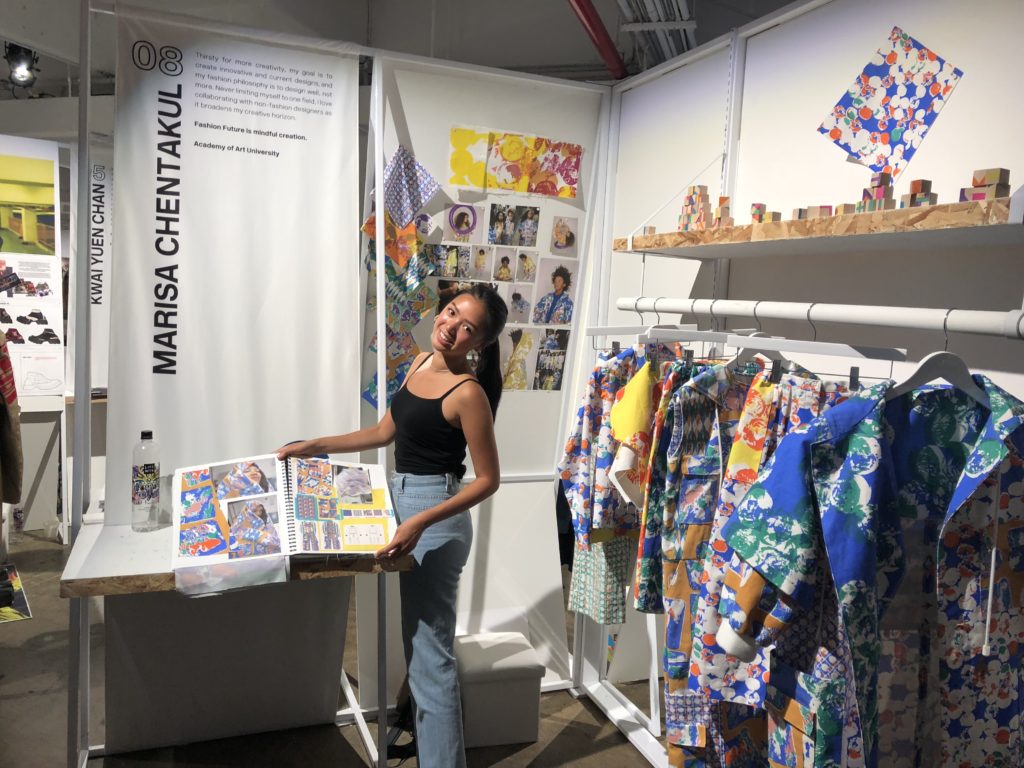 Marisa Chentakul, BFA Textile Design, whose collection was aimed at challenging the textile side of childrenswear, was eager to take me through her process of coloring wooden blocks, redesigning them in Adobe Photoshop, and then finding different ways to interpret them onto garments. When I asked her about her overall experience she said, "It's been amazing. The people who have come in really took time to look at my work and give me feedback. It felt like being part of the industry. People's comments were so professional, and with those comments I can elevate my designs even more. "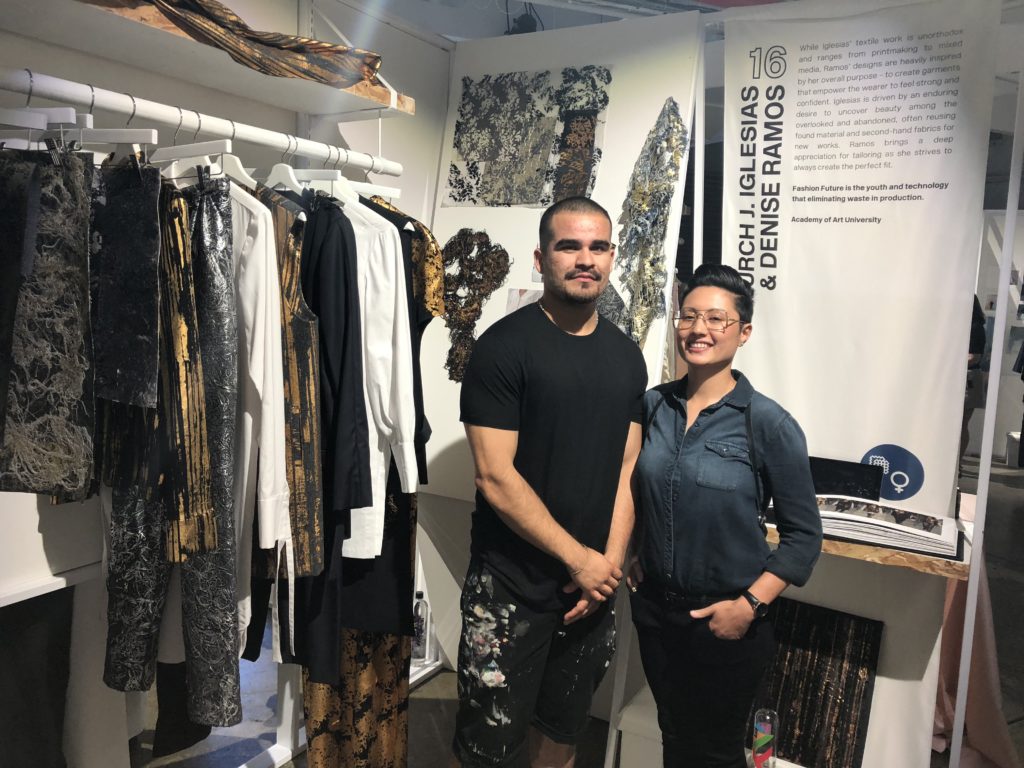 Overall, every graduate expressed a great level of appreciation for their experience at the Academy and the CFDA for hosting of the graduate showcase. Some designers are excited to get back to San Francisco; Denise Ramos, BFA Fashion Design, wants to use what she learned from her collaborative project with Church J. Iglesias, BFA Textile Design, to create custom suits tailored for women. However, most of the graduates are hoping that this experience will expose them to professional opportunities in New York.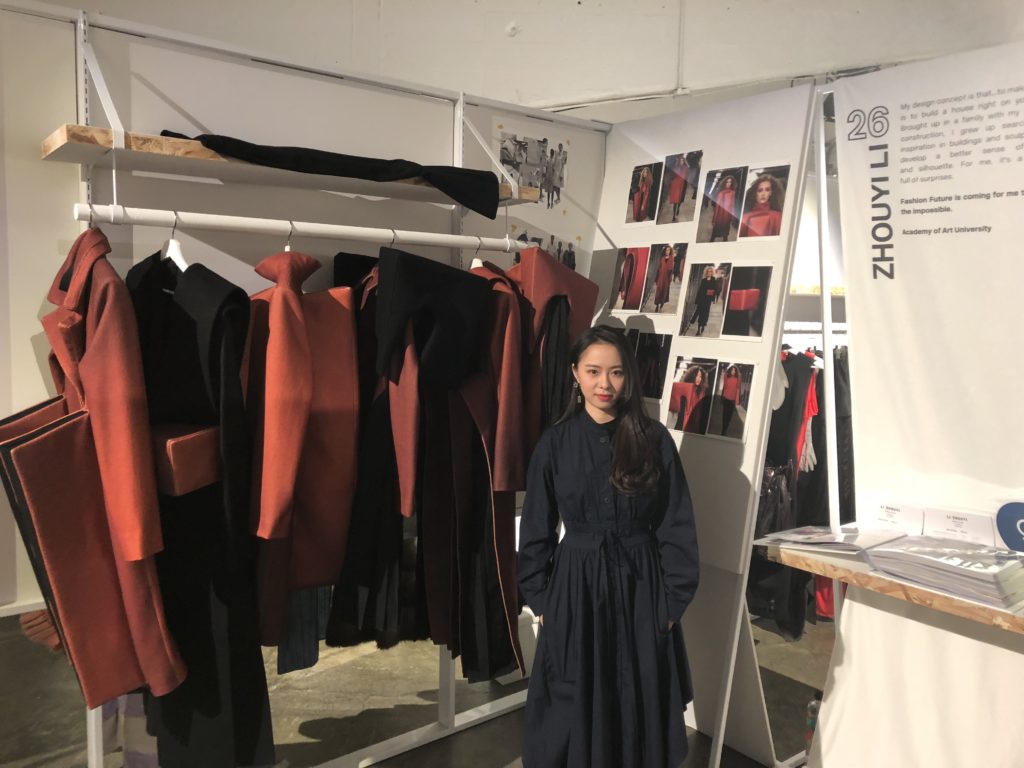 On Wednesday, July 11, the graduates from Academy of Art University's School of Fashion plan to support Zhouyi Li, BFA Fashion Design, as she is one of four designers selected to participate in a group fashion show. Her collection is inspired by sculptures of Richard Serra, incorporating black and rust gradients that she has digitally printed on cotton and wool fabrics, building clean 3D shapes that appear to be slicing through the body. When asked if she was nervous about the show, she shrugged shyly. "I like trying new things," Li said. "I think the clothes will look crazy; it's like building a house on the body. It'll be very interesting."
Text By: Amy Burke, MA Fashion Journalism