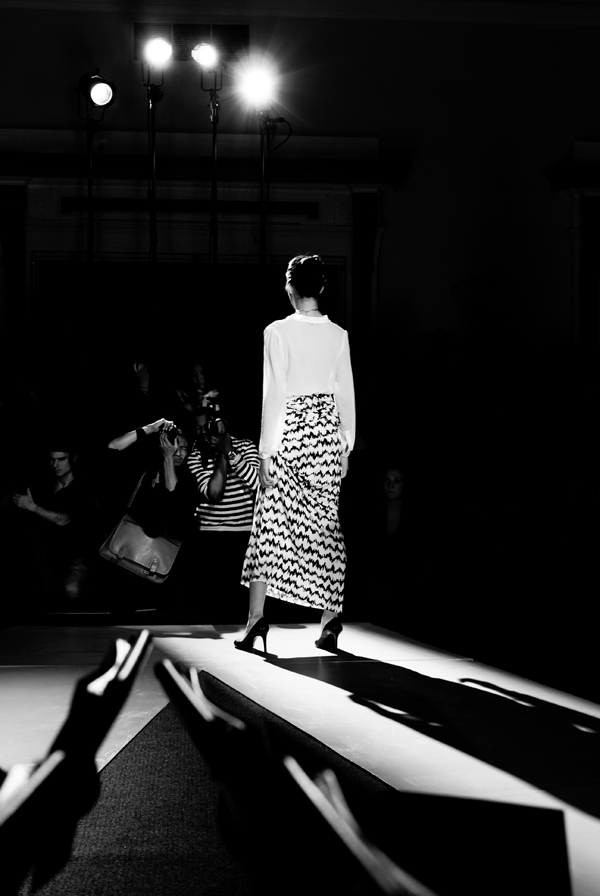 Photo by Melvin Harper.
Just a short week ago, a group of students waited nervously as the atrium lights flickered, inviting guests to take their seats. The designer duo behind Tart Collections, Jamie and Dana Finegold, sat front row amidst faculty and the style savvy public, all observing the fashion scene. One minute to show time, and three months of hard work would be summed up in twelve glorious minutes. The students strove to offer the public a fresh look at a beautiful collection of clothing and demonstrate their ability to produce a full-fledged runway show, shedding light on the fact that production takes team work, trust, and a few trials.
The collection displayed the best of what Tart had to offer for the holidays. Graphic black and white printed wrap dresses morphed into sleek separates and evening suits as the show went on.
Follow the jump to read more!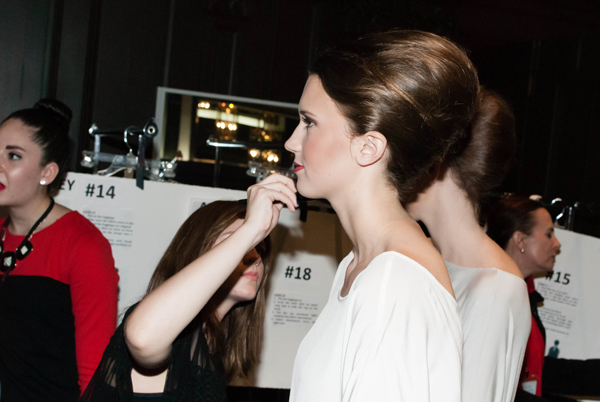 Photo by Melvin Harper.
The eleven members of the class each had their own part in creating everything from the programs and guest list to the runway. But they didn't do it on their own – several schools within the Academy of Art University pulled together to contribute their artistic talents. The music score, an upbeat and energetic track, was made just for the occasion. Students from Multimedia Communications were abuzz, interviewing guests and recording the scene as it unfolded. Motion Pictures & Television shed light on the runway and created a video to give the guests a peek into the students' process in the days leading up to the big event.
The show went off without a hitch – quite a feat for our burgeoning event producers and a testament to their perseverance and dedication. They worked their way through difficult situations and unforeseen issues, surpassing expectations with a show that was poised, professional, and thoroughly entertaining. Congratulations to the students in FSH 363 and a huge thank you to everyone who contributed their time and creative abilities to the show!
Written by Michaela d'Artois. Read more from Michaela on her blog, Fashion415.