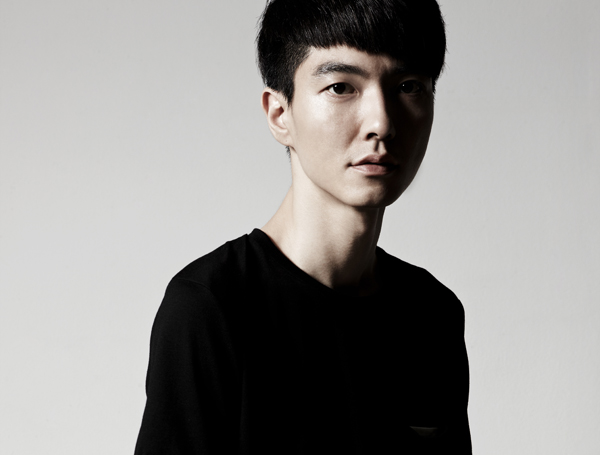 Photo Courtesy of Munsoo Kwon.
Our latest Alumni Update features Munsoo Kwon, a 2007 BFA menswear design graduate who recently launched his own eponymous collection! Munsoo is already well on his way to becoming a household name, having been featured in several Korean publications including ELLE, Nylon, and L'Officiel Hommes – and he was even touted as one of six emerging Korean menswear designers by Esquire. We were able to steal a few moments of Munsoo's time to discuss his road to success and asked him to offer some words of wisdom to our fashion students.
Can you tell us a little bit about your background?
I was born and raised in Seoul, Korea until I moved to San Francisco in 2003 to attend Academy of Art University where I graduated with a BFA degree in Menswear Design.
My family has been involved in the fashion industry for over 26 years in Korea since my father founded a company in 1988 that has become the family business. Ever since I was little, my parents would dress me up in nice fancy clothes most of which were imported, which was quite rare back then. I was naturally exposed to the world of fashion and definitely believe I inherited my fashion DNA from my father. 
And how was your time as a student at the Academy of Art University?
I was a quiet international student who just studied really hard. 🙂 haha 
Follow the jump to read more!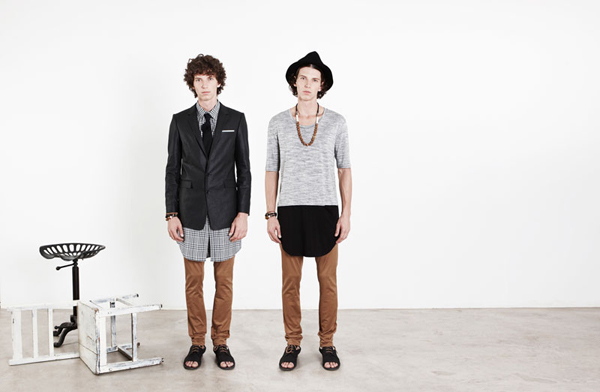 Looks from the Spring '13 collection. Photo Courtesy of Munsoo Kwon.
Any favorite memories?
The School of Fashion organized an amazing graduation show in 2007, which was held at a "fashion tent" for the first time in its history, and I was selected as a finalist for the menswear show. My parents and younger sister flew over to San Francisco from Seoul to watch the very first fashion show of my life, which is one of the memories I still cherish the most.
What did you do after graduation?
I moved to New York after graduation as I wanted to work for a designer label that participated in New York Fashion Week. I had internships with Yigal Azrouel, Thom Browne, Helmut Lang, Siki Im and Robert Geller. Then I was able to work as an associate designer for Buckler for 5 consecutive seasons. It was a great experience and I learned a lot there working with Andrew Buckler and the rest of the team. After Buckler, I finally moved back to Seoul to launch my own label.
What inspired you to break out on your own?
I started preparing for my own collection right after I moved back to Korea. Launching my own label has been my dream and a professional objective since back in my school days. I had built 4 years of solid experiences with very prominent designers in New York and by then, I had been living outside of my country alone for about 8 years. I then realized that it was time for me to go back home and spend some time with my family who I had been apart from for a long time.
I wanted to tell my stories with the first collection, and therefore, the loneliness and emptiness I felt in the complex city of New York is reflected in my line for 2012 FW.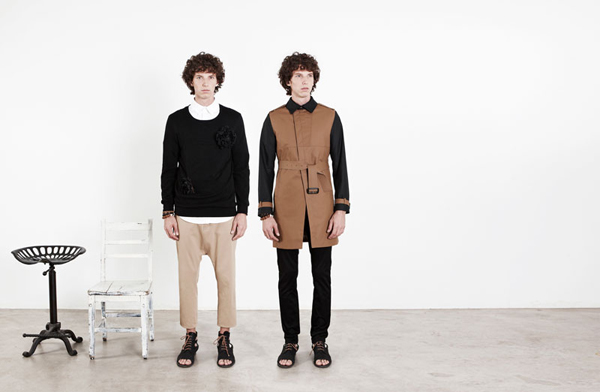 Looks from the Spring '13 collection. Photo Courtesy of Munsoo Kwon.
How did it feel designing your first full collection?
It was totally different from working for somebody else. Having my own collection allows me to show my personal philosophy and the aesthetics I believe in, but at the same time, I need to take full control of everything, not only just designing but also in terms of running the whole business, if you will.
However, you can't even compare how it feels when you first get the samples for your own collection in your hands. Definitely one of the best moments in my life!
What have been the hardest and most rewarding aspects of having your own line?
I encountered problems that a lot of new designers have, such as not being able to reach minimum quantities for production and therefore having to pay higher charges. I wasn't really familiar with management of a business as I had always been involved in the creative part, and these unexpected problems had were quite difficult for me to handle at first.
In the end, though, as I said, I can fully communicate with my own line, so just having my own line itself is the most rewarding aspect.
What was the inspiration for your Spring collection?
I was deeply inspired by an American architect Robert Stone, and his solo-built pavilion, Rosa Muerta in Joshua Tree. My Spring/Summer 2013 collection reflects the monochromatic black architecture of the pavilion, which is rooted in modernism with details that are both structural and ornamental.
What advice would you give to students or alumni in the industry?
I strongly recommend doing as many internships as they can. You always learn something different from each opportunity and are able to do all different sorts of work with different designers. Each brand/company has a different atmosphere and work system, so you are exposed to various environments, which will later become the stepping-stone for you to grow as a more experienced designer. Every project you take on or every person you associate with during your work experience will make you a stronger survivor in the fashion industry.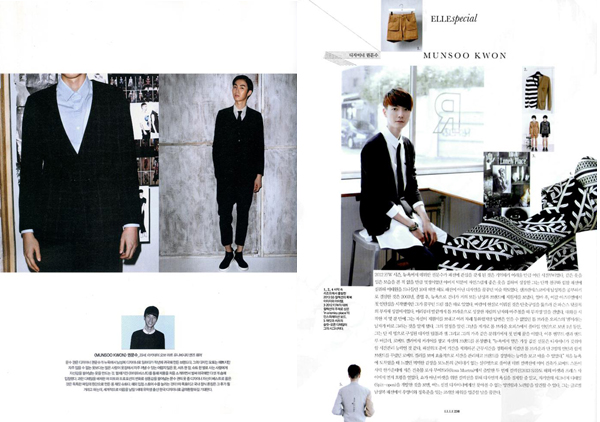 Munsoo Kwon featured in Esquire Korea and ELLE Korea.
Thank you Munsoo! You can keep up on his line on his website and Facebook.