Sending a collection down the runway at New York Fashion Week (NYFW) is, perhaps, every fashion designer's dream; however, today we see the re-emergence of a more intimate medium to showcase fashion: the showroom. One's ability to to feel the fabrics, talk with designers and examine the construction techniques translates 'a collection' into a completely different level of understanding and appreciation.
Intricate details can go unnoticed when a garment is rushed down the runway, obscured by bright lights and flash photography; those fleeting seconds are simply not enough. "The runway show goes by so fast and through the movement a lot of things don't get noticed," said assistant technical designer Gia Falati, who worked with almost every Academy of Art University graduate designer on their collections.
"As a designer, you spend a massive amount of hours on your work, and you want somebody to come and appreciate the craftsmanship and skill, like you would if you were at a museum," said Academy of Art University graduate fashion designer Nicholle Jones, who showcased her collection, Mysterious Manner, at this year's NYFW show. Jones's collection consisted of what she describes as "masks for the body," featuring forms reminiscent of a modern-day beekeeper and made from a millinery fabric called sinamay. "The first thing people want to do is touch it, because they don't recognize the material," she said. "Being able to feel it has a completely different experience."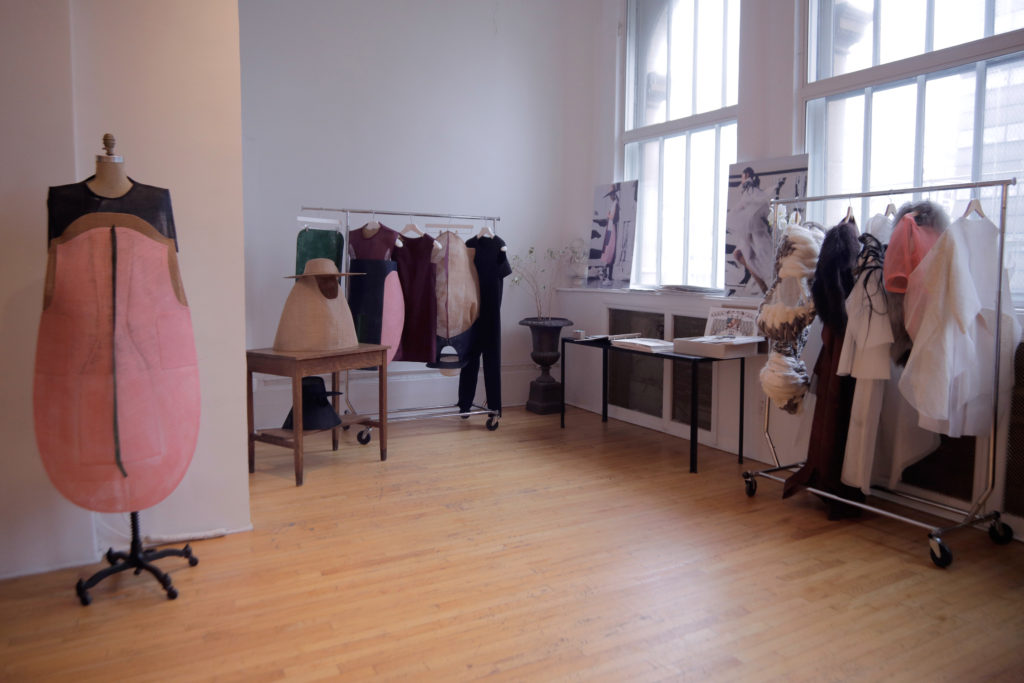 This is certainly true of many of the designers for whom texture was a basis of the collections, such as M.F.A. knitwear design student Vivid Yunan Ma. Her combination of techniques such as loop crocheting, ripple stitching, and ladder-stitching, resulted in varying textures and dimensions, the full extent of which can only be appreciated by physically touching the garments. This also applies to the collaboration between Katy Fang Liu (textiles), Mark Kazu Mekaru (fashion design) and Amo Chou (knitwear), which features fraying, buffering, discharging, ladder-stitching and other techniques that culminate in contrasting textures and layers.
Interacting with the designers also reveals details not provided by a runway show. One of the designers, Snežana Aničić-Van Pelt's garments, for example, used real human hair that she ordered on Amazon. The green color palette of fashion design collaborators, Esther Tian Qi and Ting Ting Cai, was inspired by the green highlighter they used during their research. After chatting with Zibo Wang, you learn that the reason her pastel pieces are speckled with embroidered toy soldiers is that she was born in a military compound in China.
Viewers are also able to admire innovative and intricate construction techniques through the showroom experience. For Zhihan Liu, it's the edges of garments that she burned with a lighter, to create blackened, frayed edges. She also hand-tied and stitched pieces of fabric onto a shirt – an extremely time-consuming process – to create an alternative ruffled look.
In the case of Longwen Li (fashion design) and Kiwon Kang's (textiles) collaborative collection, inspired by glitch art and the film "Revenge of Nerds," it's the closure details. What looks like an ordinary button-down collar is actually attached to the shirt at the seams, and the multiple pockets and seams that give the garments a tailored edge are only visible upon closer examination. For Changsheng Ya's collection, it's the unique texture of twisted, sculptural circles that he created using a straw hat as draping material; and, for Lusha Wang, it was the yarn she hand-wove and strategically bound to represent constraints on women.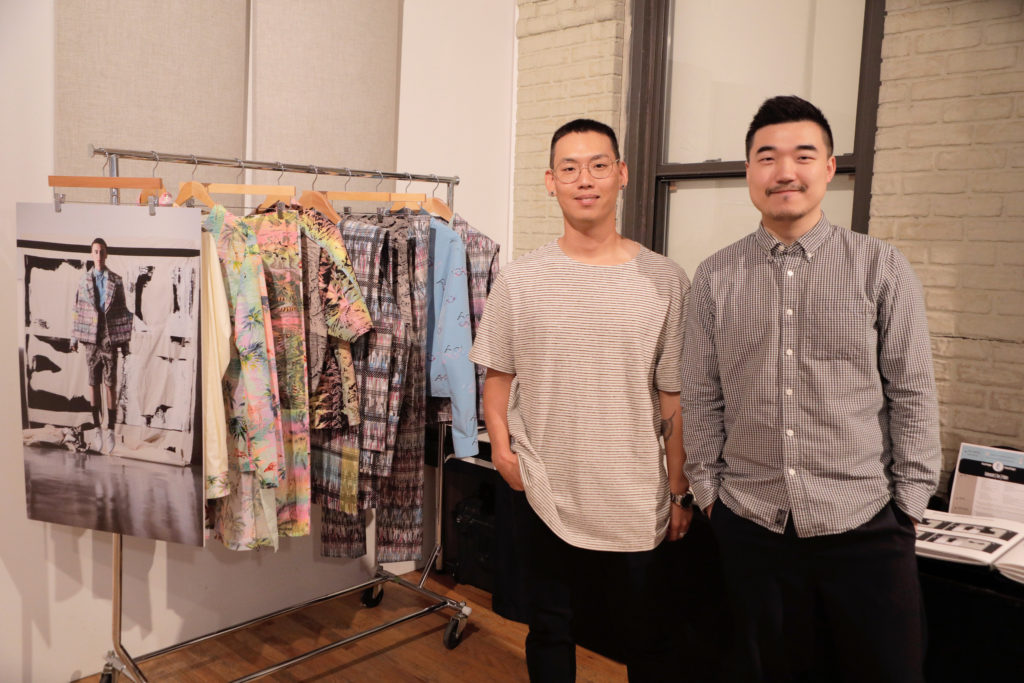 For many designers, the technical construction of the garments are complicated and unique; ironically, it is the fact that these techniques are undetected that makes them successful. When sewing patterned fabric together, lining up seams and patterns is tricky.  "I put eight seams to build the shape, then I had to match the pattern. What you see looks like one piece, yet it's a trick, an illusion, and its hard to recognize that on the runway," said designer Yoonsuk Lee, whose collection incorporated traditional men's tailoring techniques into his womenswear collection.
The bright colors and juxtaposition of patterns of Jessica Lai's collection, inspired by pop art colors and graphic designer Olympia Zagnoli, demands that her work be seen up-close — just like a viewer would when admiring Zagnoli's designs. And Justing Kong Jiang's Salvador Dali-inspired collection has perhaps the most interesting secret: patterned fabric hidden beneath insulation paper is revealed only when a flash photograph of the garments is taken.
It is this unique way of experiencing collections that makes it understandable why so many established designers are choosing to forgo the traditional runway experience and opt instead to showcase their designs in more intimate settings, like showrooms, salon presentations and parties. The showroom setting also meets industry standards, allowing industry professionals and members of the press to meet with designers for potential new projects, collaboration and career. Will the showroom experience one day surpass the runway? Only time will tell.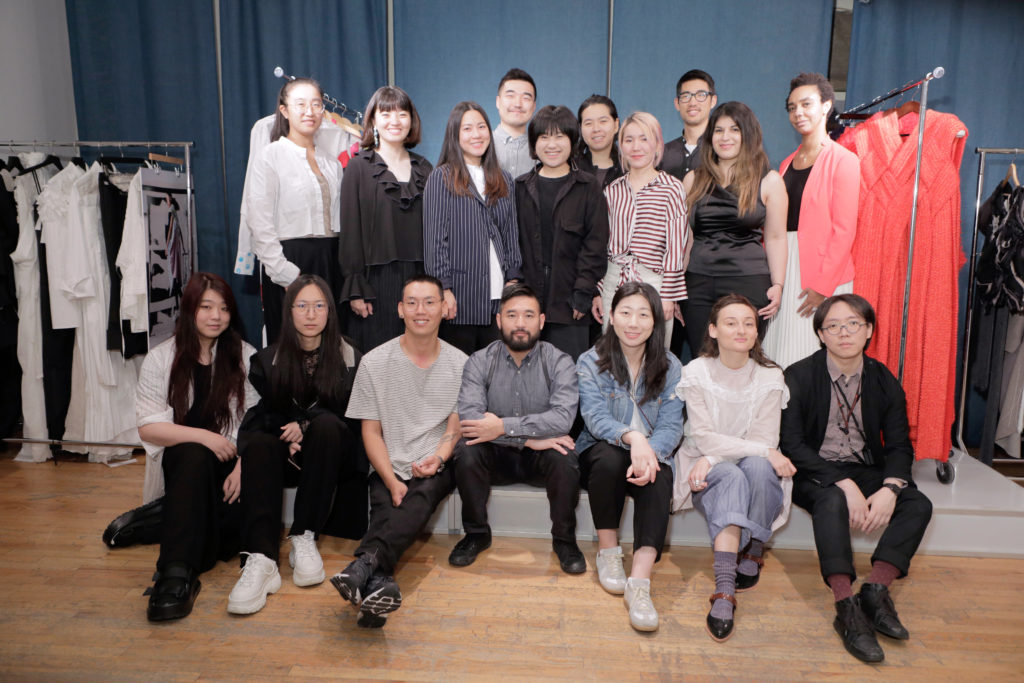 By Adriana Georgiades, M.A. Fashion Journalism