Great fashion often comes with a great story, and over the years San Francisco's de Young Museum has advocated for the exploration of some of fashion's most favorite stories, including exhibitions highlighting iconic designers such as Jean Paul Gaultier, Yves Saint Laurent and Oscar de la Renta. 
Today, the museum hosts its newest fashion exhibit: it is the first ever major museum exhibition to explore the many facets of Islamic dress: "Contemporary Muslim Fashions" incorporates aspects of dress, film, fashion photography and social media to narrate a diverse interpretation of Islamic cultures through the individuality of Muslim voices from around the world. Exhibition set was designed by Hariri & Hariri Architecture, a New York-based firm run by Iran-born sisters Gisue Hariri and Mojgan Hariri. Their display uses vivacious color schemes, intricate details inspired by rich Muslim antiquity to create an exciting space to present this groundbreaking collection. 
"Fashion is a very soft way to make your political point," said Jill D'Allessandro, the de Young's curator of costume and textile arts, who developed the show with assistant curator Laura Camerlengo, to San Francisco Magazine. "The idea of making something beautiful and accessible to all faiths, ages, creeds, and religions is really an important stance right now."
Islam is the fastest growing and second largest religion in the world with currently 1.8 billion practicing Muslims. The exhibition highlights how the people of Muslim faith have shaped clothing through the interpretations of their religious principles, local customs and current trends, showing the regionality and style of "modest dress." With a look at the history of certain garments such as head coverings including the hijab, burka and turban, the exhibit displays how clothing has stimulated conversations globally.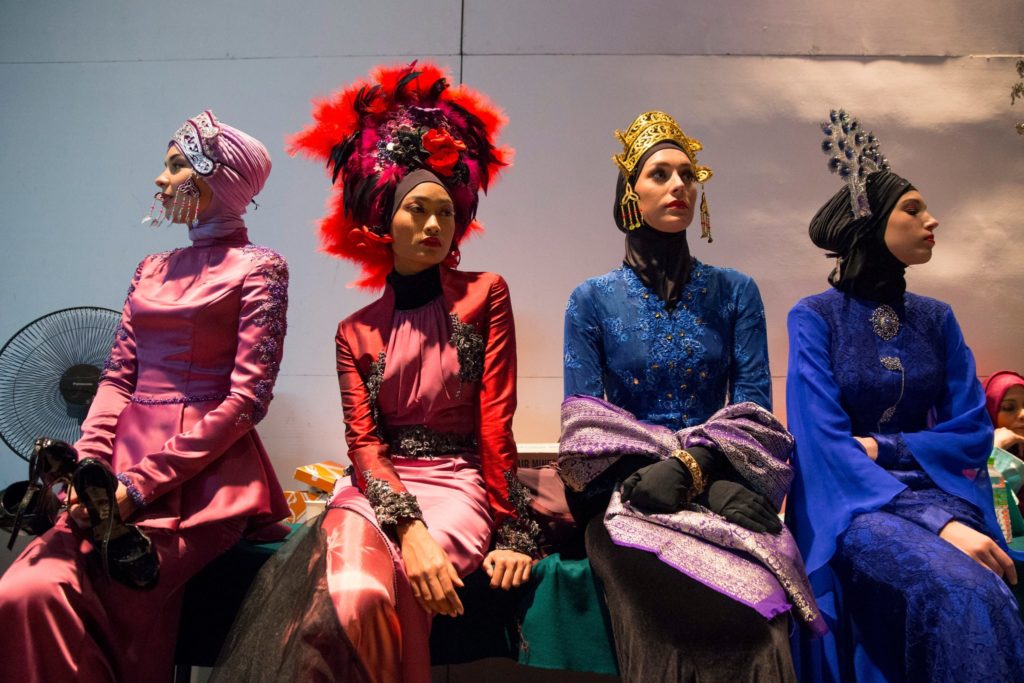 "At a time when Muslim women are being increasingly targeted for using their fashion choices to assert their independence and identity, we hope that this exhibition will allow a positive review and examination of a community that's often talked about but rarely given the chance to speak and present itself," the Hariri sisters said in a statement.
The exhibit is timely: Muslim fashion has heavily relied on different mediums of art and social media to catch the fashion industry's attention; meanwhile, the rest of fashion and the Western world have started to take note, from high-end examples like Oscar de la Renta's Ramadan capsule collection and D&G Modest fashion collection to the adaptation of street wear and emerging artists. It is a must-see for anyone fascinated by the complexity of cultural dress.
Contemporary Muslim Fashions is on display at the de Young Museum through January 6, 2019. For more information, visit : https://deyoung.famsf.org/exhibitions/contemporary-muslim-fashions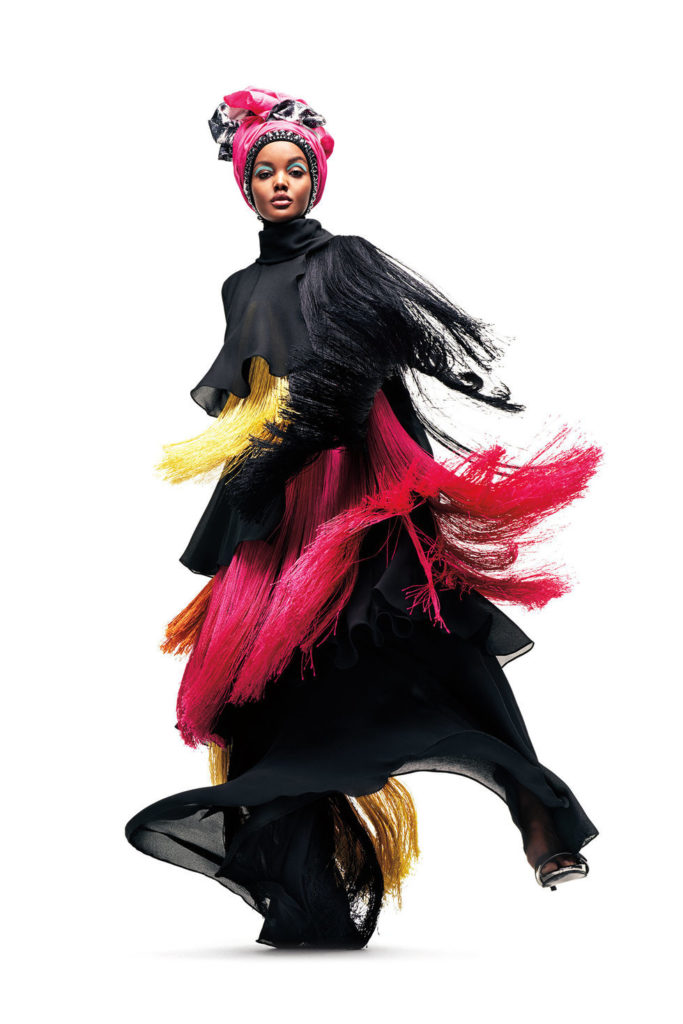 Fashion Diplomacy
This Friday, October 5th from 7:00pm – 8:00pm, the de Young Museum will host a fashion talk,  "Fashion Diplomacy: The Unspoken Rule of International Relations," in the museum's Koret Auditorium. The presentation will be delivered by Stephan Rabimov, director of the Fashion Journalism & Social Media Center at San Francisco's Academy of Art University. 
In "Fashion Diplomacy: The Unspoken Rule of International Relations," Rabimov, who was raised who was raised in a bi-religious home, which included Islam, will discuss the role of fashion within cultural diplomacy during an era of economic globalization, nationalist movements and the popularity of Instagram.
"I see my talk as complementary to the exhibit," Rabimov says. "My goal is for people to understand that the notion of putting on clothes every day is universal to everyone around the world, whether you are Christian, Muslim, Buddhist or any other religion, and therefore seen as a common language we can use to communicate with each other."
Rabimov will address the political considerations of style within different roles of women such as the First Ladies, Olympic athletes and airline attendants from around the world, but also within Muslim countries, using fashion to brand their countries and cultures. His experience of more than 15 years working on the intersection of international relations and public affairs in the fashion industry has inspired him to lead conversations on the topic of fashion diplomacy globally.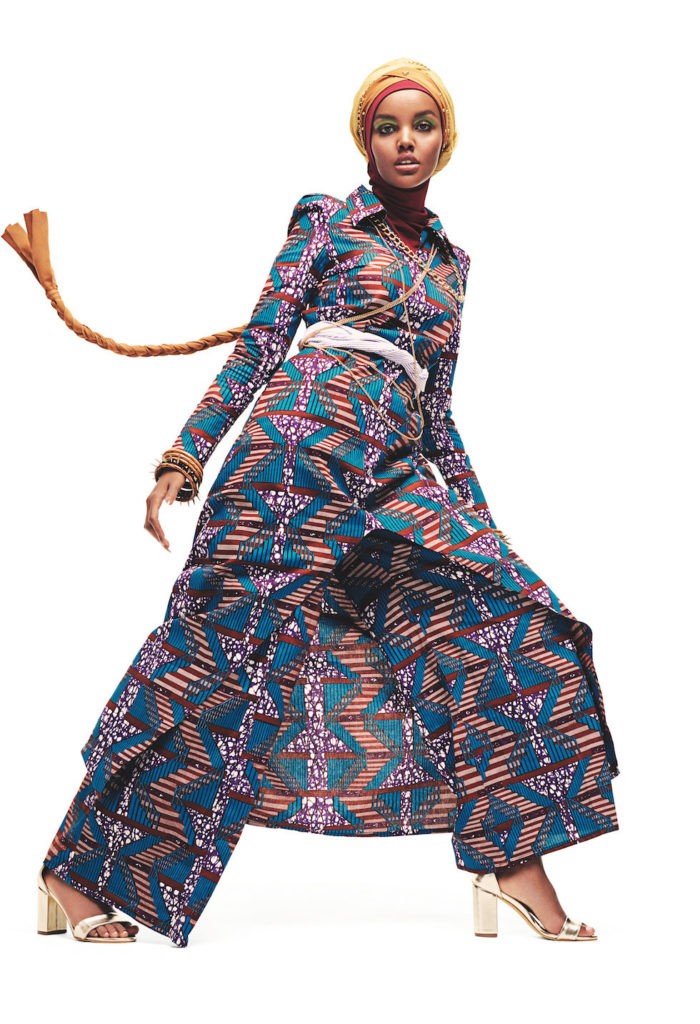 "There is something to be said about using fashion as a reason for conversation," Rabimov said. "I hope when people walk away from this talk, they will pay closer attention to what everyone is wearing from a president down to an individual, and inquire about why an individual wears specific fashions. What inspired then? Do clothes carry a special message or meaning? And ultimately through these questions we create conversations and learn something about each other."
The free talk will be held in The Koret Auditorium on October 5 from 7:00pm to 8:00p.m. It is first come, first served. To register click here. 
Text by: Amy Burke, MA Fashion Journalism