B.F.A. Fashion Design Student Mariana Suarez collaborates with the School of Industrial Design and General Motors
Initially, Mariana Suarez wasn't convinced, but when course instructor Antonio Borja, who teaches the industrial design class called Corporate Sponsor (IND 494), told her to "treat this [class] as if it were a fashion project," she knew that her skill-set was up for the challenge.
Suarez turned out to be the only fashion student to participate in the class during the Fall of 2017. "IND 494: Corporate Sponsor," which convenes every spring, fall and sometimes summer, is a course that enables students to actively work with the industrial design industry while being guided and mentored in an educational setting. There's "more nurturing and more exchange" says Claudia Dallendoerfer, who is co-instructor for the fall class.
For Suarez's semester, the class partnered with General Motors to design five 2025 Buick Velite cars. To complete this project, students from the schools of fashion, graphic design, industrial design, and web design/new media had to collaborate to provide GM with their vision of what the Velite could be.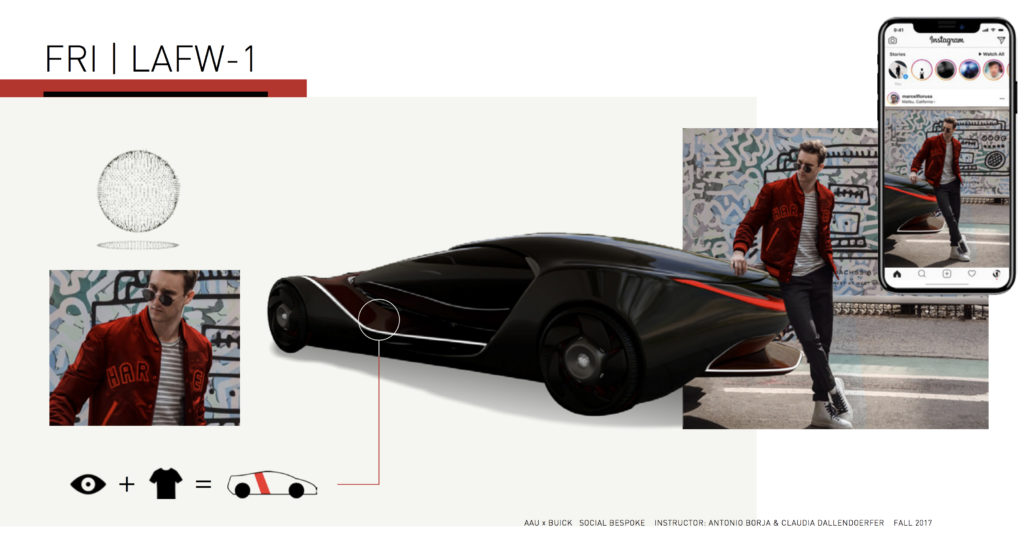 Having never worked in a group as a design student, Suarez initially felt overwhelmed by the number of peers with whom she had to work. "Every single project I had done before this was an individual project," Suarez wrote. "Every idea would run by me, my professor — and that's it." This time, she added, she had to share her ideas between 10 people at once, which she found to be a nerve-wracking challenge.
However, once she settled in to the project, she discovered that collaborating with numerous individuals lent itself to many different perspectives that provided structured, well thought-out, processed ideas at the end of each day. This process influenced the teams to stay on task and focused on their main objectives.
As the only fashion student, Suarez's primary role was to be responsible for the color designs, finishes and materials for all five prototypes that were created by the five groups of hardware and software creatives in the course. Her position took into account her keen design eye to ensure that each concept car's overall aesthetic stayed true to the Buick brand.
Suarez discovered that several processes worked for both designing garments and designing for a car. Just like in fashion, in which a designer starts with a main inspiration, the same rings true for designing a car. For this project, her main inspiration was organic, natural with man-made and all her decisions and edits were based around this. "This is something we do in fashion all the time. We start off [with] one idea and we branch out more and more and eventually, we edit everything out," she says. "I think that for this specific project, that ended up being a successful method."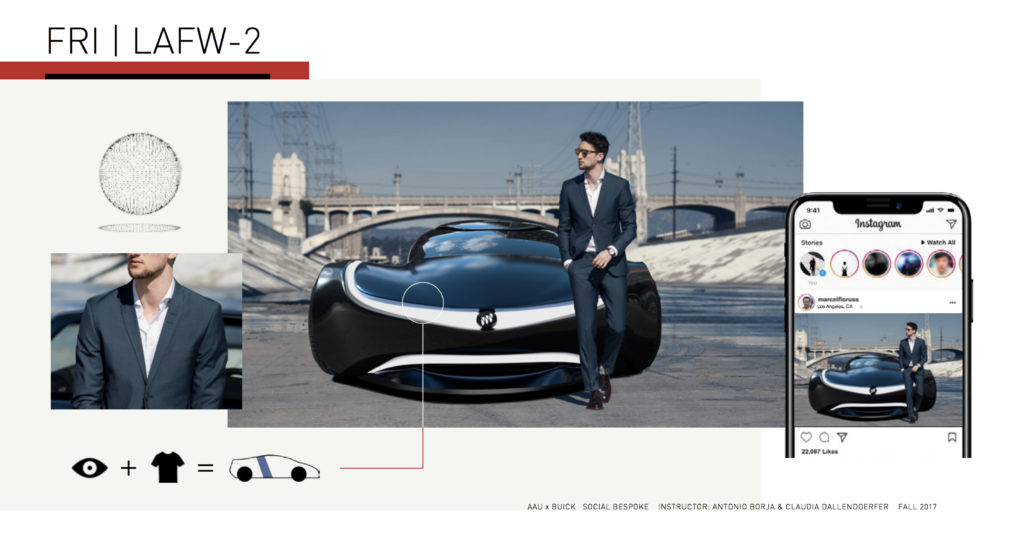 As a student selected by the School of Fashion to participate in this collaboration, Suarez represented herself and the school with professionalism, respect and pride. Thanks to a pleased client, Suarez received a $1,250 scholarship for her excellent work in the fall course of IND 494 with GM Design. This was possible because she stepped outside of a "standard" collaboration with an open mind.
With this experience, Suarez has learned new methods approaching her design process, experienced what it's like to work for a design company and learned how to maintain flexibility while working across design barriers.
So if a creative project from another field comes your way, go for it!
Check out the video of the Velite project here.