Costume Design department collaboration with U.C. Santa Cruz on Mozart's "The Magic Flute" is unusually popular.
It's somewhat unusual for an "academic theater house" to completely sell its tickets out, according to Academy of Art University Costume Design coordinator Alina Bokovikova. But, a recent collaboration between the fashion school's Costume Design students and U.C. Santa Cruz's opera department was an exception.  "Every night, was a packed house," Bokovikova said.
The show was a modern take on Mozart's "The Magic Flute," sung in German with English supertitles, directed by Sheila Willey and conducted by Bruce Kiesling.  Academy's graduate Costume Design students designed the costumes as part of an ongoing partnership with the two schools.
The classic fairy tale addresses themes of romance and "good versus evil," leading characters Tamino and Papageno on quests to prove themselves worthy of the love of Princess Pamina and the young Papagena. Highlights of the show include the eradication of the opera's historical use of racism as well as a modern revamp on character stereotypes. Princess Pamina, who's known for previously being portrayed as reliant on men, has now become more contemporary and independent.
The performance modernized scenes through elements of geometry and the inclusion of technology, most notably displayed in The Queen of The Night's dress, which illuminated the stage with intricate LED lighting as she sings classic aria "Der Hölle Rache," meaning "Hell's Vengeance Boils In My Heart."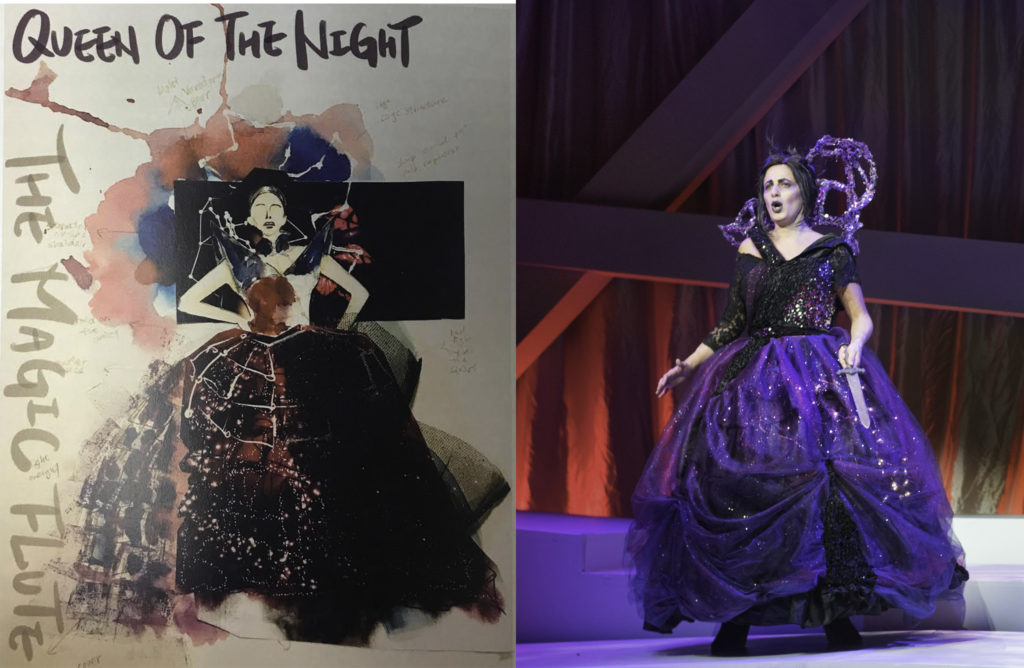 "What differentiates costume design from fashion design is that design does not come from just one person. You need the director, actor, makeup artist and all the crew's involvement," said graduate student Miya Chuang, who was the head costume designer for the performance. "To consider all of the ideas and opinions while sticking to your personal goal is very hard to accomplish. But by facing and solving these issues, I realized how important it is to trust other people and their opinions — that maybe they can see what you can't see and give you a different angle."
Chuang explained the complicated aspects of creating for an opera, including the challenge that designers have to make costumes for a double cast. This means one role, but two completely different bodies. During the process, the class had to learn how to create extensions and adjustable garments all while staying in U.C. Santa Cruz's budget.
"Students learn how to make colors work on stage, how to design from a distance and not distract from the sound," Bokovikova explains. "Paper projects are imagination, but now they have to realize how complicated a project is with 34 actors. It's all trial and error and experiment, but it's definitely worth it. It's only in this way you can find your mistakes and figure out what works and what doesn't."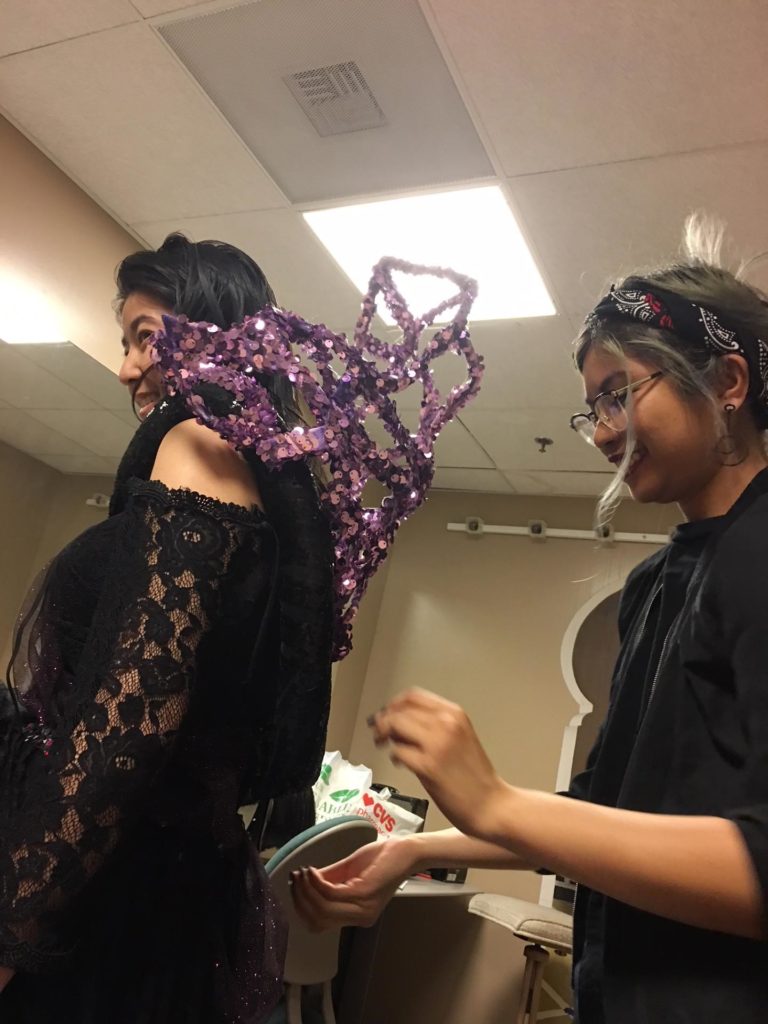 Chuang described director Sheila Willey as one of kindest directors she's met. "I was mesmerized when she gave her opinion during the designing phase. All the cast members were very nice and polite. It was [rewarding] when I saw them taking selfies wearing my designs. They would run to me and tell me how much they liked their costumes."
"I love seeing what the costumes do for the actors as they are bringing their characters to life," Willey comments. " It is amazing how much more (the actors) are able to inhabit and express their characters when they put on the finished costume, especially when they get into makeup and hair for the first time. I think this happened most especially with the three spirits. As we were developing these characters, we had many conversations about whether they are human or not and how they might move with a certain kind of float or flow. The movements came into consistent focus when they had their full looks during the final dress rehearsals. I think they felt the energy of that and it helped prepare them for opening night."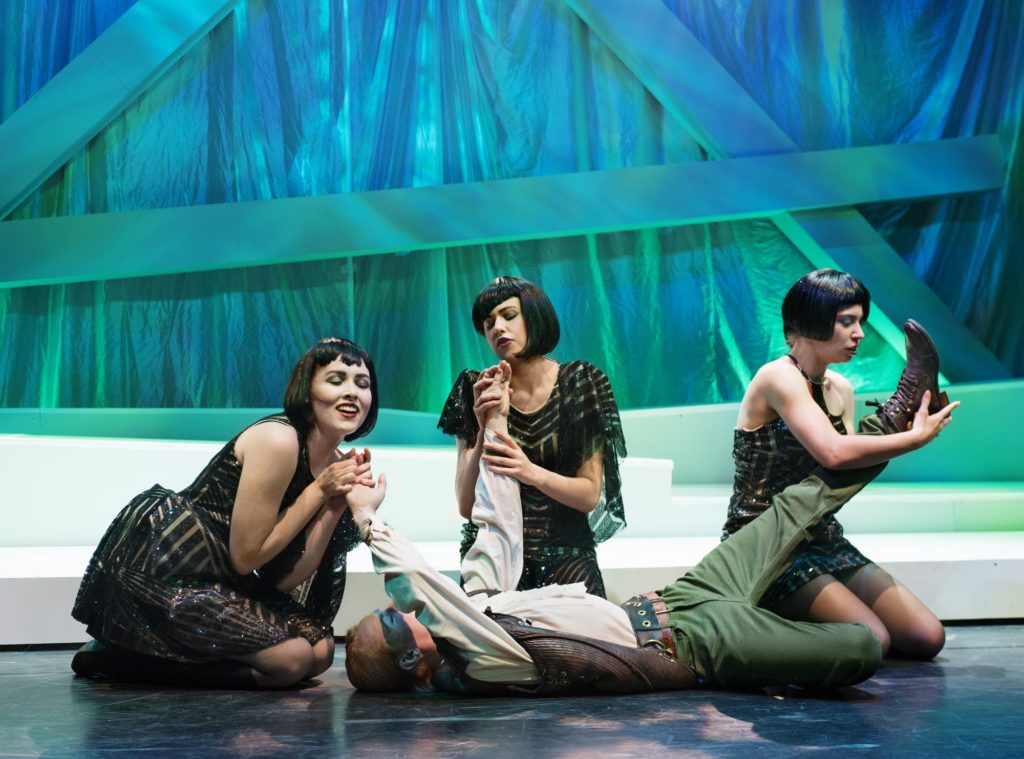 Costume Design supervisor Brooke Jennings also helped throughout the class and run of the show, going so far as to house students during the tumultuous chaos of tech week.
Student Yunqi Xie, who as "first draper" was responsible for the pattern making and construction, says her favorite part was the first time the group visited U.C. Santa Cruz. "Standing  backstage, especially during quick-changes when we did every change on time, and when the costumes fit perfectly and the actors looked sharp, it's amazing," Xie said.
"The Magic Flute" follows the success of the first collaboration between the schools two years ago for the production "Orpheus in the Underworld."
The next collaboration is "The Pirates of Penzance," a comic opera with themes of youthful rebellion and unsighted duty. Bokovikova will choose another student to head the research and design for new costumes.
"Design is a collaborative profession," Bokavikova says. "We obviously taught [the students] how to design, but in this project they also assumed different roles. They learned how to run it, to be a part of wardrobe; cleaning costumes and dressing actors. Students really learned how to functionally fit clothes on a body. It was amazing that they could see their designs from different perspectives."
Text by Amy Burke, MA Fashion Journalism