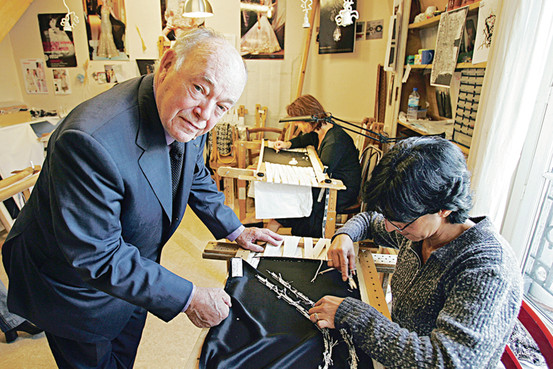 Monsieur Lesage at work in the Atelier.

Francois Lesage, heir of the renowned Maison Lesage embroidery atelier in Paris, has passed away. Founded by his father, Maison Lesage has been embellishing the couture creations of Paris's elite fashion houses since the early 20th century. Lesage took over for his father at the age of 20, later joking, "[I was] born on a mound of pearls and glitter. It never occurred to me to do anything else."
Chanel purchased the atelier in 2002, as part of the company's bid to protect the artisans that the city's top fashion houses rely on. Maison Lesage has worked with the biggest names in fashion, including Dior, Givenchy, Balenciaga, Christian Lacroix, and of course Chanel. In 1992, Lesage founded the embroidery school, L'École Lesage, ensuring the art of embroidery would be passed on to the next generation.
School of Fashion M.F.A. Textile Design student Hyunjeong Jeong is currently interning at Atelier Lesage in Paris. She was hand picked by 2011 Award of Excellence recipient and honored guest Laure du Pavillon at the May Graduation Fashion Show.
"I still remember the first day I met him," she wrote this morning. "He visited the workshop after Chanel's last fashion show. It had been some time since he'd been to the workshop, as he'd been in the hospital, and everyone was so happy to welcome him back. He saw me and immediately knew I was the intern, so after we exchanged la bise (French greeting – a kiss on the cheek), he asked me where I was from. After learning that I was from San Francisco, he told me about his time living in L.A., when he set up shop on Sunset Blvd selling Lesage embroideries to designers and stylists, and worked with Ava Gardner and other Hollywood stars. He was amazingly positive and vibrant, always making everyone in the Atelier laugh… The relationship between Monsieur Lesage and everyone working in the atelier was like a family, which makes his loss even harder, especially for those who have worked with him for nearly thirty years. Despite his illness, he was still so involved. Just recently he asked to see my sketches for Chanel's upcoming show, and gave his feedback. I feel fortunate to have had the opportunity to learn from him."
Monsieur Lesage was awarded with the "Maître d'Art" (Master of Art) by the French Culture Ministry just last week. During the awards ceremony, France's Culture Minister Frédéric Mitterand quoted Karl Lagerfeld, "There is no couture without embroidery, and no embroidery without Lesage." He will truly be missed.