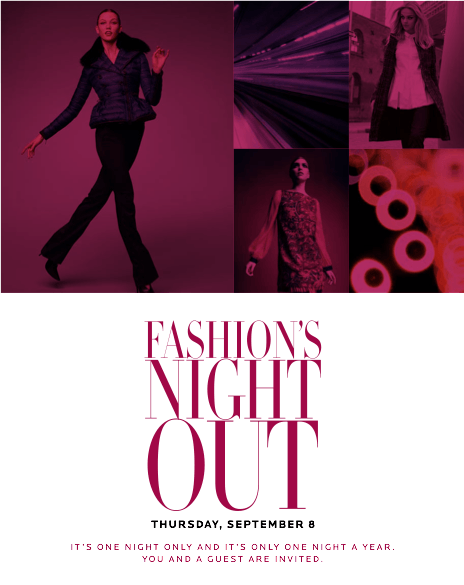 The Dynamic Duo (our very own School of Fashion and Neiman Marcus) have teamed up once again, and added a fun new friend 7×7 Magazine, to celebrate Fashion's Night Out! What started in NYC has now spread to over 100 cities, and San Francisco is certainly not one to say no to a party! For the third year in a row, Neiman Marcus will host a night of fashion, shopping, and fun, showcasing the amazing work of designers and artisans from our school.
Be sure to mark your calendar because this event CANNOT be missed!
WHAT: Fashion's Night Out – a global celebration of fashion
WHEN: 6-8 p.m. Thursday, September 8
WHERE: Neiman Marcus, 150 Stockton St. (just off Union Square), San Francisco
And be sure to take a peek at Gladys Perint Palmer's Mercedes Benz Fashion Week banners that will be on display in Neiman's windows from September 6th to 9th, along with some of the beautiful clothing and jewelry from our students!!