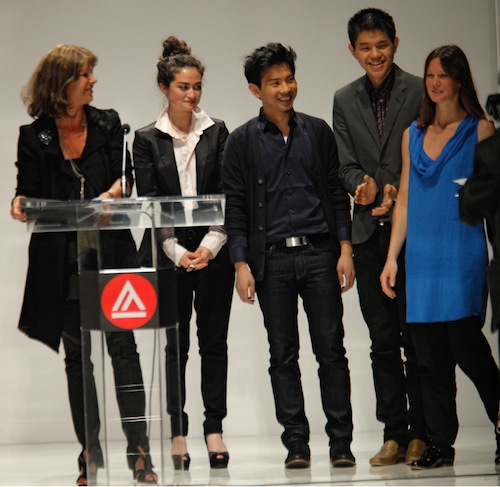 The Academy of Art University's exchange students cross continents to learn their art (and craft), and get exposed to the capitals of Europe, the Far East, New Zealand and the four corners of the earth. We will be featuring reports from students (and faculty) about their exciting adventures, here and there.
The first installment comes from Peter S. Yang, a B.F.A. fashion design student who was awarded a scholarship to study at Studio Berçot through the school's Sister City Scholarship Exchange in Paris. Peter's report came in the form of a letter to School of Fashion Executive Director Gladys Perint Palmer. It was so sweet, and revealing, we felt compelled to share it with you. More traveler's tales will be coming your way shortly.
Greetings Gladys Perint Palmer,
I arrived around 10:00 yesterday and met with my friend from high school who lives in the 14e of Paris. Honestly, the language barrier is so severe, without her, I would not know where to go or what to do.
But I am trying to adapt to the language and culture quickly. I am so in awe of this city; seriously, my first day here has felt like a fantasy. Aside from taking care of the essentials like finding an apartment, setting up a bank account and trying to attain a phone, I have been exploring the lifestyle of these beautiful people. My first day here was so relaxing.
I got a chance to see some delightful sites along the taxi ride from the airport – I briefly saw the President's home, the Eiffel Tower, the Grand Palais (where Chanel shows haute couture) and a few other sites I could not retain. But sightseeing was not my first priority. I just needed to set up all of these errands before school starts on the 7th. We really took advantage of the fantastic Metro system (it seems difficult, but I think I can pick it up quickly) to complete these tasks. Along the way I was familiarizing myself with this magnificent city.
So far the standouts of my first day were the streets and buildings, the gorgeous men and the relaxed lifestyle of the French people. My friend Michelle and I really enjoyed just sitting at a cafe or restaurant for a couple hours having food, a glass of wine and cigarette embracing the weather, architecture and again emphasizing the most beautiful people around us. We did this maybe four or five times yesterday. I enjoyed it very much! It is so different from San Francisco in that the pace is slower and the people just really are enjoying life bit by bit. Why wouldn't they? It's Paris! People just love being around people and I love that! Everyone is so polite, greeting others as they walk into places. "Bonjour Monsieur", "Bonjour Madame", "Merci Beaucoup" and "Au revoir," always with a smile.
I'm sure you know what it is like, so I do not want to bore you with my ramblings. I just wanted to take the time to tell you how much I appreciate this amazing experience. I did not have the opportunity to thank you so much for the chance you gave me to go on this exchange program. It feels like a fantasy being here and I cannot thank you enough for this. I really want to immerse myself in the culture and the people. It's going to be really hard to make friends, I can tell already. But I will persevere! I'll keep updating you on my journey. Thank you again for everything. I need to go back and cure this jet-lag soon.
Sincerely,
Peter S. Yang