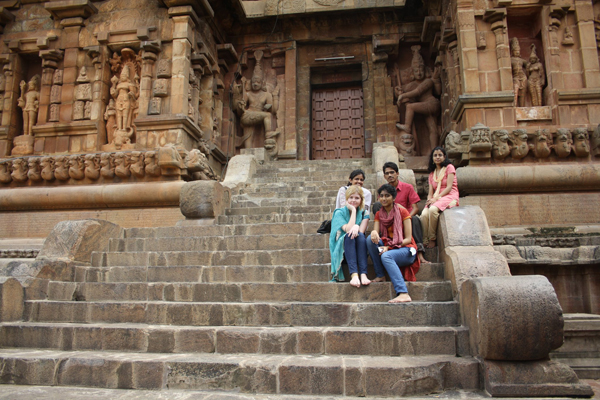 In today's Ex-Changing the World, School of Fashion Student April Thompson who has been studying at NIFT Delhi.
How was the whole application process for the Chennai Exchange Program?
The application process was short but stressful. I heard about the exchange and two days later I was presenting my portfolio in front of Gladys Perint Palmer. I didn't actually know I won the exchange until it was announced at the Spring 2011 fashion show.
What has been the hardest adjustment about living in a foreign country?
Surviving without any knowledge of the native language has been a daily difficulty. Even English speakers don't understand my accent an occasion.
What are classes are you taking in Chennai and what have you enjoyed most about them?
I am taking a fashion studies and marketing class which has given me a stronger understanding of branding and fashion forecasting than I had before. Being in the foreign country studying fashion forecasting has given me a better idea of forecasting on a global level, as well. I have a surface techniques with leathers class which has given me more knowledge of orientation outside of just textiles. My favorite class has been a hardware design class in which I am currently designing a belt buckle and pendant. Studying outside my main subject has given me more ideas for silhouette, fabric and construction variations. Learning the general fashion industry in between classes, however, has proved to be the most interesting.
Follow the jump to read more!
What advice would you give to students hoping to be a part of this program in the future?
Patience. Foreigners are more common for us in the U.S., but here most students have never had contact with any foreign person and they don't know how to react. Some will beg for your attention while others make spiteful comments about you for no reason. The generalizations about 'westerners' here isn't positive. Patience is needed when others imply those generalizations.
What have been your favorite adventures and experiences?
It has been a huge adventure to enjoy the true culture of India. From private religious celebrations to surprise birthday parties, I have been totally accepted (by a handful of people) into their way of life. It has been very interesting to learn the history of India while I am living amongst it. I have visited Kottayam, Kochi, Chennai, Pondicherry, Mahabalipuram, New Delhi and Thanjavur while here, but I definitely wish I could travel more of India.
What are you most excited to return to in San Francisco?
I am excited to have a larger variety of foods and not have power/water shortages. I cannot wait to see my family and friends, but I know as soon as I get back I'll be writing letters to India and planning my next visit.
For more Ex-Changing the World, click here.