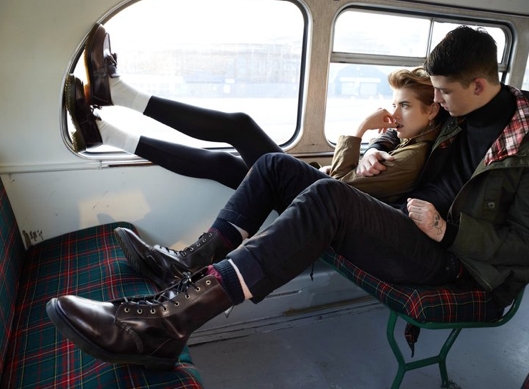 People may argue that the iconic boots by Doc Martens never stepped out of the limelight — but they haven't exactly been dancing in them either. Nonetheless, DMs are making a resurgence and the company's CEO David Suddens recently unveiled their new fall campaign titled First and Forever alongside prominent fashion super-bloggers Scott Schuman (of The Sartorialist) and Garance Doré.
The campaign is all about "firsts" whether it is your first pair of Dr. Martens or your first date or, in the case of the campaign film featuring Agyness Deyn, your "First Heartbreak."
Suddens recently presented the campaign at New York's Morrison Hotel Gallery in SoHo and told GQ.com, "we needed to look at how we could take this out of the past, so to speak and make it current. And the idea of having customers direct feedback, these memories and stories and combining that with social media and so forth, it seemed perfect. And we didn't want to be too corporate and make it all about Docs. So, we've sort of gone with this idea of 'firsts' of any kind."
That said, Dr. Martens is inviting the public to share their "first time" stories on their website. You can also enter a competition to talk about your first pair of Dr. Martens and win pieces from their new collection. (You can click the link below te video to read about Scott and Garance's first DMs).
Here's the fall campaign for your viewing:
[Source: GQ.com]