A last minute reminder…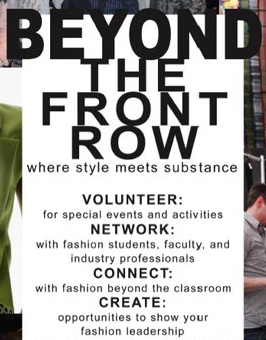 WHAT? Beyond the Front Row General Meeting: Where Style Meets Substance. Meet other members; learn about the club, the events, and opportunities to volunteer. All AAU students are welcome!
WHEN? Tonight! 7 to 8 p.m., Wednesday, March 9, 2011 + Wednesday, March 30th
WHERE? 180 New Montgomery, Room 808
For more info email BeyondTheFrontRow@gmail.com or visit their Facebook page (www.facebook.com/BeyondtheFrontRow) and don't forget to follow them on Twitter (twitter.com/BeyondFrontRow).