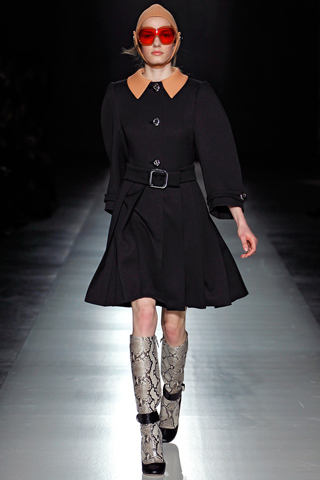 Danielle: After viewing the detail images of this collection once again, I've decided that it was a semi-home run. The '60s mod, motorcycle look is pretty irresistible –- who doesn't love a short glove and goggle-esque sunglasses? (Not to mention how much I'm craving the addition of more shag pieces in my closet.) Also, I'm daydreaming about the looks I would get if I aggressively clutched my handbag, sideways, as I walked around downtown.
Harry: It is safe to say that Miuccia Prada is a favorite of editors. Every magazine all over the world always has an editorial with key pieces from every season of every Prada show. Last season, it was the fur stole, banana dresses and the creeper-style platform sneakers. This season, Miuccia challenged herself. The collection consisted snakeskin, colored fur, shiny materials (I still have no idea what those are), a mix of feminine colors, and colored sunglasses. Some of those are fashion don'ts but she made them work harmoniously. In the graphic design world, that's like trying to make Comic Sans avant garde. That's Miuccia for you.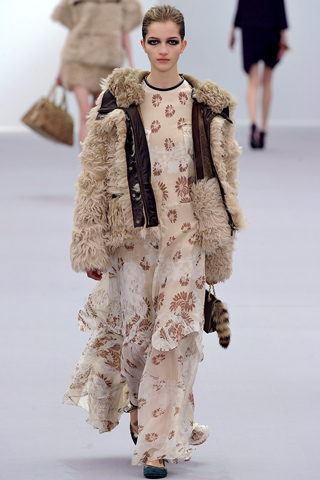 Danielle: Four words: Finale maxi fur coat. I think that coat is the reason why this collection stuck with me. Otherwise, it's hodge-podgey and the inclusion of light washed denim is always a huge no-no in my book. (PS: Hello snakeskin, biggest trend of Fall 2011.)
Harry: I imagine the Just Cavalli girl as the little sister of a Roberto Cavalli girl. A Just Cavalli girl is still looking for her identity. Last season, she was a young outdoorsy girl who was not afraid of taking risks. This season, she turned into a suburban housewife with a much more demure silhouette. From wild denim and ripped clothing to a floral print blazer and peasant blouses, it wasn't bad — but it's quite a departure.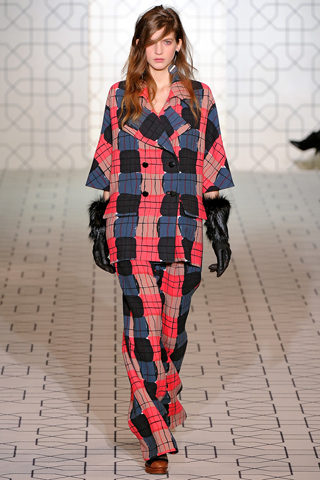 Danielle: YAY! Geometrics, leather gloves, and more boring, simple makeup! In addition, the scrunch long gloves worry me — they have such a particular look. I'm concerned with how some consumers might try to pull them off — but points for the large-cut necklaces, and intriguing combinations of fabrics (leather with fur, cut in geometric-strict lines, of course).
Harry: It's pretty clear one of my favorite fashion houses is Marni — but this time was different. Every look from Marni Fall 2011 was my favorite. Usually designers open and close with stellar pieces, and put some fillers in between. There was no single filler at Marni — or maybe Consuelo Castiglioni's sense of style just seem to match my personal taste.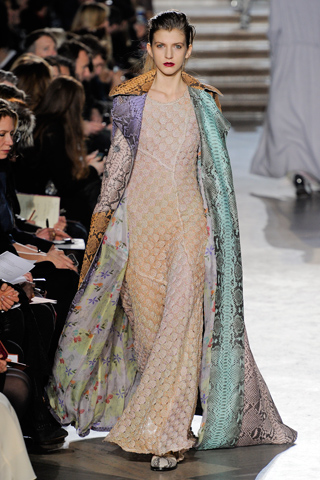 Danielle: This collection kind of reminded me of myself…if I decided to start streetwalking in solely pastels. I'm feeling excited about the dip dyed pastel knits for fall and Missoni's signature whimsical textiles. Oh and hey — is that more snake skin? And FYI: Those feathered pants are so mine.
Harry: There's no doubt Missoni's forte is their knitwear and they always sends down knitwear that seem new. It's as if they invent new styles of knitwear every season. This time, they pair the knits with a long silhouette, powdery colors and snakeskin to create a fairytale Missoni utopia. Snakeskin is definitely one of the trends for Fall 2011 — especially colored snakeskin. I'm on the fence with the colors at Missoni. The blue, pink and purple work, but I'm not sure about the green.