Earlier this month, Academy student Zahra Jangbar studying BFA Costume Design, had the immaculate responsibility of designing and developing costumes for a musical production, "Little Mermaid" in Monta Vista High School in Cupertino. Below is Jangbar's story.
"I was the costume designer for Monta Vista High School's spring musical production of The Little Mermaid. The high school is located in Cupertino. We had a $2800 budget for costumes and almost 100 fantasy costumes to create. This project was a costume designer's dream because it involves fantasy and it's a musical so you have the freedom to be as big and crazy as you want.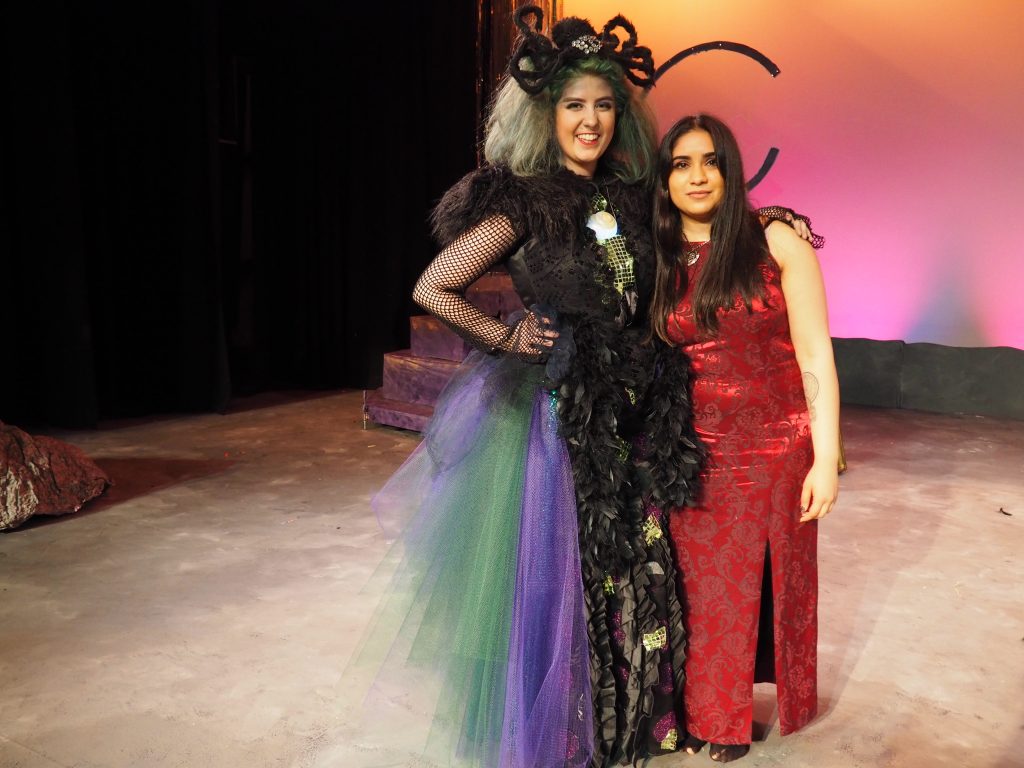 I began with a research powerpoint, trying to get a feeling for what kind of motifs I was going to work with and how I would visually represent complex animal characters such as Sebastian, the crab on a human body. I bought a long, shiny, red leather vintage jacket and altered it so that the arms look segmented from a distance and used boxing gloves as a base for claws.
The difference between this show and every other show I have done before was that it was all about the spectacle, other shows are about careful editing or precise historical looks. In this show, nothing was too large or too bold to put on stage. There is a misconception about costume design that the garments themselves don't have to be "perfect", the reality is that what is perfect changes with every show. A historical show has to be perfect in terms of accuracy, a show like this has to be perfect in terms of creating a visually interesting composition on stage with the juxtapositions of various characters, lighting, and the set. 
[metaslider id=40649]
Costume design is an inherently collaborative experience, every stage of the process involves working with other talented people and that makes the big moment when it all comes together even more rewarding. Actors can have a variety of different body types and skin tones at all ends of the spectrums and you have to create this fantasy that works visually for them.
Working with the director is one of the most rewarding aspects of costume design, there are numerous discussions throughout the process in which a show grows from some words on a page into this amazing vision you create with them. The Little Mermaid was amazing in the sense that I had full creative freedom to experiment with whatever wacky idea that came into my head. I found a giant Halloween spider and put it on Ursula's head and curled its legs so that on stage it looked like she had this wild octopus head piece.
The most challenging part of this project for me was coordinating all the variables I had to consider and handling logistics. How am I going to obtain fabric for 10 costumes that have to be identical? What colors of fish can we design so that they aren't washed out against the background? How much time does each actor have to change into their next look? How will this or that design work with the other elements of the stage such as lighting and set?
[metaslider id=40663]
Elements of composition are hugely important as costume projects like this fall more towards fine art rather than fashion. Considerations of color, negative space, silhouette, scale etc. Many of my ideas didn't work at all and were scrapped, but I'm happy about that because that's when you know you're pushing up against boundaries.
This project was all about flexibility and constant motion. That is what I got the most out of this experience. You can't operate in this perfect bubble of resources and variables. I had to scour thrift stores all over the city for crazy pieces. I had to use my contacts in vintage at Decades of Fashion on Haight Street to obtain crazy pieces. It's very much about being out and about constantly moving, shopping, fittings, sourcing, and collaborating. Hardly any part of the design process is something you do alone in your studio. You have to like people and be communicative.
I really could not have asked for a more amazing and wildly creative experience to start my career off with. I've discovered that I absolutely love musicals and I am hoping to do many more in the future."
As told by Zahra Jangbar, BFA Costume Design.