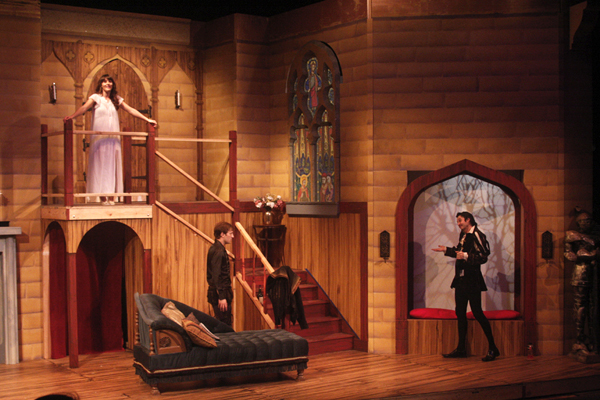 A scene from Act 2 of I Hate Hamlet. Photo by Maggie Whitaker.
Students in FSH 499.11 – Costume Production 1 have been working away these past few weeks, putting the finishing touches on costumes for the School of Acting's production of the Broadway hit, I Hate Hamlet. The dramatic comedy is set in John Barrymore's former NYC apartment, and follows a successful television actor, Andrew Rally, as he strives to take on the famed role of Hamlet, while simultaneously dealing with a girlfriend holding steadfastly to her virginity, and playing host to John Barrymore's ghost, who – clothed as Hamlet – tries to convince Rally to play the part.
For the production, which premieres tomorrow night, our students worked closely with the play's director, Clark Lewis, as well as the actors, to design costumes for each of the characters. "I Hate Hamlet is the culmination of a collaboration between the School of Fashion and the School of Acting, in which the students were able to work as the designers, and worked both together and individually on specific characters. It's something we're really proud of," said costume design instructor Mary Whittaker.
Opening night is this Friday, December 7th at 8 PM, and the production has several showings up until December 16th. Fashion School Daily sat down with a two of the students, Danielle Souza and Victoria Chik, to hear about their experience first hand – read on to find out what they had to say and be sure to reserve your tickets here!
When did you first become interested in costume design?
Danielle Souza: I've been sewing since I was 8­–I used to cut up my old clothes and make them into costumes for Halloween. But when I went to my first Broadway show, Phantom of The Opera, that's when I knew I wanted to be a costume designer.
Victoria Chik: I grew up doing ballet and dressing up with friends. I performed in the Sacramento Ballet's The Nutcracker, which really gave me a sense of how much needed to go on behind the stage. Mostly the pretty dresses and tutus are what caught my eye at the time.
Follow the jump to read more!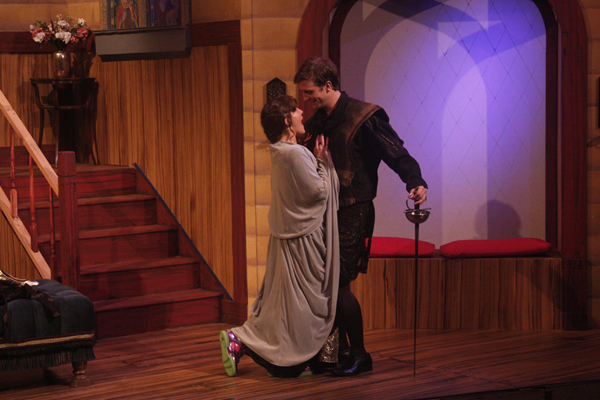 It takes two to tango. Photo by Maggie Whitaker.
What have you enjoyed most about the class?
DS: Getting to work with other costume designers! I did this class last semester by myself, so I had to get all of the costumes for all the characters which was very stressful! This semester has been great because we've really bonded as a class and there's a big sense of "We're all in this together".
VC: Working backstage and production work. I love sewing.
Where did you draw your inspiration for the I Hate Hamlet costumes?
DS: The character I designed for is very old fashioned, she's a 29-year-old virgin who's in love with history and romance and fantasy stories. I looked a lot at fantasy paintings and also films like Alice in Wonderland to give the character a whimsical feeling.
VC: I drew inspiration from the script itself at first. There's a psyche that you have to convey through the clothing. That and our director, Clark Lewis, wanted to keep the show in the early nineties. Looking back and seeing what people dressed like back then gave all of us designing the show a big laugh.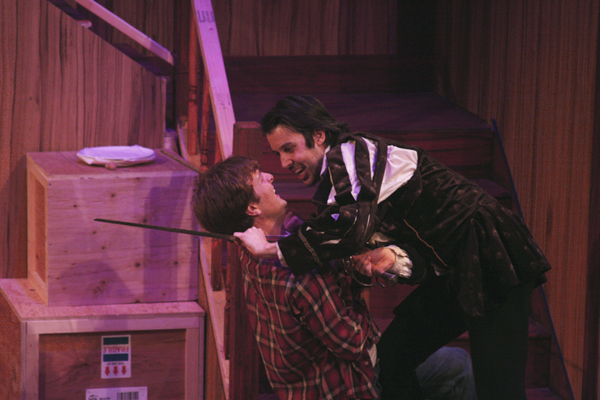 It wouldn't be Shakespeare without a duel. Photo by Maggie Whitaker.
Do you have a favorite costume in the production?
DS: Yes! Deirdre's Hamlet costume in the second act is absolutely beautiful! A lot of time and work went into the costume and my classmate (and roommate) Kaila did a stunning job!
VC: My favorite would have to be my own character Gary Peter Lefkowitz (Dario Musumeci). His character reminds me of my brother! Though I love Lillian's (Karen Grassle) dress in Act 2, Scene 1. Mandy and Teenie did an amazing job rebeading parts of the dress. It looked amazing on stage!
If you could design costumes for any play, what would it be and why?
DS: My favorite book of all time is Peter Pan, so to be able to work on anything related to Peter Pan would be a dream come true!
VC: Redesigned versions Shakespeare! But my passion lies in making costumes rather than designing. I'd love to work for Disney or Cirque du Soleil. This semester I've been given the opportunity to work with some amazing designers for Le Petite Cirque's production, Itzayana, and I'm itching to start making what they've created! It's going to be a whole different type of class for many of us and we're always looking for more people to join us!
So proud of all of the students – Kylee Clemens, Victoria Chik, Mandy Esfandari, Kaila Frasco, Monica Ha, Kristina Mitchell, and Danielle Souza!