By Niya DeGroat, MA Fashion Journalism
A year ago, 27-year-old designer and MFA graduate Chelsea Grays boarded a plane for Paris as part of a one year, scholarship-funded exchange program with École de la Chambre Syndicale. However, about halfway through her residency, COVID-19 disrupted all operations in Paris for three months. With no choice but to keep creating while adhering to rigid stay-at-home orders, she's preparing to unveil a 27-piece unisex collection this week. Having just released the collection's campaign video over the weekend, Grays took time out of her busy schedule to speak over Zoom about her new vision, moving abroad, and using fashion as a form of protest.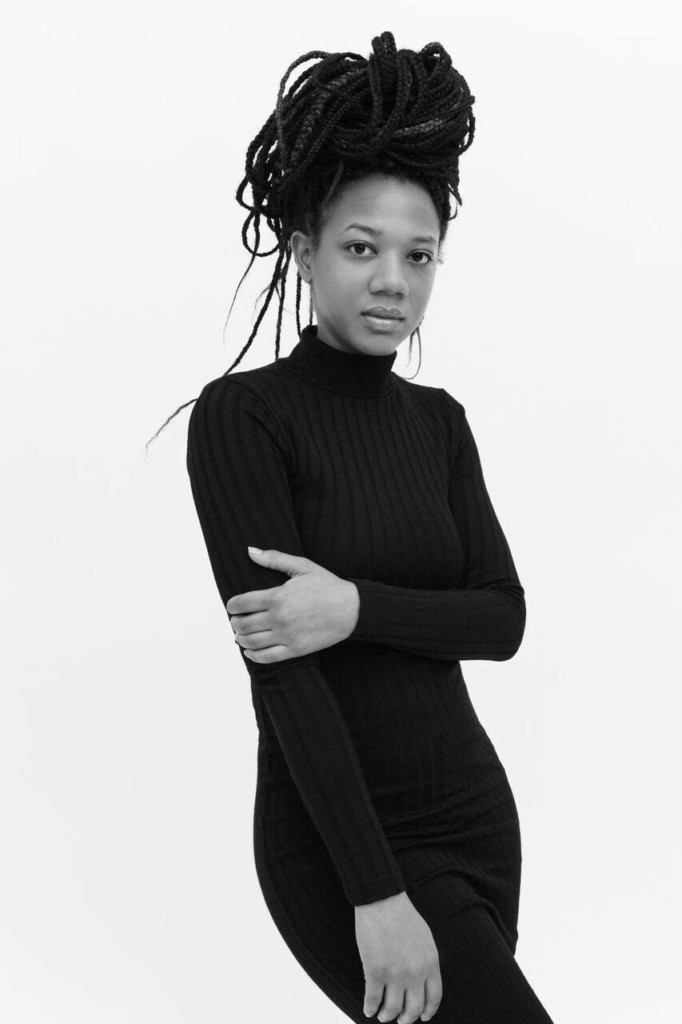 How has it been living abroad in Paris?
I'm definitely appreciative of the scenery and getting to experience a different culture. This city has a lot of history to absorb. If you go to a restaurant, there's a story behind it; and the food is amazing. On the creative side of things, everybody is connected to fashion in some way, which is pretty cool. At the same time though, it's certainly been a culture shock as it's very different from the US in terms of everything from gender roles to quality of life.
How so?
For one thing, I'm still trying to get used to the language barrier and being able to communicate with others productively. The social interactions between men and women are also very different than in America. Parisian men are very passionate and outspoken. If you accidentally step on a man's foot, he will let you know that you did, and proceed to argue with you about it for minutes on end. Interactions like that have been unsettling, to say the least.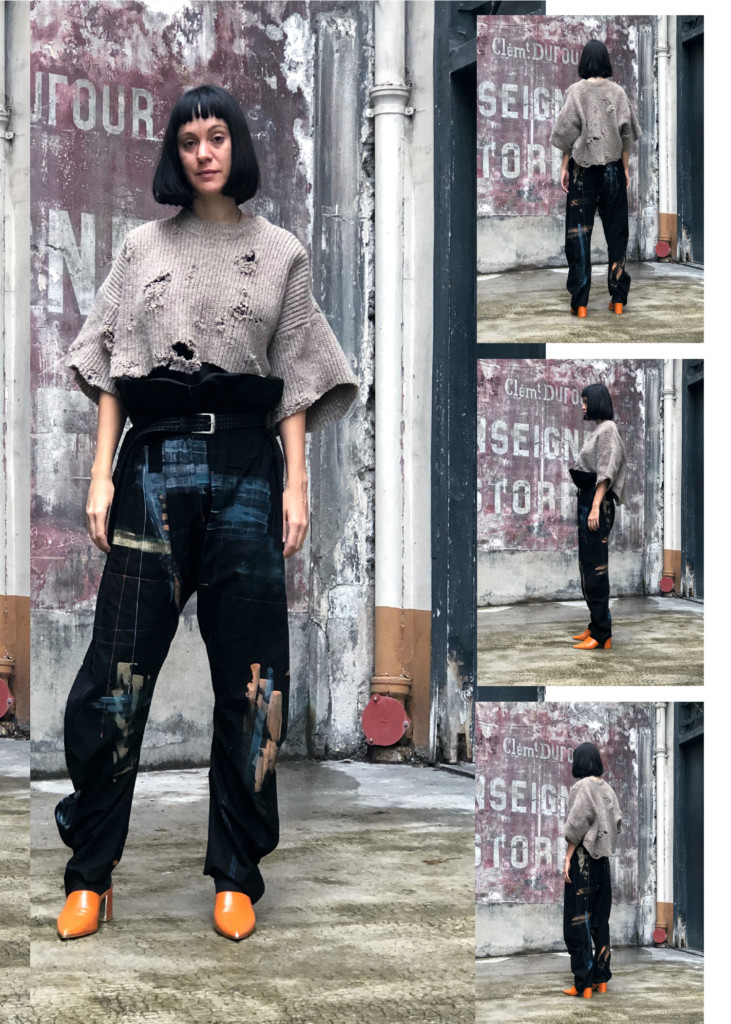 The pandemic started while you were in Paris. How did you cope with it, especially being so far away from home?
In the States, I feel you all had the option to practice social distancing when the pandemic began. Here in Paris, it was not optional. We were not allowed to be outside at all. There were armed guards stationed at every corner patrolling the streets. You had to have signed documentation to be out and about and you were limited to a strict radius. It was very difficult to get anything done. By the end of lockdown, we came out of it with fewer cases. Of course, it didn't last as infection rates have since started to fluctuate.
Fashion has certainly slowed down here in the US. How has the industry changed in Paris?
To save on cost, many of the collections that were being produced prior to coronavirus were being manufactured outside of Paris in Chinese factories. So, when China had its outbreak, a lot of the factories shut down which then affected production around the world. Big brand companies here were forced to stop their design processes too. On the plus side, it gave emerging designers the opportunity to step up and stand out because everything moved online. There's more of a level playing field for everyone to showcase their work virtually on social media.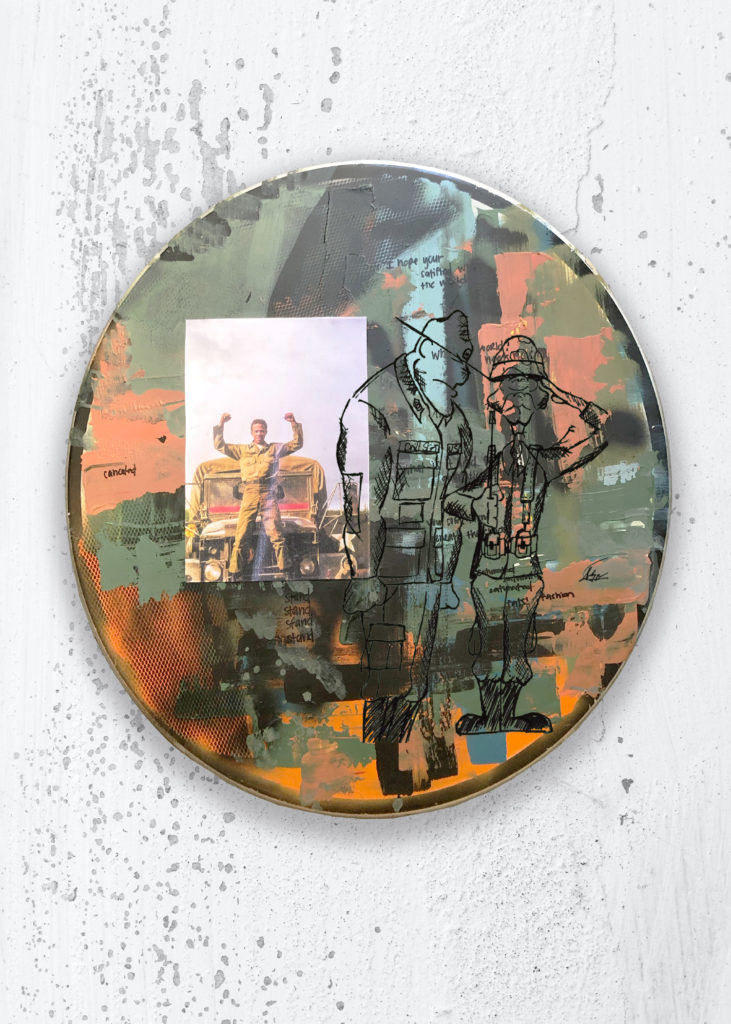 A lot has happened in the US since you've moved to Paris, from protests to racial tensions to a tumultuous political divide. What's it like observing it all from afar?
When George Floyd died, there was a huge protest here. They were also protesting similar events of injustices that have happened locally. Unfortunately, I haven't been able to fully participate in the protests because I don't know a lot of people here. I don't speak fluent French, and if something were to happen to me, I wouldn't be able to get myself out of a sticky situation. Besides, my work already lends itself to a form of protest because I've been able to bring awareness to these kinds of issues before.
Now, it seems every fashion company wants to jump on board and do something about it, whereas I have been doing this for years. In 2018, the CFDA recognized my "Vanguard" project which put a spotlight on the Trayvon Martin shooting as well as police brutality. For that collection, I used bullet and knife-proof fabrics to create stylish hoodies that doubled as protective wear. In 2015, one of my first student collections focused on the Black Panther movement. With my designs, I'm always trying to find ways to speak truth to power.
Tell us about your new "Fashion Is Oversaturated" collection.
I made a series of pieces that were inspired by the idea of upcycling. I chose this title because, as everyone knows, the fashion industry contributes greatly to global pollution and waste due to the overwhelming production of new styles. A guy I know, who works as a Sales Associate for a major high-end retailer here in Paris, told me that after each new collection, the company cuts up unsold products and throws them in the trash.
I find it ridiculous. Imagine the amount of waste that is generated from practices like these, let alone the amount of money that is lost on top of that. Everywhere you turn, there's new clothes and new fabrics. It's all just too much.
So, for my new collection, I wanted to take items you would find in your grandma's house and repurpose them into wearable pieces. A grandma who owns a lot of knickknacks, who is also very colorful, and a bit of a hoarder. I used comforters, bath rugs, and blankets, and turned them into a skirt, a pant, or a jacket. Even the colors are saturated. I used military colors but paired them with vibrant pops of color.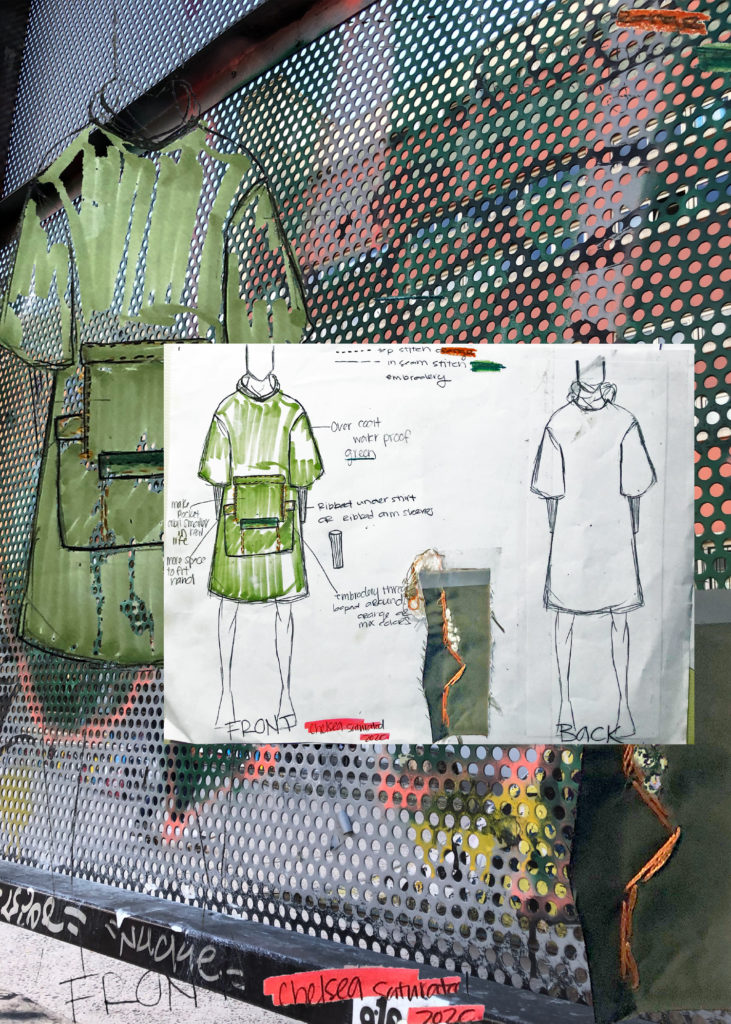 In a way, the new collection sounds like a follow-up to your last collection, which drew inspiration from Basquiat paintings and the transient community of San Francisco.
Yes, but this time, instead of oversized and structured silhouettes, the clothes are much more relaxed and baggier. Almost like the clothes are falling off of you; lots of flow and volume. It's a mixture of found fabric including wool, nylon, and cotton. I once again infused my craftiness into the collection by incorporating lots of yarn, as well as doing a lot of embroidery, weaving, screen printing, and spray painting. In fact, moodboards for this collection were based off the mixed-media paintings I had created using scraps and abandoned signs found on the streets here in Paris. I also repurposed the leather shoes and stockings that are a part of the collection. I'm always trying to cover the skin with layers, so that nothing is exposed.
What's the takeaway from this collection?
I want people to see the "rich meets poor" aspect of the collection. It's really a mix of classy and rugged. To show that my design process isn't necessarily organized and conceptual; it's more carefree and organic. With everything that we have gone through these past several months I wanted to point out that, despite our differences, we are all the same.