Geometry is trending in fashion as it reflects our desire to make sense of complex social patterns. The creative vectors aligned for Jiran Xia (BFA Textile & Fashion Design) who became the Grand Prize winner in the prestigious DESIGNEXT international student competition sponsored by SURTEX. Xia was among the four finalists chosen out of 200 entries from universities all over the world to present her work during the trade expo at Jacob K. Javits Center in New York City.
According to the Surtex website "this year's theme was GEO – a combination of natural geode stones and modern geometric shapes. The challenge was to create six original designs to be applied to the surface of products and presented as a collection from one of the following categories: Wear, Work, Live or Play."
"The designext competition is a recognized avenue for students to gain exposure in the professional arena, network with other artists and gain valuable exposure to buyers and agents from around the world," said Jill Campbell, vice president of marketing, Emerald Expositions. "We are continually amazed at the level of talent and creativity displayed by the entrants."
Fashion School Daily caught up with Xia to discuss everything from Big Apple first impressions to being featured in the May issue of Art Buyer magazine.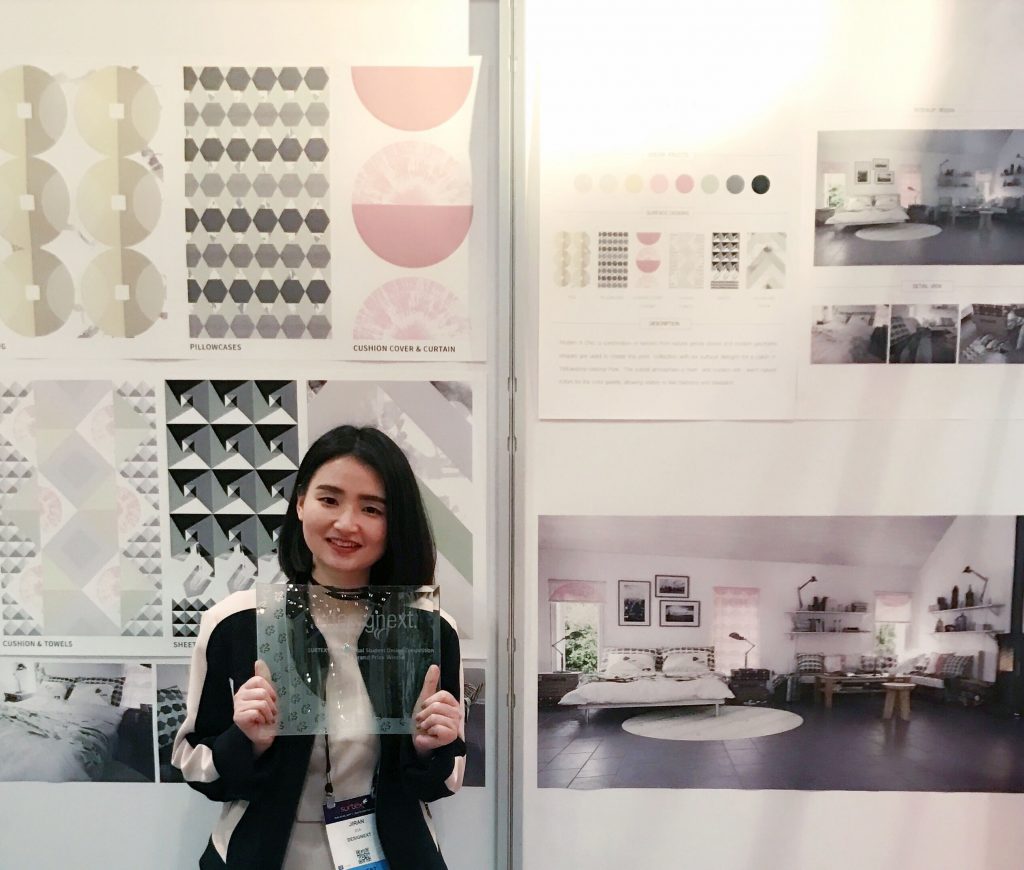 FSD: How do you feel about your prize?
JX: It was unexpected an all I could think of was how happy my family and my instructors would be! I don't consider my project the best among the finalists, but I do believe my work was the most professional. I've also had a special professional and visionary support team behind me: Rhona MacKenzie, Assistant Director of Textile Design, and Jennifer Jeon, Full-Time Faculty, Textile Design. I learned a lot from their mentorship and received so much help. Jennifer actually told me about the competition and encouraged me to participate. I was curious to see what I could come up with. I did my best and now here we are!
FSD: What was your experience at the exhibition?
JX: I presented three parts of my portfolio: home and lifestyle (for a cabin in Yellowstone National Park), shoe design and then I showed judges runway images from my graduation collection. The overall vibe was fresh with warm natural colors for the color palette, allowing viewers to feel a sense of harmony and relaxation. My portfolio is a good representation of my skillset and that I am able to work within a variety of different design directions. The best part of the event for me was speaking with professionals who are working in the industry.  By chatting with these experts, I was able to learn of opportunities. Overall, I feel that the experience will have a big impact on my future as I now know clearly what I want and should do after graduation.
FSD: Did you enjoy New York?
JX: I got lost! Although I've lived in a big city like Beijing for 6 years, I had trouble identifying the right directions. Instead of twenty minutes between the hotel and the Metropolitan Museum, it took me two hours!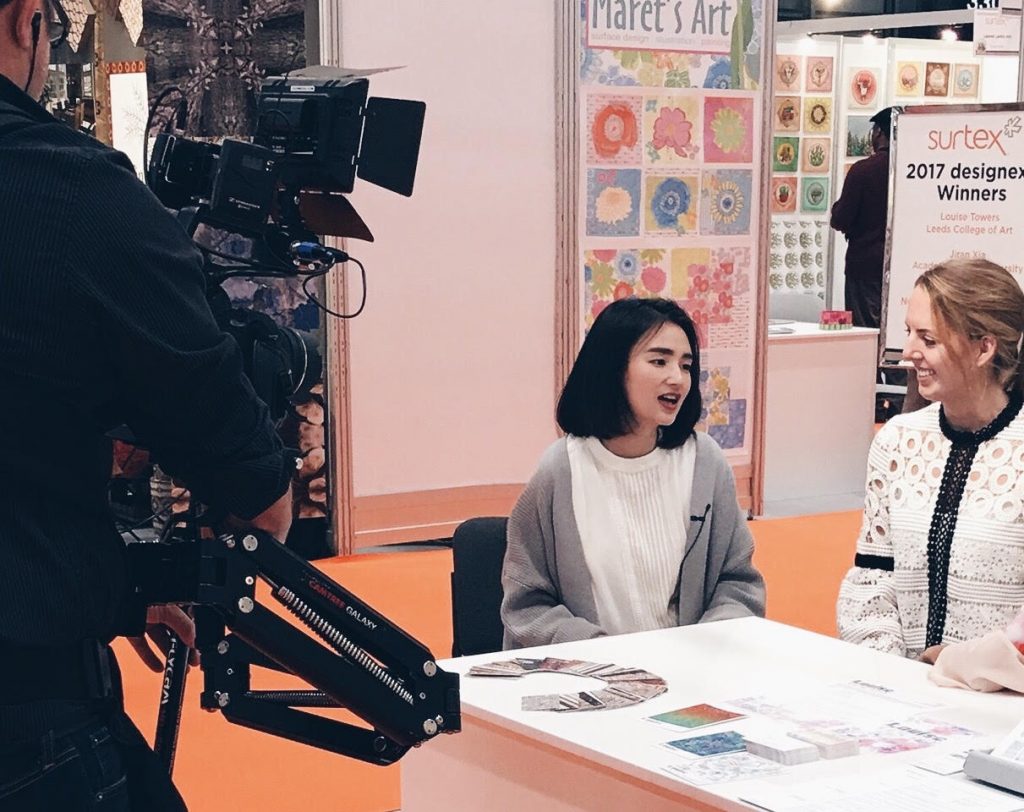 FSD: What is your biggest takeaway from this competition?
JX: To know what people look for in a designer. Design talent is important, but it relies on how you manage your capabilities. There's a saying where I come from: "Do not put the cart before the horse". Know your real level and work confidently up from there. I encourage everyone to realize the importance of learning as many different skills as possible during the first three years of college. These skills can save your life, professionally speaking.
FSD: What is your matrix for success?
JX: Be on time. Do more today because tomorrow it will get harder. ALWAYS persevere, work super hard and never lose trust in yourself. The Academy has a very strong team of instructors who will push you to discover how strong you really are. As long as you are willing to be challenged, I believe you can get there.
Interview by Nivetha Sundar (MA Fashion Journalism)