We see a lot of people rockin' the TOMS shoes on campus so perhaps many of you would be interested in going across the bridge to the East Bay for a Style Your Sole event hosted by Convert, a men's and women's store located in Berkeley.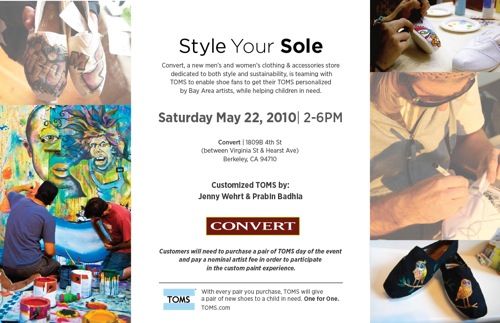 From 2 to 6 p.m. on Saturday May 22, you can get your own pair of personalized TOMS, hand-painted by local artists Jenny Wehrt and Prabin Badhia — and don't forget — one pair of TOMS is given to a child in need for each pair sold through TOMS "One for One" program.
Convert is located at 1890B 4th Street in Berkeley (between Virginia St. and Hearst Ave.) For more info visit: www.convertstyle.com.