Last week, fashion designer Zandra Rhodes was appointed Dame Zandra Rhodes for services to British fashion and textiles in the Queen's Birthday Honours List that also recognized Daniel Day-Lewis with a knighthood for services to drama, and Angelina Jolie with an honorary dame for services to UK foreign policy and campaigning to end sexual violence in war zones.
Rhodes has been a frequent guest to the School of Fashion as she and Gladys Perint Palmer (GPP) have been friends since the late-80s. She hosted a book signing for GPP's book Fashion People (Assouline) at the Fashion and Textile Museum in London where Rhodes is a founder. She has spoken to School of Fashion students on many occasions including when she designed the costumes and sets for the San Francisco Opera's production of Aida.
"Zandra Rhodes and I met in London when she was the star designer and I was fashion editor at the Hearst San Francisco Examiner," said Perint Palmer. "Then we became neighbors – so to speak – as we both lived in California."
"In 1994 I was hired to run the School of Fashion at the Academy of Art College (as it was known then) and needed academic support. Zandra was the first international designer to visit and offer valuable advice. Since then, she followed my progress (teaching, writing, drawing) and I have followed hers (fashion and textile designer, interior designers, stage designer)."
"I was thrilled to be present at San Diego Opera's production of the Pearl Fishers (Georges Bizet) in 2004 when the audience gave Zandra a standing ovation for her costumes and sets. Likewise, in 2007, at San Francisco Opera's production of Verdi's, Aida."
"I am so proud of her achievements, and congratulate Dame Zandra Rhodes for this tremendous honor."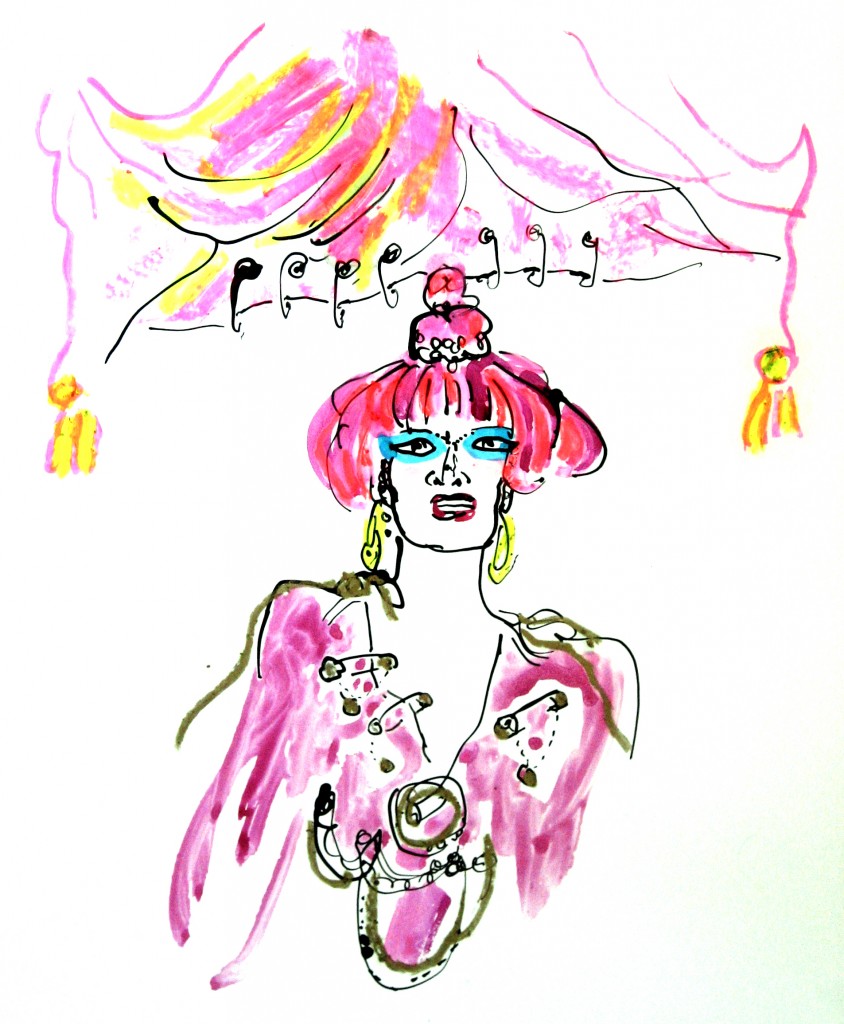 In 2002, Academy of Art University presented Rhodes with a Doctorate of Humane Letters at the Graduation Fashion Show in San Francisco. At the show, she selected student Jennifer Jeon (present fulltime textile design instructor in the School of Fashion) for an internship in London.
"The most fascinating thing in Zandra Rhodes Studio was that everything was created by hand," said Jeon. "We hand-drew, hand-painted and hand-printed everything. Once we were done with printing, the fabric was taken upstairs where the design studio turned it into garments. I remember the studio environment was very creative; it was truly one of the most inspiring companies I have ever worked for."
Rhodes was born in Chatham, Kent, and became interested in fashion through her mother who worked in a Paris fashion house and was an instructor at Medway College of Art Les Fawcett, now the University for the Creative Arts. Rhodes studied at Medway and then studied textile design at the Royal College of Art in London. She was one of the new wave of British designers who put London at the forefront of the international fashion scene in the 1970s and has designed for Diana, Princess of Wales, and continues to design for royalty and celebrities. She splits her time between homes in London and Del Mar, California.