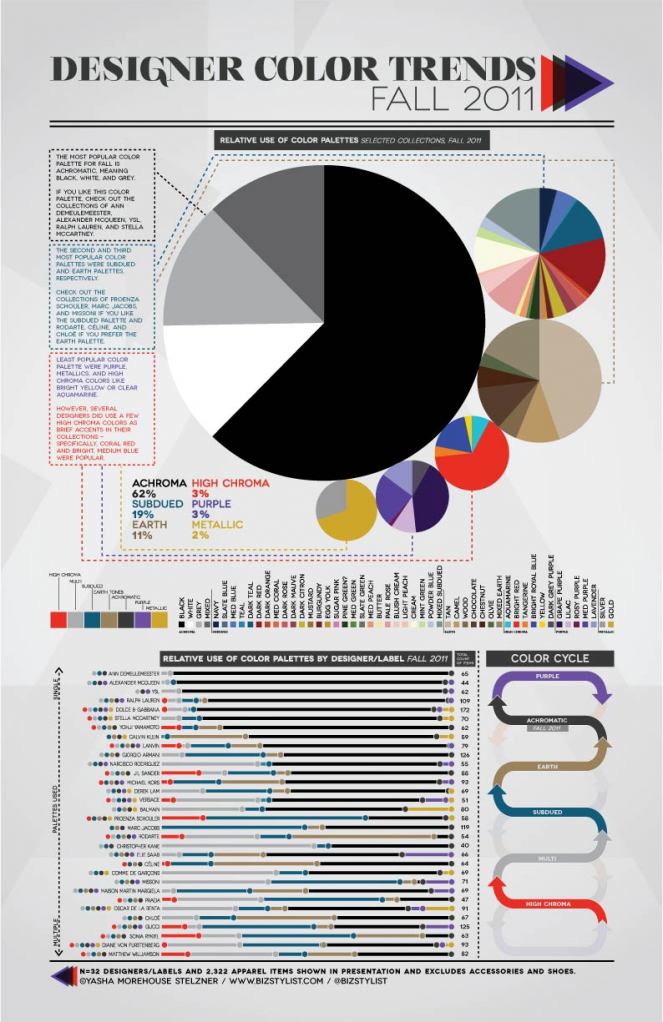 Back when I lived in DC, August was the month when I was ready to throw my overused tank tops and flip-flops in a trash barrel and burn them. After months of excessive heat, when all you can wear is the barest form of body-covering, August would give me the hope that one day I would layer my clothing again and, perhaps, even wear a sweater. Although, now, I live in San Francisco and have lost all meaning of the word "summer".
For those of you who are ready to stop thinking about the scorching heat wave and start shopping for fall clothes, here's my advice to you: buy something black. In fact, if you want to be totally on trend, buy something in these colors:
Black
White
Grey
Dark Teal
Dark Red
If these are too dark for you, buy a few accent pieces in:
How do I know this? Becuase I counted to see how often these colors were used in the fall collections of 32 ready-to-wear designers and labels (see graphics for the full list). According to the book Fashion Forecasting by Evelyn L. Brannon, designers tend to use color palettes in a predictable pattern, or cycle. I'm in the process of checking this out now – so stay tuned – but, if this is true, it means that spring fashions will use a lot of black, white, and grey.
Written By: Yasha Stelzner