Academy of Art MA Fashion Journalism student Namrata Loka collaborated with styling students as well as hair and makeup professionals on a fashion editorial entitled "Business of High Fashion". In her article she takes readers through a play by play of the process for her magazine, Vanilla Sequins.
---
It is the second last week of school and although this semester was incredibly challenging, I have to say that it was equally exciting and fun. By the end of next week, I'd have published my own magazine, thereby accomplishing something I never thought was possible.
If you follow me on Instagram, you probably know that I did a photoshoot with a model for an editorial which I styled along with three other students. We worked with a professional hair and makeup artist, two photographers, a model and our instructor. Four weeks before the shoot, we decided on a theme and season explained using a moodboard, followed by sourcing garments, accessories and props, and finalized our lighting requirements, poses, hair and makeup.
Concept: Business of High Fashion.
(That translates to a corporate fashionista/ a strong, powerful woman in-charge, like Anna Wintour or Miranda Priestly from The Devil Wears Prada.)
Outfit 1: We paired a bodycon bustier corset with culottes and a tweed blazer, in monochromatic colors, and the wine lipstick was used to pop the look. It was an office set up, as if our CEO is firing somebody, therefore angry and yelling on the phone.
We tore up a magazine and threw it from the sides. It was all live action!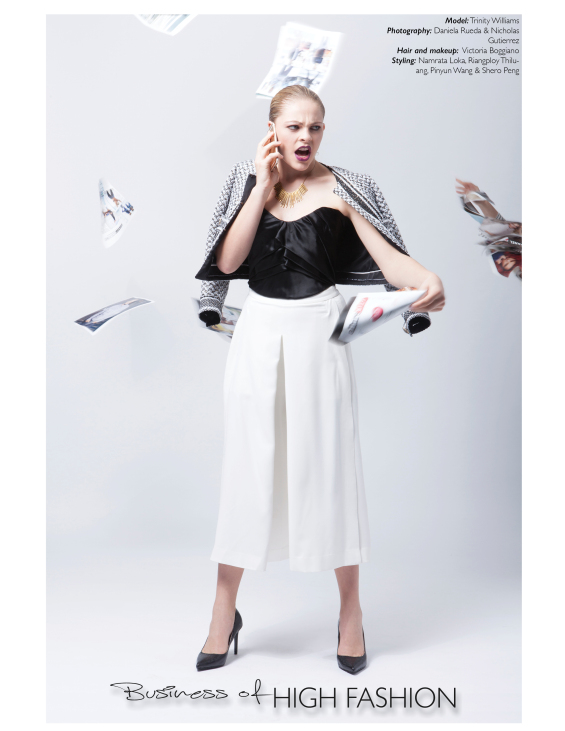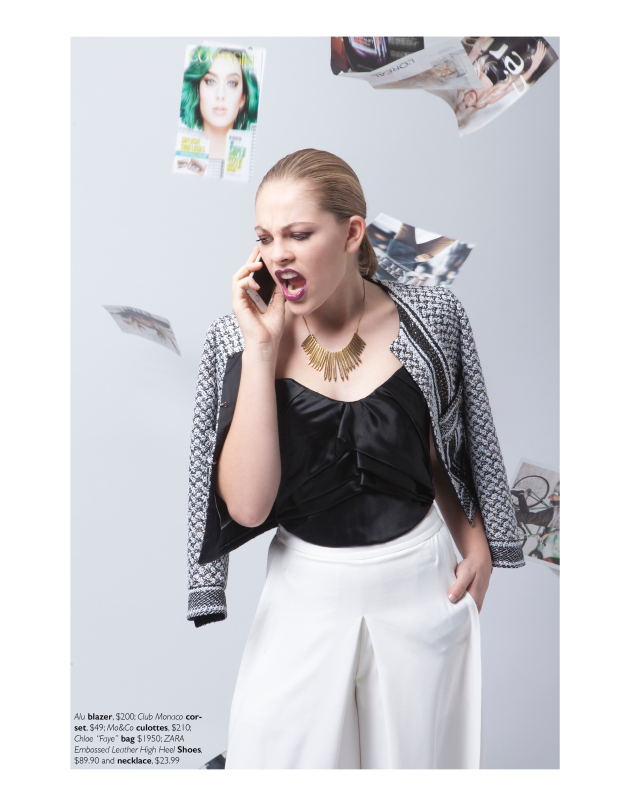 Outfit 2: The concept of this closely mimicked Meryl Streep in The Devil Wears Prada – our corporate fashionista is seen browsing through a rack of clothes as she works on her iPad. The entire look was aimed to be crisp and neat. The mix of prints (skirt and the coat) and a huge pearl choker as opposed to a regular one, in our opinion, really conveyed the feel of high-fashion, of somebody who knows garments and fabrics.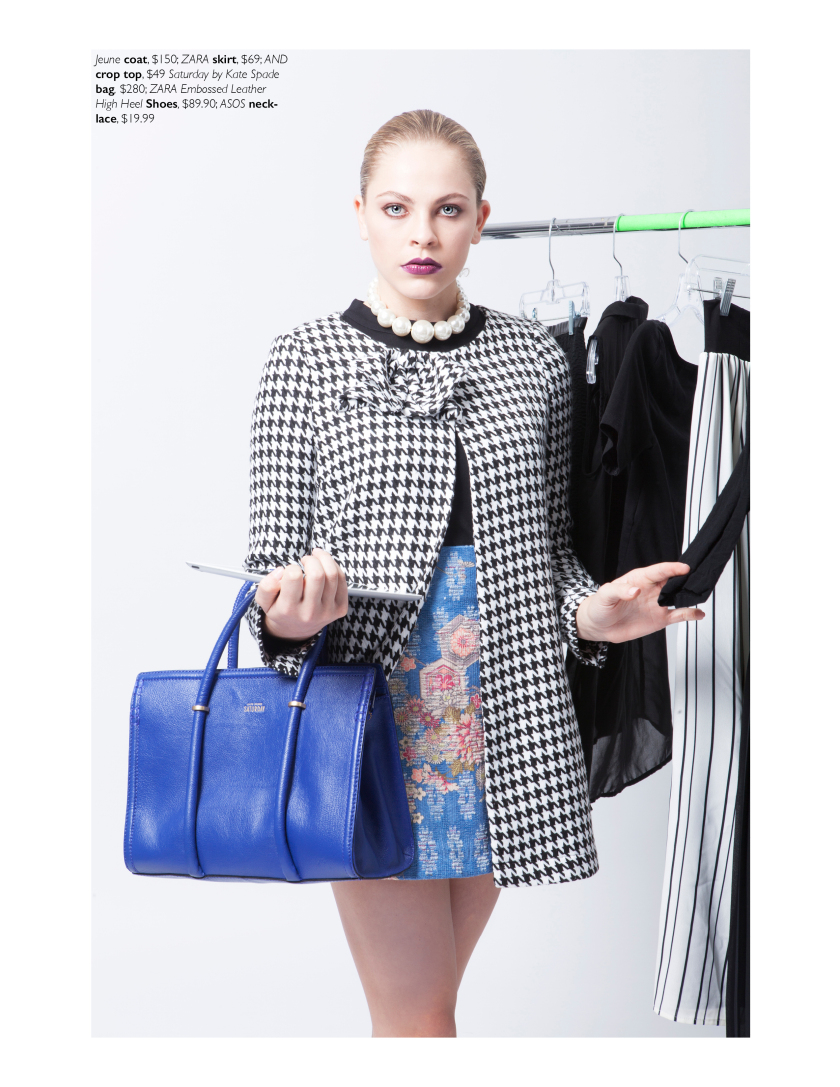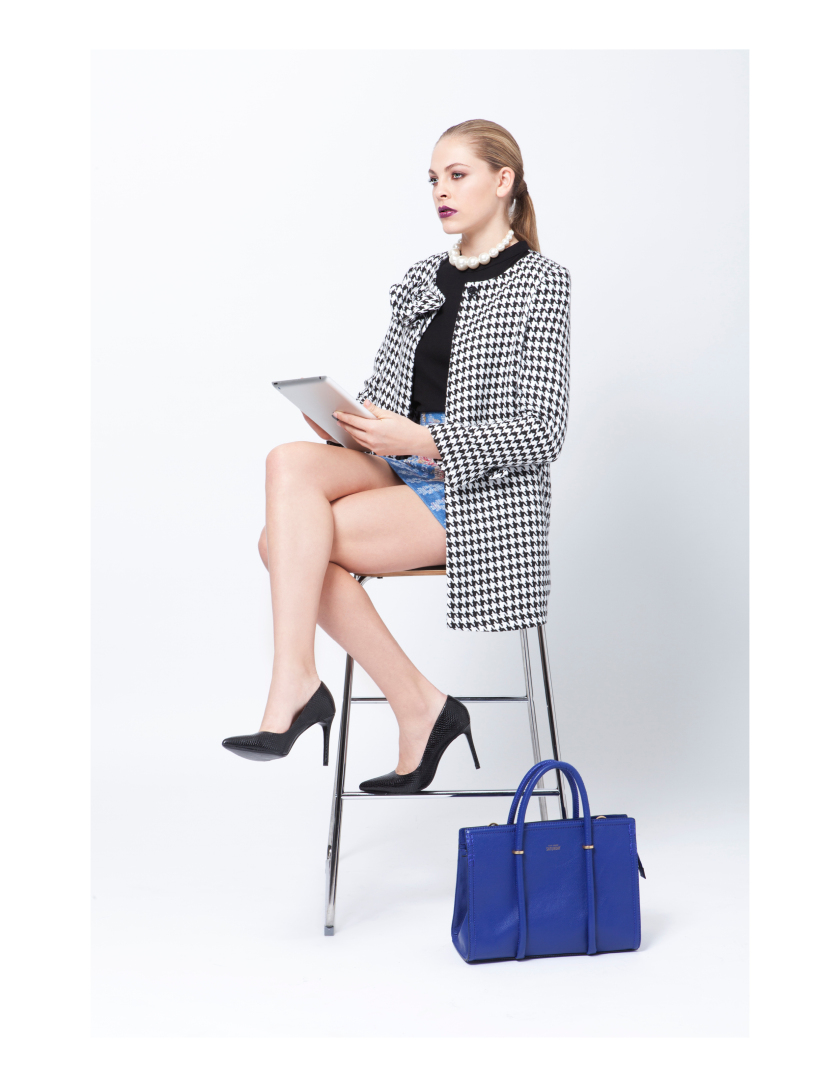 Outfit 3: This was our "fashionista goes shopping" look. She's on the street with shopping bags, a cup of coffee and a Chloe bag. The sunglasses and fur coat were used to enhance the Anna Wintour feel. Sequins, faux leather and fur were an interesting and challenging combination to work with – but it did give us exactly what we were going for. The beauty/ headshot does a lot in terms of showing power and seriousness.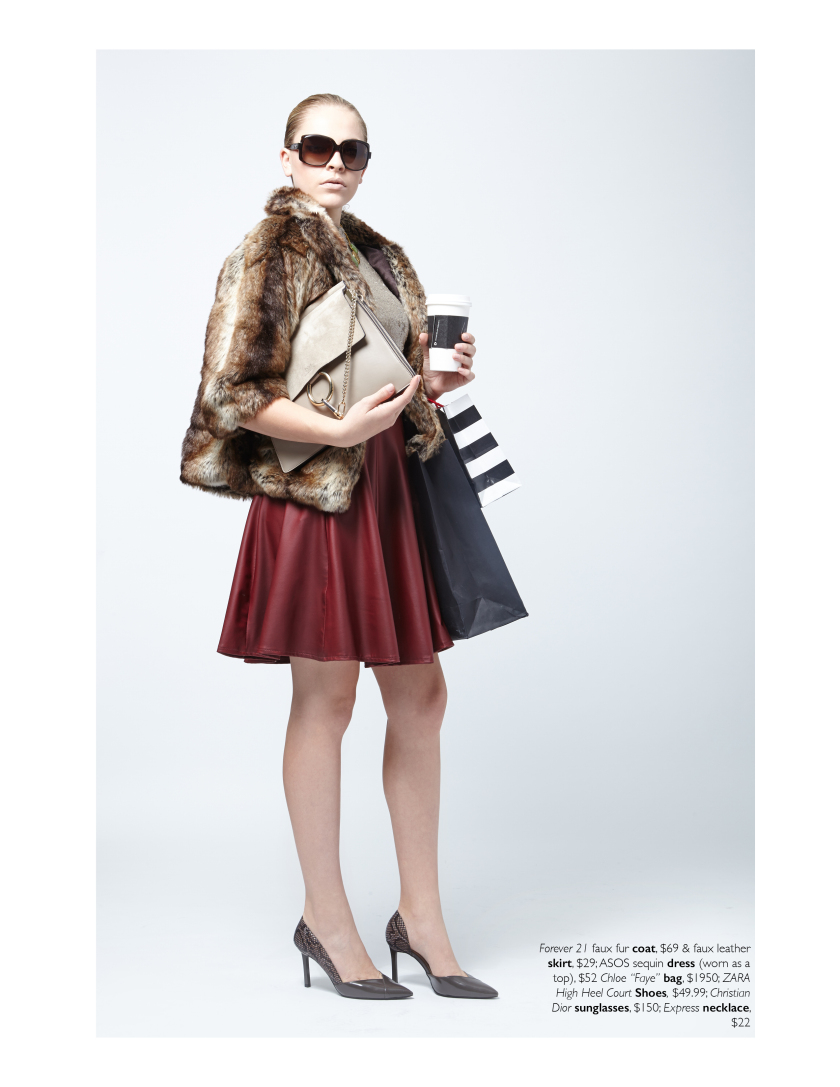 A few things I learnt from this experience:
Knowing exactly what you want in terms of poses and expressions is a HUGE advantage. It is very difficult to be in full control on set, so the more concise your list of expected poses and expressions are, the easier it is on the photographer and the model.
Again, don't be afraid to mix prints and textures. It takes practice, but once you begin to experiment, you will see that it is amazing to go over-the-top!
Combining high street and luxury brands is not as tricky as it seems. Fabrics like faux fur, faux leather, sequins, tweed and silhouettes that are long and lean with slightly masculine cuts (like blazers) appear very luxe, thus perfectly complement luxury pieces.
Always  iron/ steam the clothes.
Finally, this was an "office wear" theme, a tad bit dramatic and extravagant. However, we kept modesty in mind while picking garments – so no skin showing, nothing indecent, but we still used crop tops, skirts, corsets and bodycon/ mini skirts. The key to using these types of pieces is layering. Finish your outfits with crisp blazers, coats and jackets, and keep your look neat and clean.
This content was produced by Academy of Art University MA Fashion Journalism students as part of their Fashion Journalism coursework.