"Working in SF is insane," says 24-year-old, self-taught woodworker, Nick Pourfard, the industrial design grad behind idiosyncratic guitar brand, Prisma Guitars.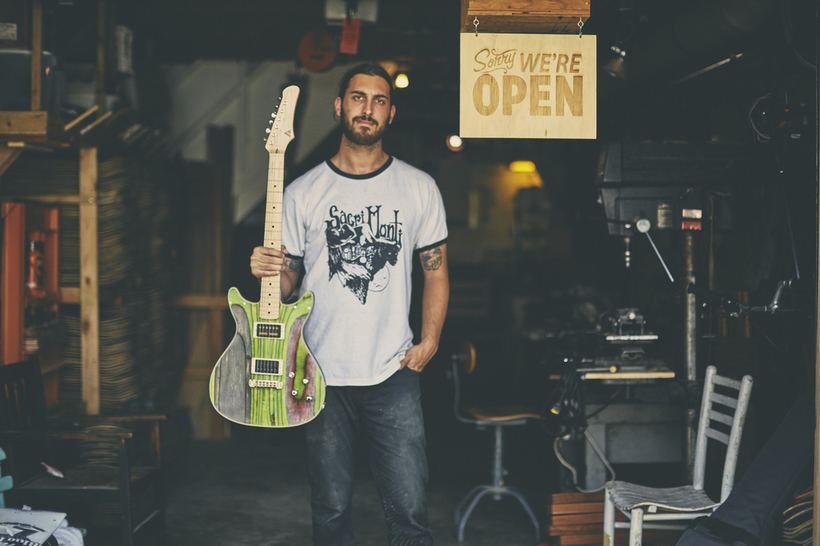 "I think there are just so many people doing big things here, it's only natural that you start connecting with them all. It's important to me to involve the community that has supported me since the beginning," explains Pourfard.
This passion for supporting local San Francisco artists has meant that Pourfard has worked hard to incorporate the community into Prisma, from working with Bay Area artist Muzae Sesay to create graphics for a line of Prisma skateboards, to collaborating with cult amp builder Milkman Amps. "I really feel more attached to this city every day. I think if I lived anywhere else the company's growth would slow down."

It's not often you hear that from artists based in San Francisco, the city that's become dominated by the tech boom. Luckily for Pourfard, it's engendered some stellar connections, including Free People's "for him" section, for whom he makes accessories, Uproxx.com's second season of "Human", the documentaries sponsored by Coors Light, and the city's local Anchor Brewing company that have helped them create a new video series, Shop Sessions. "We basically bring bands into our garage woodshop to play our guitars alongside the tools that made them. It is as real and raw as it can get, no gimmicks," says Pourfard. He's got even more video projects in the works – teaming up with big brands that he's keeping hush-hush…for now.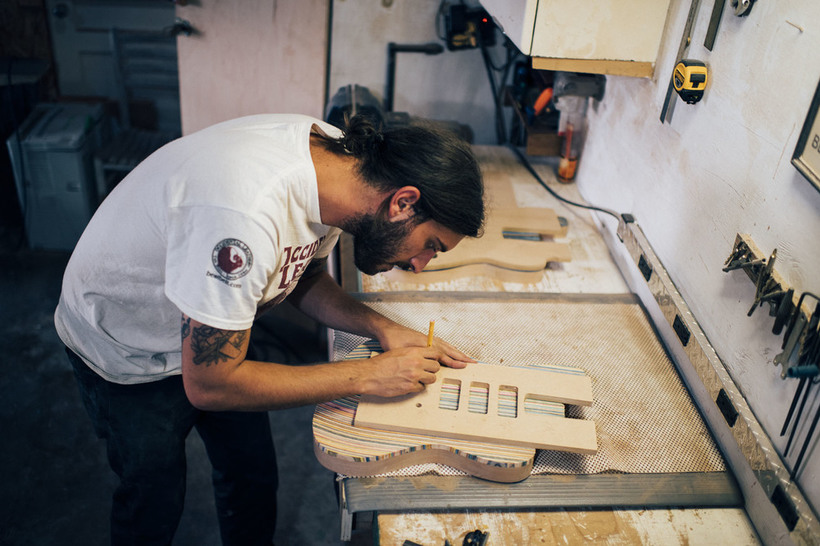 "The biggest thing I attribute that to is that this is who we are. There is no larger corporate headquarters complicating everything. We do this everyday and love it." Pourfard produces these 100 percent handmade guitars right out of his garage in the Sunset district; the direct result of broken bones and happy accidents. "I broke my ankle skating and I occupied all my time learning woodworking until I could recover completely," he says. What once took him six months to make while starting out, now takes about a week.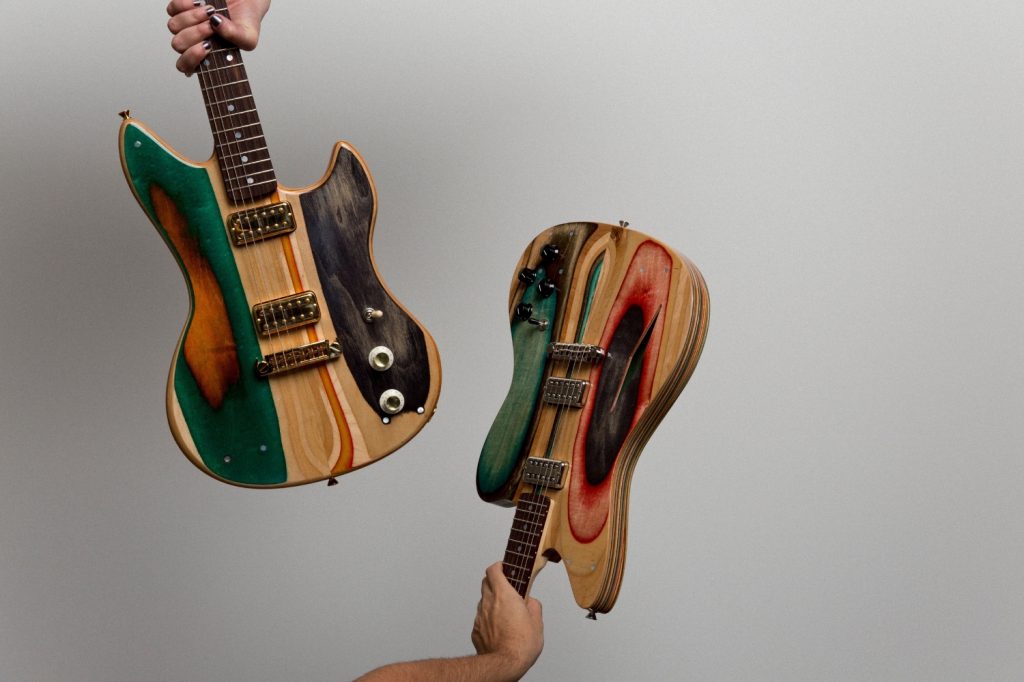 Not only are they beautifully crafted, almost 70s psychedelic-looking pieces of art – intense, vivid colors, swirling abstract patterns –  they can never be copied. Each and every one is entirely unique; Prisma's guitars are built from reclaimed and recycled skateboards, most of which are kindly donated. Pourfard even made a limited collection of guitars known as 'The Burnout Series', a distinct charred effect from the black, unrideable boards caused by a 2013 fire in the studio that housed Lurkville's skateboards.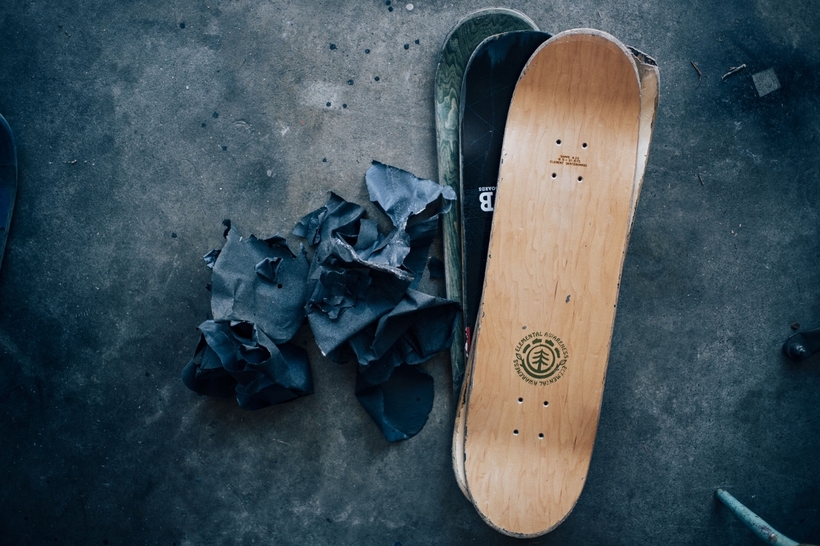 Pourfard founded Prisma in 2015, during his last year of college. "I remember taking finals and trying to finish orders at the same time," he says. "In my off time I build and design furniture. I think it's important to build different things as often as you can, to develop skills and have a better understanding of tools and material." Pourfard cares about every single detail; He shares his entire method through a newly launched promo video starring iconic skateboarder and musicianTommy Guerrero, and local skater, Tory Hereford; the lifecycle of a board, the abuse they take before Pourfard receives them, and the transformation from start to finished piece.
"I wanted to create something that visually told our process and represented our brand," he says. "In my head Tory was the guy who had it all…he was good, had style, is a recognizable skateboarder from the Bay Area. It just felt right to film him cruising through the Embarcadero."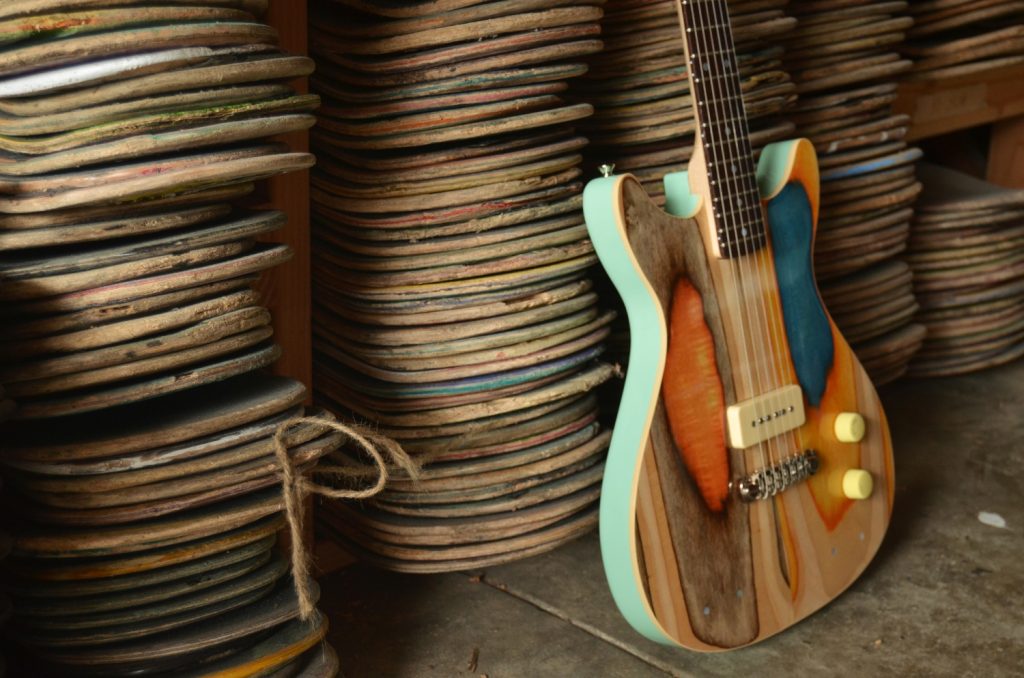 Gaining broad interest – Prisma guitars have even been listed in Vogue magazine for a Father's Day gift idea – means that Pourfard can push the brand to extend beyond the city, California even. He's selling all over the world, from skaters, to people who are learning guitar, to collectors of hundreds of boutique instruments. "It is really amazing how many people are excited about what we do. I get emails from all over the world just saying that they love it, 'keep it up!', or even that I inspired them to start woodworking," he says. "That is the craziest thing to me. That I can personally inspire someone I have never met on the other side of the planet to do something."

Pourfard's work buddies and guitar tech, Justin have been building out a basement art gallery in the city for the last six months, naming it Mizu Aqua. "The idea may sound weird, but we have a lot of help coming from people affiliated with the Jewish Museum, SFMOMA, and other places," says Pourfard. This is the real deal. It's a clean, well-built space. I'm excited to see the events that happen."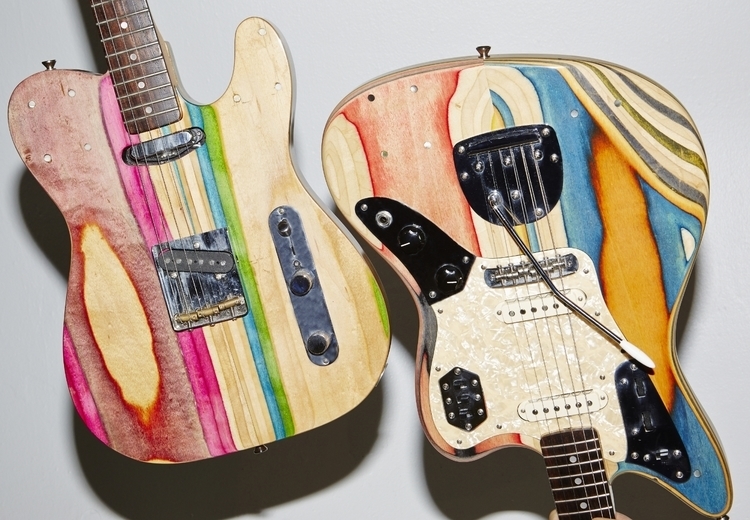 His favorite part of the whole process though, is watching someone else use the guitar after it's finished. No doubt it's mesmerizing watching anyone play with a Prisma. "I spend hours and hours in a garage building these guitars, and when I'm done with one I feel like that's the point I start to become proud," he says. "I think to myself all the time "I cannot believe I made that," I really don't think there is a better feeling than that."
Text by Faye Harris, MA Fashion Journalism. This article originally appeared on Huffington Post.