Imagine the task. Design a collection for a revered brand to be presented at an iconic venue featuring a celebrity with a cult following. Now, make that your global debut. No pressure. Academy alumna Jenny Swank Krasteva rose to the challenge as Senior Head of Creative of HUGO Woman at Hugo Boss. She designed womenswear for the much-anticipated HUGO show at the Pitti Uomo 92 in Florence, Italy. The June 13th runway presentation included famous rapper M.I.A., and Anwar Hadid of the reigning modeling dynasty. The collection garnered great press! Fashion School Daily caught up with the designer to find out what's it like to take on "the boys" at the Fashion Olympus.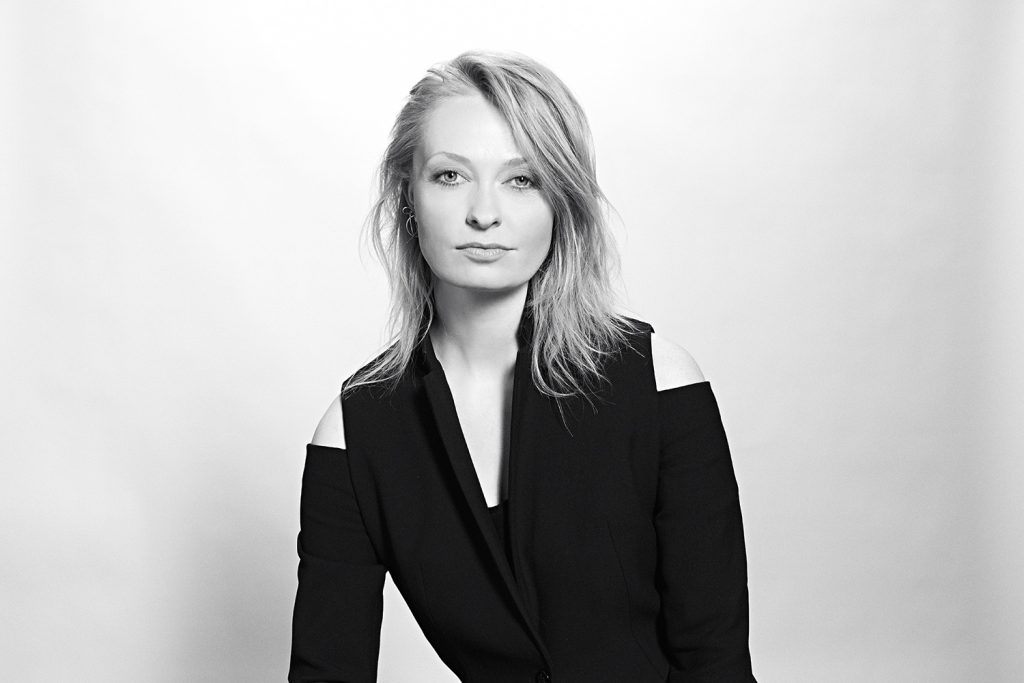 FSD: Hugo Boss was established nearly a century ago in 1924. HUGO is its edgier, younger line launched in 1993.  What are the advantages and/or challenges of working creatively within such an accomplished brand?
JSK: Hugo Boss is a huge corporation and with that, we have many resources.  This is a clear advantage. It comes with responsibility to do things the right way: efficiently, cost effectively, and most importantly, in a way that is not hurting the environment. We only work with partners who share our standards of quality and sustainability. That can be very limiting at times; it's sad that more companies don't operate like this. However, what I love the most is the ability to work with an openness and a willingness to experiment. Unfortunately, the idea of creative experimentation isn't always easy. I feel that everything should be questioned more! In the end, we are making clothes. It's not that serious. Fashion is quick, instinctive and about not being so restricted about things.
FSD: HUGO showed both womenswear and menswear in the same show. What was the collaborative process like merging these collections?
JSK: HUGO is one brand. This co-ed presentation allowed us to show how its aesthetic applies to both men and women.  It also allowed us to question what is masculine and feminine and if those distinctions really matter. Bart and I started out together. [Note: Bart de Backer, Senior Head of Creative for HUGO Menswear]. We looked at the great HUGO menswear pieces from the first 1993-1994 archival collection. The silhouettes were a nod to our 90s beginnings, yet really relevant for now: the exaggerated proportions, long clean lines, strong shoulders. It was interesting to start with exactly same pieces and rework them to fit differently. That changes the way you think about building a collection. For womenswear, I completely re-fabricated the pieces and gave them a waist.  For menswear, the forms were cut up the back to give them more of a draped ease. We also collaborated with artist Charles Jeffrey to create the childlike prints and scribbles.  For men, they were inkjet-printed on cotton.  For women, hand-painted on silk organza. We wanted to explore this idea of the artist as a muse, wearing very precious things in a non-precious way.
FSD: What were your expectations and experience of showing in Florence?
JSK: Pitti Uomo is a huge deal! We arrived in Florence four days before the show.  We did restyling edits and fittings for boys and girls. In between, I had interviews with various press from different countries. We also had fittings for VIP clients and, of course, M.I.A. who performed in a custom HUGO look at the afterparty. From the very beginning, we set out to work with the best team possible. The womenswear was styled by Vanessa Reid who is a force to be reckoned with.  For me, it was a magical collaboration as she has such a huge understanding of where fashion is going… She too is always questioning how to make the show better, stronger, raise every detail to utter perfection. I was a bit nervous to present womenswear in front of primarily men's press, but the response has been really positive.  The whole experience was completely draining and incredibly inspiring at same time.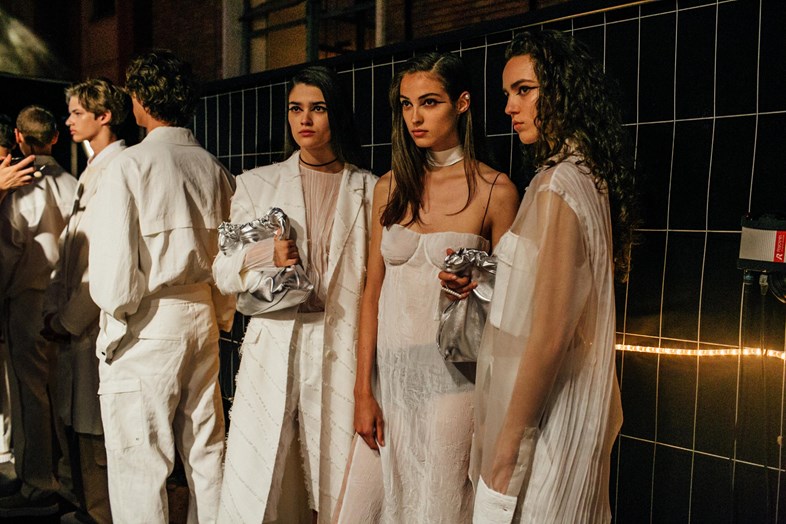 FSD: In your experience, what are the biggest challenges facing the fashion industry today that Academy graduates need to be prepared for?
JSK: One word: digital. Digital innovation is the future. The main challenge now is that people are also looking for a "real" offline experience. The digital world is a way to express individuality, but it cannot replace interpersonal, physical experiences. It is important to give the customer both and to continually find new ways to do so!  A "formula" for success that worked last season isn't valid for the next.  Just keeping up with the competition isn't enough anymore. Constant change is the new normal in fashion. With everything moving at such a rapid pace, my hope is that established brands will rediscover that sense of individualism and unique aesthetic that made them successful in the first place. The other challenge is that many companies believe that creative heads can be replaced by figures and projections. Data is an important factor in innovation, but so is the human element in fashion.  No amount of analysis can replace raw emotion when it comes to how women choose to dress themselves.
FSD: What are your strongest memories of the Academy?
JSK: It would absolutely have to be the closeness of my graduating class. We were all so close in the end, helping each other finish our senior collections on time. It really set the tone for the type of success we've had since then. For example, Munsoo Kwon is a fashion megastar in South Korea! Kenneth Ning is killing it in menswear with his Samsung sponsorship in New York.  Jennifer Koo is designing women's accessories at Coach. Shannon Galati is working for Monique Lhuillier in Los Angeles draping and patterning some of the most beautiful gowns ever. Stephanie Garges has been changing the game as designer for Women's Denim at Old Navy. Meredith Leyerzaph helped to create the brand Wildfox, and Cassandra Kellogg has her own swim line Minimale Animale showing at Miami Fashion Week. I love that we've all "made it" in our own ways.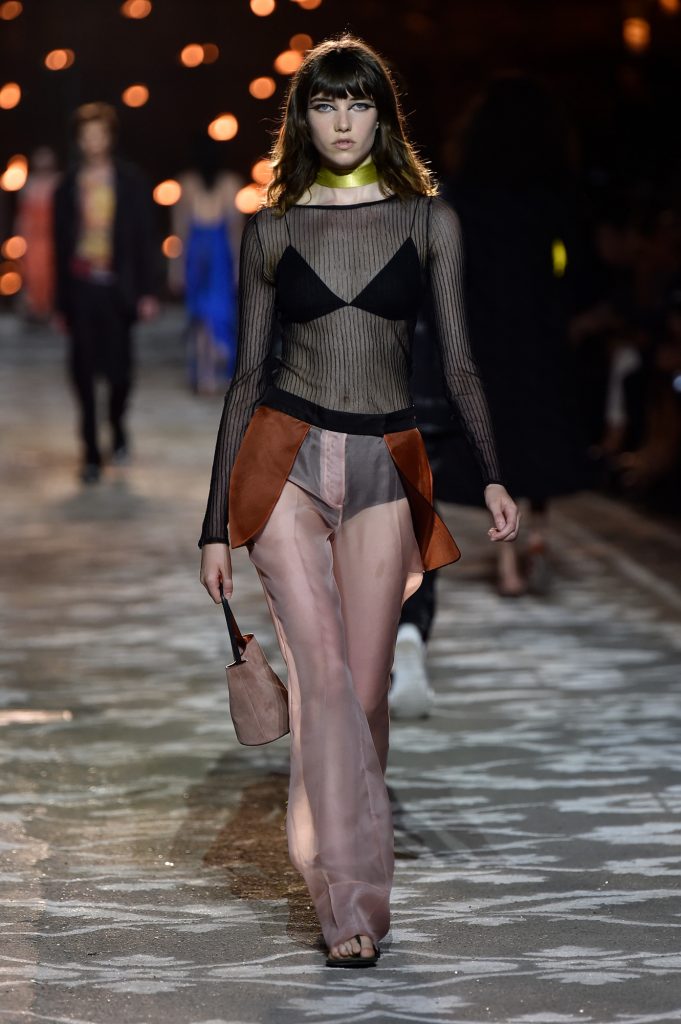 FSD: That is really great, indeed! Any advice for current Academy students?
JSK: My advice would be… Know that you are not entitled to a successful career. Get internships.  Work hard. Learn the craft. Finish school. Keep learning. Broaden your references. Always, always be kind. Nobody likes an a**hole. Help each other out. Collaborate. Push each other. It's going to make your work stronger in the end.
Interview by Alexey Timbul Bolukhov