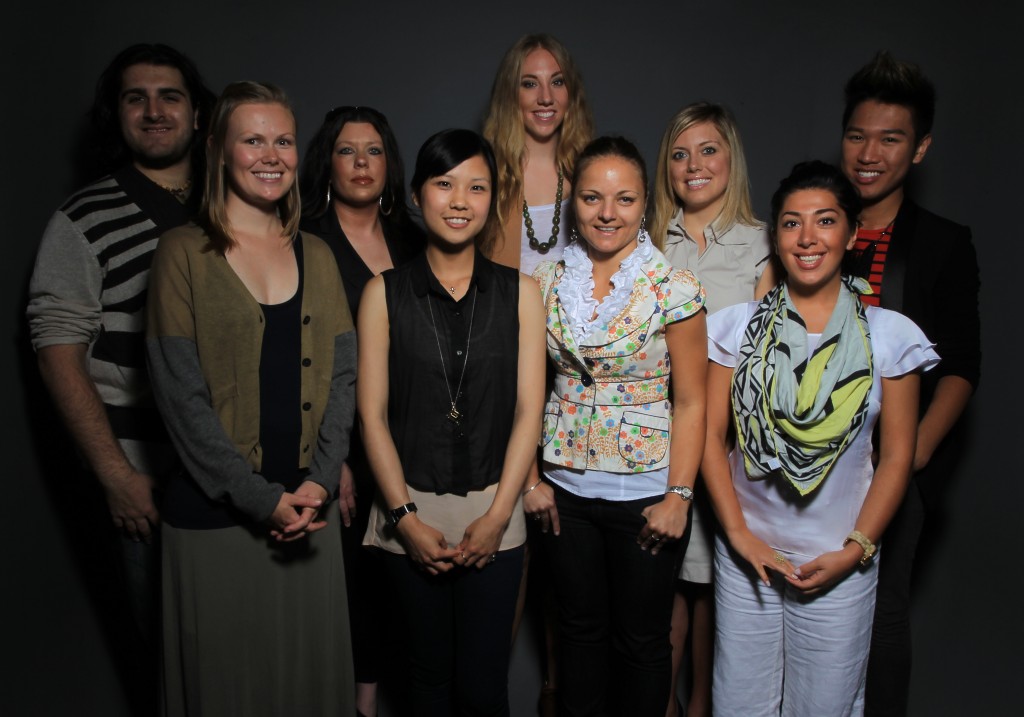 We sat down with Beyond the Front Row co-presidents, Courtney Geier and Heather McDonald, to talk about this awesome student club, how you can get involved, and what they've got planned for the year ahead!
So what is Beyond the Front Row?
Beyond the front Row (also known as "the fashion club" or "BtFR") was launched in the spring semester of 2010 and is a club for students at the Academy of Art University who are either enrolled in the School of Fashion, or who simply have an interest in fashion and want to gain insight into and connect with the industry. In summary BtFR is a social club with a strong emphasis on peer networking and volunteerism at charitable and fashion-related events. We've heard from BtFR members that they are especially appreciative of the latter, which helps to put their education and interests into practice, further develop team participation skills, and boost their resumes. It really is a great platform for students to connect with one another, teachers, and local fashion industry professionals. As BtFR co-presidents, we want our fellow students to succeed and enjoy these experiences.
What projects and events have you done in the past?
BtFR is involved with many local events. We've assisted established charities – like Okizu's recent fashion-themed fundraiser for children undergoing treatment for cancer; the St. Vincent de Paul Society of San Francisco's annual "Discarded to Divine"; and Vanessa Getty's "PURR" to benefit the Humane Society. We've also created our own charitable initiatives – by hosting a clothing drive at University dorms; collecting 160+ shoes for those in need due to injury, disease, or genetic disorders; rallying team participation in the "Making Strides Against Breast Cancer" walk/run; and, by creating our largest independent charitable event to date, "Give 2, Take 1", a shop, swap, donate event to benefit the St. Vincent de Paul Society.
In addition to charitable events, BtFR is frequently asked to volunteer for School of Fashion, community, and private functions, including: "Fashion's Night Out" at Neiman Marcus; the "Annual Student Showcase" at the de Young Museum; the School of Fashion's "Annual Graduation Fashion Show and Awards Ceremony", and numerous events hosted by local designers, boutiques, stylists and public relations companies. There are surprises too – last year BtFR was asked to assist with backstage preparations for Walter Van Beirendonck's show at the Berkeley Art Museum.
We also try to offer members opportunities to learn more about the industry – either through social outings like going to see "Bill Cunningham New York" or bringing industry experts in as special guests, like we did last spring when we hosted a Q&A with fashion icon Patrick McDonald.
What are BTFR's plans for the upcoming semester?
We've received some feedback requesting more social events and outings, so we are planning to integrate more of that focus into the year ahead. Members can also look forward to continued opportunities to volunteer and participate with the BtFR community, as well as at least one industry Q&A or presentation.
Follow the jump to read more!
How would you like to see BTFR grow during your presidency?
The board is prioritizing an expansion of BtFR's communication with its members – we're developing a blog, continuing to provide updates through our Facebook, Twitter, and our "FashMash" email newsletter to help everyone access information about local events and BtFR's goings-on. We've also been in touch with former board members to create a BtFR group for alumni members, mainly for the purpose of continued connection and networking after graduation.
CG: I am excited for the fall semester! I love to see fellow students learn from one another and volunteer throughout the year. I believe that we will begin with a strong foundation and provide a steady stream of opportunities and ways to connect – this will provide a positive outcome for everyone involved with BtFR. I would like BtFR to be a close-knit unit, with consistent membership involvement and personal growth from their experiences.
HR: I want to make sure that when it is time to graduate, I am (and the board is) leaving a bigger and better club with members who are motivated to continue BtFR and participate actively.
How can students get involved?
Students are welcome to approach any of the board members with questions. Questions can also sent through BtFR's email: beyondthefrontrow@gmail.com, and students can look for additional information on the University announcement screens, www.FashionSchoolDaily.com, as well as our Facebook and Twitter (info listed at the end). Those interested in membership can sign up during our first meeting of the semester (Wednesday, Sept. 21st at 7pm in B60 at 625 Polk Street) and the following week. Members receive BtFR's FashMash via email with updates about important information, events and volunteer opportunities.
What is your favorite thing about being a member of Beyond the Front Row?
CG: The things I love about the club are the relationships I have built and the amount of opportunities that I have been able to participate in. I feel connected to the school, my teachers, and many students. The energy and work ethic of the club is dynamic. For these reasons, I want to be here and do more.
HM: I love to be involved with a group of hard working students and being able to create an environment that welcomes other students with the same goals – putting theory and interest into practice and gaining more experience outside of the classroom. I also love the people I meet through the club – it is great to connect with students from other Schools within the University too, students I probably wouldn't have had the chance to meet otherwise. The opportunities have been endless! I am always excited to see what future semesters are going to bring us and which events we are going to be able to assist with and/or attend.
Do you know the date of your first meeting??
Our first meeting is scheduled for Wednesday, September 21st from 7:00pm-8:30pm in B60 at 625 Post Street. Students who are not able to attend and would like to sign up as new members or renew their annual membership, please contact us at beyondthefrontrow@gmail.com (we will sign and renew membership through September 28th).
Facebook: http://www.facebook.com/pages/Beyond-the-Front-Row
Twitter: http://twitter.com/BeyondFrontRow
Blog: stay tuned, it's launching soon!
Click here to see what Beyond the Front Row has done in the past!