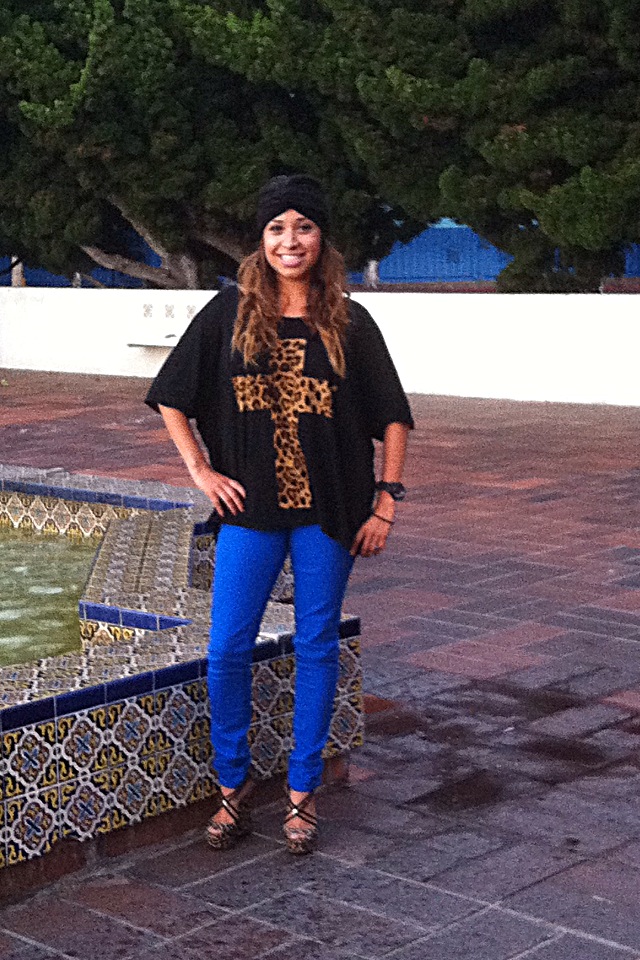 Where do you live? Los Angeles, CA., aka City of Angels.
Area of study: MFA – Fashion Merchandising
Day job / occupation: Footwear Production Coordinator. Don't get it confused, I am not a shoe cobbler! But I love my job and it's always an added bonus to "play" with fabulous shoes all day. Basically I work with brand managers when they want to put a style into production. I submit the buys to my coordinators overseas and get them places in factories. From there I work to ensure they fit perfectly, look amazing, and lastly, hit that bottom line for the company. That's the glamorous side of the position – the ugly side I will leave to the imagination.
What qualities do you most value in others? A good laugh, a big heart, a hard worker that plays harder and most importantly integrity.
Name three of your favorite designers, journalists, bloggers, stores, etc: This is not an easy answer, it's like asking "do you want ice cream, cupcake or a cookie?" I'm that girl that says "I'll have it all!" In all seriousness, I believe it truly depends on my mood, trends and what I'm currently lusting after. Right now I am definitely feeling Nasty Gal, Christian Louboutin and Rebecca Minkoff.
List a guilty pleasure:
Veuve Clicquot, anything red velvet and of course shopping as if the world was ending tomorrow!
What is your present state of mind? To be honest, I'm 150% overwhelmed. I always tend to bite off more than I can chew. I work full time and am at the Academy of Art University full time, so you can imagine life moves really fast for me. Life is about 10% of what actually happens and 90% of how you react to it. So I've learned to "stop and smell the roses" a little more these days and its made an epic difference. But I'm not doing this alone, I am truly the luckiest girl as I have an amazing support system from my husband, family and friends. "Stressed is desserts spelled backwards" has been my motto lately 🙂
What is your dream job? A trend forecaster or product developer hands down. I love how trends and products inspire the industry top – down and everyone gets their own interpretation. I am proud to be a part of an amazing industry that is always evolving. But at the end of the day I just want to do something I love and am passionate about. I wake up believing, " you live a career and work a job." There are days when it is 24/7 shoes, shoes, shoes but I LOVE that. I know that the dream job isn't based on salary or the social ladder you climb. I think it's OK to fail or go into the unknown – it's a process to understand what is really important. Make what is enjoyable to you the foundation of your career.
Follow the jump to read more!
What is the most important thing that people should know about you? I'm a DREAMER and passionate about chasing them all – big or small. At the end of the day, I sleep easy knowing that the day wasn't wasted chasing someone else's dreams. I stay true to myself and live everyday like it could be my last. My husband, parents, my sister and my closest friends are my role models. Someday, I hope to inspire them as much as they all inspire me.
When was the first time you recognized your interest in fashion? This is my own little fairytale. I began working as an assistant for my father at his fashion photography shoots. He is one of many, many artistic talents that always pushed my creative inclinations. My father showed me how to take a vision and bring it to life whether the medium was drawing, photos or graphics. The constant pouring over magazines for inspiration became an obsession that turned into my questioning the inner workings of the industry. Fast forward about 15 years and here I am in the arena I love. To this day, my father's fashion work still feeds my deep appreciation for style.
Where have you found inspiration lately? I find my inspiration everywhere and anywhere . Whether its art, nature, architecture, muses – I like to mix it up so it keeps me fresh. Regardless, I'm a perpetual style stalker, I love the metamorphosis that makes the industry go round. Side Note: The House of Alexander McQueen is still killing it, kudos to Sarah Burton.
What is your most valued possession? Of course, my footwear collection. Its a continual work in progress and I'm a lucky sample size 6. I have a collection of one-of-a-kind samples that would make most girls green with envy. It's fun to look at and see how my own style continues to evolve with age.
What music do you like to listen to? Dance party or indie rock – since I am always on the go, I need something with a sick beat to keep me going. Music is the soundtrack to my life and most songs hold memories of a certain time in my life. My music and fashion choices go hand in hand.
If you had an opportunity to travel back in time, who would you like to meet, and why? Staying within the realm of the fashion world – it would be COCO Chanel. As cliché as that sounds she was a pioneer. Her talents are undeniable. Classic. Vintage. Romantic. Modern – I could go on forever. Hello…men and women have her to thank for the LBD. To have even five minutes with her would be priceless, her philosophy and vision continue to impact our world.
For more of On Online, click here.