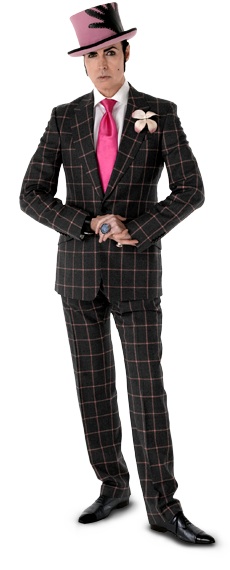 On Friday, April 1 Beyond the Front Row will host a Discussion/Q&A with dandy style icon Patrick McDonald and illustrator Jim Howard at 79 New Montgomery Auditorium from 3:30 p.m. to­ 4:30 p.m.
Patrick McDonald will discuss his fashionable experiences and iconic dandy style. Patrick has appeared
in numerous publications, including the books: "The Style Makers," "American Fashion Menswear," and most recently "Four Famous Dandies". He is a fashion writer, consultant, a former contestant on Bravo's Launch My Line and he appears in the latest documentary about style, Bill Cunningham New York (opening in San Francisco April 8). Patrick is a strong supporter of the University's show during Mercedes-Benz Fashion Week and always has a front row seat!
Jim Howard, illustrator of "Four Famous Dandies" paper doll book will also participate. The discussion/Q&A will be moderated by Hersha Steinbock and Dino-Ray Ramos.