Fashion Group International San Francisco invites you to join them for a private tour of Pulp Fashion at San Francisco's Legion of Honor Museum. View the collaboration of Belgian artist Isabelle de Borchgrave with leading costume historians and young fashion designers.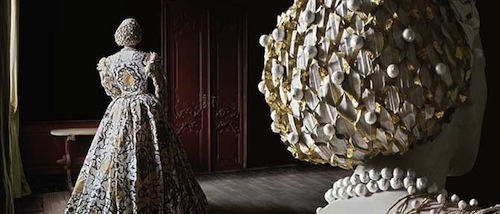 Pulp Fashion a world of splendor from the simplest rag paper inspired by various themes—from Renaissance finery of the Medici family and gowns worn by Elizabeth I and Marie-Antoinette to the creations of the grand couturiers Frederick Worth, Paul Poiret, Christian Dior, Coco Chanel, and Mariano Fortuny. Discuss with other fashion professionals how this medium can inspire you to think differently about your business.
Following the tour join them at the home of Board Member, Lexie Quiring for a brunch and discussion to inspire how sculpture and texture can catalyze new dimensions in your business.
Follow the jump for complete details.
WHEN? 10:00 a.m. – 12:30 p.m. Sunday, March 27
WHERE? Legion of Honor Museum, 100 34th Ave., San Francisco and the Home of Lexie Quiring, 1914 Funston
COST? Tickets include brunch and tour: Student Members – $25.00, FGI Members- $35.00, Non-Member Students – $30.00, Non-Members – $40.00. There are limited tickets. Please pay online by noon, March 26.
For purchase tickets and for full details click here.