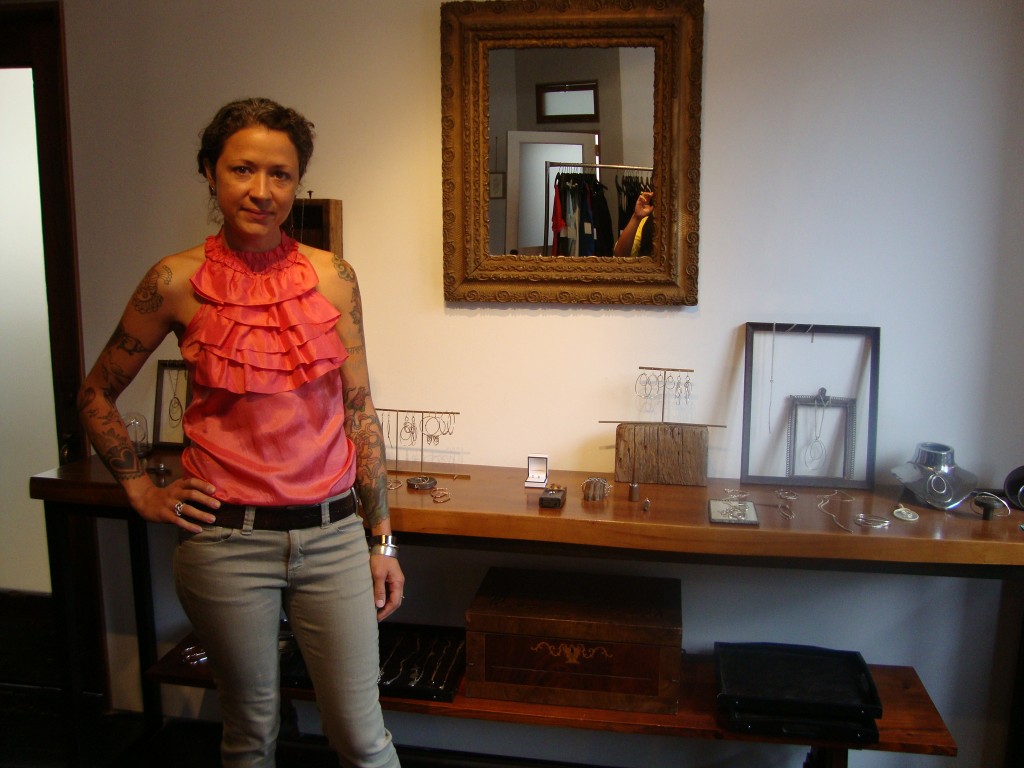 Sheffield at her SoHo studio in New York
Academy of Art University alum, Anna Sheffield has been taking the fashion world by storm with her Bing Bang and Namesake collections for both men and women since she graduated in 2000. Since moving to New York in 2002, she has collaborated with famous designers like Marc Jacobs and Phillip Lim, designing a collection for Target, and having her fashion pieces hang from the necks of Whitney Port and Cameron Diaz were just fantasies for this New Mexico native. Now one of the hottest jewelry designers in NYC, Sheffield doesn't seem to be slowing down. Fashion School Daily caught up with the up-and-coming designer at her studio in SoHo to talk about her collections and latest endeavors.
Ten years ago, did you think you would be doing all this?
I had no idea.
When you started at the academy were you just flying blind? Did you have any idea what you wanted to do?
Oh absolutely. I changed my major mid-course. I was like "Okay, I guess I could be at school for six years."
From what we understand, you started off at the school of fashion?
I studied briefly in the fashion department. I originally wanted to do costume design, so I took a bunch of draping classes and I did some flat pattern then ultimately I went into a millinery class. That led me to a jewelry class and that's when I changed majors and graduated with my Bachelors in Fine Arts. That led me into sculpture via the hat making and jewelry making. I got my degree in metal-smithing sculpture. I sort of went on the jewelry path as a sort of aside to the fine art I was doing.
What makes up your Bing Bang line?
Bing Bang is much more fashion-forward. You can change it more seasonally. It's a more accessible opening price point. It's more mixed metal. I used plating and brass, more semi-precious materials in this collection. So it's sort of like a mix of wearable, funky, edgy and chic. I do different sub-categories with my collections every season.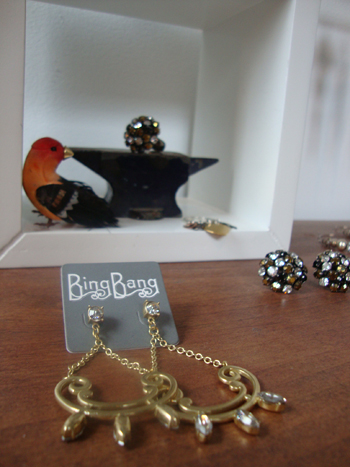 So would you say Bing Bang is more youthful?
Yes. Compared to the Namesake collection – which are all precious materials. So I work with mostly sterling silver, sometimes with copper. Sometimes we use gold in both yellow and white. We (also) use a lot more diamonds and gemstones. We use everything from semi-precious to minerals to precious stones, like diamonds, sapphires, and rubies. I use a lot of mixed quartzes, colored gemstones like blue topaz and we have a lot of cute hidden things in this collection too. I also do some ideas that are more avant-garde like an idea of a solitaire. It's all cast metals, which is a gemstone on top of a solid gem. Then on the inside there's a diamond so it's sort of like tongue-in-cheek. Then I do a lot that are sort of edgy, but still fine. For these I used round gemstones that are inverted.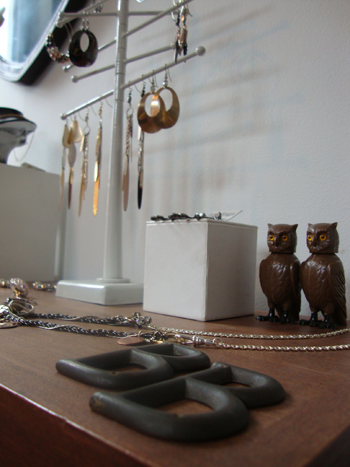 Where is your jewelry sold?
We sell in Barney's Co-Op nationwide, online at shopbop.com, and our own stores online at annesheffield.com and bingbangnyc.com. We carry two collections and our own styles on our own website.
You also have a Target line currently in stores?
Yes. The line is currently in stores and launched under (the name) Anne Sheffield for Target. We sort of did it is all sterling silver and vermeil which means rose and yellow gold over top of silver and Swarovski crystals. That collection's mostly all under $50, but there are a few pieces that go up to $70 or $80, but it's available at all the Target stores and Target.com thru February.
Did Target approach you?
Yes, they found me. We talked about what we wanted to do together and then we planned the collection for about a year. We started development and production on it about a year ago and it launched August 30th, 2009.
Do you go back to San Francisco a lot?
Not often anymore. I did for a while, but I don't have that many close friends there anymore. I do have friends there, but they have mostly spread out. Some have gone down to L.A., NYC, and to Austin.
Do you remember any people at Academy of Art that were influential to your career?
I am still friends with the Millinery teacher on Facebook. Charlene Modena, the jewelry teache. She was the person that drew me in and I owe everything to. She hammered me into shape and forced us to evaluate why we used materials we used and why we made decisions we made. (She made me) think about things from start to finish and how you were going to package something and how you were going to present it. She was really informative.
What are you currently working on? Are you always looking forward or would you rather work in the moment?
Oh no, we are always way in advance. Fashion is way in advance. We're working on projects now for 2011 and it's not even 2010 yet.
Check out more of her work in the slideshow below:
Written by: Claudia Paolinelli