What do you get when you have a stylist that lives by the "Make it work" motto, a hair stylist that can create a masterpiece in a minute, a make-up artist that can tell your foundation color at a glance, and a photographer that can truly capture beauty? Give up? Well, you get the set of a Kevin Sinclair shoot, which is what I had the pleasure of participating in last week.
Kevin Sinclair is a New York based photographer that has shot for Marie Claire and Lucire Magazine. His portfolio is full of some of the toughest supermodels in the industry.
It wasn't a surprise to me that I woke up with an extremely bad stomachache on the morning of the shoot. It was a case of the nerves. There were a million negative thoughts running through my head and these thoughts were a little more critical than the usual. The anticipation of the afternoon shoot seized when I finally entered the penthouse floor of my agency building. I was greeted by an atmosphere of music, creation and best of all, heart-warming smiles. No high-maintenance attitudes or the clichéd ruthless, East Coast behavior – just art and perfection.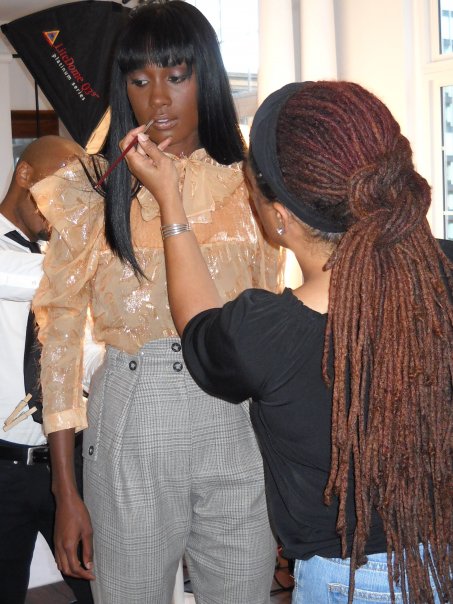 Erin gets prepped for her Sinclair shoot
There were two models shooting before I started to get prepped. Looking at their make-up and styling made me even more anxious to shoot. I knew today was going to be a good day.
I was the last model for the day, and you would think that after a full day of shooting model after model, everybody would be worn out, but they were ready to go! My make-up was very natural: foundation, powder, mascara, neutral eye shadow and lip gloss. As the hair stylist was straightening my hair, the wardrobe stylist came up with the idea of cutting some beatnik bangs. Without hesitation, I instantly had an edgy transformation. The excitement of seeing my new look in the mirror gave me a new confidence, which propelled me into my shoot.
Shooting with Kevin exceeded my expectations. His direction was flawless and inventive. Every shot captured movement and emotion. Not only did he give great direction, but he taught me a lot about moving in front of the camera. The pointers that I absorbed will stick with me forever. The images from the shoot will be in next week. I can't wait to see them!
Click here to read more of "The Model Life of Erin"