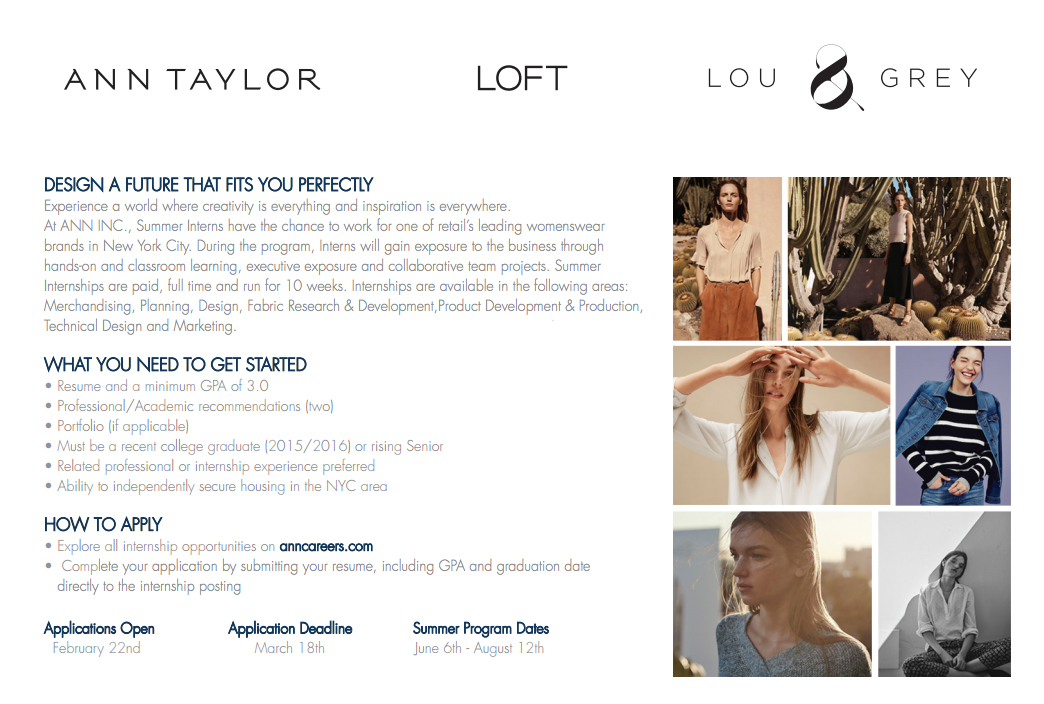 Attention all senior students!! Ann Inc. is currently accepting applications for their 2016 Summer Internship program! Ann inc is a national corporation which houses Ann Taylor, LOFT and Lou & Grey. What better way to start out your professional career than learning hands-on from an accomplished corporation? This is an opportunity for rising seniors and recent graduates to experience a world where creativity is everything and inspiration is everywhere.
Internships are available across multiple fields including in Design, Merchandising, Planning, Product Development & Production, Fabric Research & Development, Technical Design and Marketing. So no matter your interest there is an internship available for you! This is a ten-week paid program, taking place in New York City. The internships begin June 6th and end August 12th, within this amount of time you will be working hands on, learning the ins-and-outs of the fashion business.
Before applying make sure you obtain all of the requirements, which are listed as followed:
Resume and a minimum GPA of 3.0
Professional/Academic recommendations (two)
Portfolio (if applicable)
Must be a recent college graduate (2015/2016) or rising Senior
Related professional or internship experience preferred
Ability to independently secure housing in the NYC area
Apply online at www.anncareers.com/internships, applications will be accepted through March 18th.