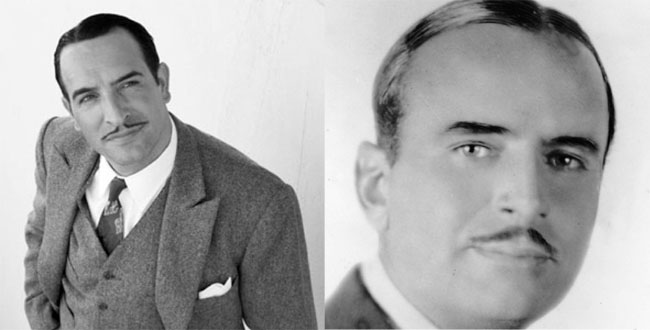 Jean Dujardin as Geroge Valentin in The Artist. Silent film star Douglas Fairbanks.
At the 84th Annual Academy Awards, Jean Dujardin took home the Oscar for Best Actor in a Leading Role for his work in The Artist. The film follows the fictional silent film star George Valentin as silent films fall out of fashion and talkies hit the big time. The character is a composite of several stars from the 1920s and '30s, but was largely based on famed silent film actor Douglas Fairbanks, whom Dujardin has often cited as a personal inspiration – he was certainly the inspiration for the mustache.
During his acceptance speech, Dujardin referenced the famed actor – and someone else, as well: "It's funny because in 1929 it wasn't Billy Crystal, but Douglas Fairbanks who hosted the first Oscars ceremony. Tickets cost $5 and it lasted 15 minutes – times have changed. Thank you Douglas Fairbanks. Yes, Melissa, your grandfather's spirit and joie de vivre inspired me for this role."
At that moment, Gladys Perint Palmer perked up. Melissa Fairbanks is the granddaughter of Douglas Fairbanks, and happens to be a personal friend of GPP – she's even attended a few of our San Francisco fashion shows. Though very proud of her grandfather's accomplishments, Hollywood was not for her – she preferred a quieter life and had worked as homeopathic healer in Fairfax. So then, why would Jean Dujardin mention Melissa? GPP immediately sent her an email, asking if he had indeed been talking to her. He was.
Follow the jump to read more!
Melissa responded that, after seeing The Artist twice, she decided to write Monsieur Dujardin, "I had been so deeply touched by it – as he really does seem to embody my grandfather." She gave the letter to a friend who was nominated for another award that evening, and then thought nothing of it – until she received several phone calls at 4:30 in the morning.
A former resident of Fairfax, Melissa Fairbanks had since moved to London, and after several trials and errors, she gave up on live-streaming the Oscars and dozed off. As soon as Dujardin finished his speech, Melissa's daughter and sister immediately called her on the telephone, and, amidst tears and laughter, relayed the Oscar winner's speech. She quickly searched YouTube and was thrilled and touched by what she heard. "Crikey!!! I am amazed! Totally gobsmacked!," she told GPP. We would be too.
It is amazing how small the world seems at times and the ways in which films can bring people together. That is the beauty of film and of all true art – the magic remains long after the artist is gone.
Jean Dujardin accepts the Oscar for Best Actor in a Leading Role.