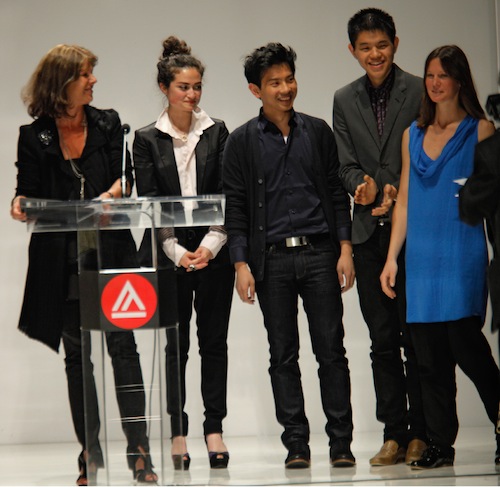 Yesterday, we caught up with some of our designers who were recipients of our Sister City Scholarship Exchange in Paris in 2010. Today, the 2011 recipients are just about ready to take off to the City of Lights.
Fashion School Daily caught up with Lisa Relth, Peter Yang, Drew Williams, and Peter Nguyen before they make the big move.
Have you been to Paris before?
Lisa Relth: I have been to Paris twice.
Peter Yang: I have never been to Paris before but I hear it's the place to be.
Drew Williams: I have been once, my senior year of high school.  I was there for a short time but I loved the city so much!  I cried when I had to leave — I'd never experienced a place that just exudes beauty.  I'm very excited to go back.
Peter Nguyen: This will be my first time in Paris.
When do you leave?
Lisa Relth: I'll be leaving straight from New York in early September.
Peter Yang: I plan to leave at the end of August.
Drew Williams: I will be leaving for the school year in August.  It's possible that I will go before then for a short while to find a place but that hasn't been set yet.
Peter Nguyen: I am planning on leaving the last week of August.
Follow the jump to read more.

What are you most looking forward to doing while you are there?
Lisa Relth: I want to become proficient in French and I'm dying to intern for Kenzo.
Peter Yang: While I'm in Paris I really want to enrich myself with the culture and be inspired by the history surrounding the city. Go to all the museums and visit all the historical architecture. In addition, I want to refine my own work and studies; taking advantage of the school and what it has to offer. I am looking forward to traveling to a few spots around Europe, whenever I can. And of course love, can't forget that.
Drew Williams: I am really looking forward to sitting in a cafe and people watching — aside from continuing my education in fashion, of course.  I'm also looking forward to going to Versailles and Pere Lachaise, which I wasn't able to see last time I went.
Peter Nguyen: I am looking forward to exploring different cities in Europe, learning about different cultures and meeting new people.
Have you been in touch with Rinat, Alice, Ronnie and Ashon who were last year's recipients to hear their stories?
Lisa Relth: No, I've only heard their stories through other people.
Peter Yang: I have not been in touch with them.
Drew Williams: I have been in touch with Ronnie.  He's told me some of the ups and downs of the experience and that it has made a positive impact on him, so I'm really excited to be going through it as well.
Peter Nguyen: I have not been in touch with them, but I heard a couple of them are staying in Paris so hopefully we will be able to catch up then.
What are you going to miss most about San Francisco?
Lisa Relth: I love San Francisco. I will miss the pace of this city, my apartment two blocks from Golden Gate Park, and the ease with which you can leave the city to experience so many California treasures, from the Russian River to Mendocino, Tahoe to Yosemite. I'll really miss the proximity of San Francisco to all these amazing places.
Peter Yang: There are so many things that I am going to miss about this city. The lifestyle and culture in San Francisco is so different and adventurous. The weather is great because it is never too hot or cold — I like consistency. All the people I have encountered are always friendly and have interesting backgrounds. This community is so unique. I'm going to miss the size of the city and being surrounded by water, massive parks and great attractions. Above all, I'm going to miss friends, people that I have worked with and being close to family.
Drew Williams: My family!  But I will also miss the fog — it's the first thing that reminds me, visually, of San Francisco.
Peter Nguyen: San Francisco is definitely a big city with the feel of a small town. And I will miss walking around and exploring different neighborhoods.