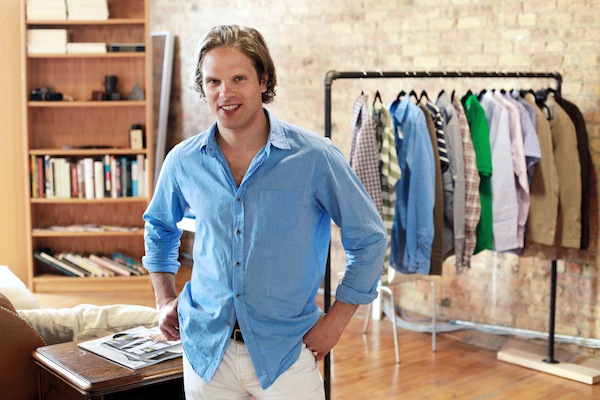 Brian Spaly is no stranger to innovation, or fashion. While attending business school at Stanford, Spaly struggled to find pants that fit so he started making his own. This developed into the menswear company Bonobos, now headquartered in New York City and a favorite of Manhattanites.
Spaly went on to become CEO of Trunk Club, a remote styling service for men. Busy men call or email their stylists who pick and send a selection of clothes as they need it. So, yeah, Spaly knows a thing or two about the fashion industry and was kind enough to share his advice and opinions in a recent interview.
You have a lot of stylists at Trunk Club – what do you think it takes to be a great stylist?
Actually, it's all about the ability to sell. The best example I can give you is we brought in a guy who is super stylish and very fashionable but he couldn't sell to save his life. He had no interest in the concept of learning how to be a sales person. And I think that anyone who wants to work in fashion and be successful needs to understand what it's like to be a salesperson.
And do you think that's about sales experience or the ability to market yourself?
Those are really one and the same. You can be a great designer and not understand how to sell but you'll only ever be successful in an academic setting. And the spots reserved for those who are successful in an academic setting are few. So I think a fundamental desire to market and sell your own ideas is really important.
Follow the jump to read more.

What's the best way to get sales experience?
A lot of fashion students think they should work in a retail store, but I think they'd be better off taking a job selling advertising at a radio station, for example –- a job where you only get paid for what you sell. Working at a store as a clerk or a retail associate, you don't really have to sell. Even if no one comes in the store, you'll still make an hourly salary. I'm talking about having to go out and find customers and convince them to buy from you and not getting paid until you do that.
Having to sell to get paid is scary but I think that's OK. Conquering that fear is an important part of learning how to make your way in the world in your 20s. From being a child whose parents paid for your school to being an entrepreneur.
What would you do if you were a fashion student today?
If I were a student in fashion right now, I'd be a lot more interested in getting a job at Gilt Groupe than I would at Nordstrom. I think there's always going to be opportunities for creatives to contribute to these new Internet companies. We have a wonderful photographer here at Trunk Club who, originally, came in and took a job helping out and then we learned that he had wonderful photography talents and now he's basically doing more photography than anything else and he got his foot in the door because he found this company in a good, rapid-growing, dynamic space.
There's a lot of different ways you can use your talents but it's important to get your foot in the door at a company that is going to grow and I think a lot of these venture-backed start-ups are really great places to start.
Have you observed any changes in the way that men, specifically, think about fashion, shopping, and styling over the last few years?
Even men who are far from the front edge of fashion have accepted that there is premium denim and it costs $150 or more. That transition is kind of complete. I think premium denim has done us all a favor in encouraging men to think more about paying for quality and buying high quality stuff.
I think the slim fit revolution is also, more or less, complete. The trend out of pleats and out of baggy shirts — there will be a long tail of people who continue to wear what's in their closet and it looks awful but, by and large, most guys recognize that.
Where do most menswear designers go wrong in your opinion?
I hate to call a specific designer out, but the things I have found very troubling in recent years are the Ed Hardy (and) Affliction kind of stuff. I don't think men should be wearing jewelry, wearing rhinestones, or shirts with a lot of dragon embroidery on them. It's a bit over the top.
We'd love to see more of the bespoke world become more approachable. One of the things we love about Donald J. Pliner is they make a high-quality Italian loafer at half the price of a shoe from Tod's. But, to the average man, it's the same product. We're also seeing some really high quality men's button down shirts from Eton in the sub $300 price range. I'd love to see more of this – super high quality but not outrageously marked up price.
So it sounds like one problem is brands charging high prices for the brand versus real product quality…guys don't want it.
And it sounds like the second problem is about feminizing men, making them glittery.
Yes! Like skinny jeans. Skinny jeans are so awful. I think the world will look back at skinny jeans and think about them the same way, for men, as they thought about hammer pants. There's no place for this in iconic fashion. We're always excited to find fun, new, clever brands that can be worn year after year and I think that's what's different about men. That would be one of my biggest critiques about women's fashion. Like when I go on a date…fashion for the sake of doing something different or trendy, I don't like that much. Fashion for the sake of doing something flattering and beautifying, I think that makes a lot of sense.
What do you think about recent shopping innovations such as online flash sale sites or shopping algorithms that learn your taste and make recommendations?
Basically what you're talking about is Pandora for fashion and it's a lot harder to do algorithms for shopping than it is for music. Music is one size fits all and what's important with fashion is how it fits and it's really hard to figure that out without seeing it on somebody. So I'm skeptical about the use of technology to figure out what people will like.
I'm quite bullish on the use of technology to offer these flash sales – I think these are a thoughtful and interesting way to clear inventory. I think it's been very damaging for retailers because it's conditioned a lot of avid shoppers to wait for discounts or to hunt for deals. But for a business like a Gilt Groupe or Gilt Man – I think they are finding a better way to reach a customer and realizing that the customer spends a lot more time on email than they do in a shopping mall. I think what will be interesting to see is whether the consumer gets email fatigue.
Mobile is also really interesting and I don't think anyone has really cracked a killer app that does mobile commerce. Luckily, there is a lot venture capital flowing into our space so I think you'll see more and more innovation and that's only a positive thing for our industry.
Written by: Yasha Stelzner