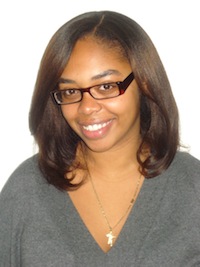 In May 2006, Elizabeth Castellon won a magazine competition and the prize was working with then student Jaleh Naasz, 2006 M.F.A. Fashion Design, in the School of Fashion. We had the opportunity to catch up with her:
Tell us about the competition:
Teen Magazine hosted a competition called "Shine on Design" where the winner would intern with a graduate student, working on their final collection, at the Academy (of Art University) for three days. I found out about the competition as a result of being on a Teen Magazine emailing list for upcoming events. Upon entering the completion, I had to fill out an application and submit several original designs.
What did you and Jaleh work on together?
Jaleh was a great person to work with. She showed me around and explained the process of designing for fashion week. As her intern, she entrusted me to cut pattern pieces and sew her garments.
What have you been doing since then?
Since 2006, I've completed my Bachelor Degree in Fashion Design at the State University of NY College at Oneonta and interned under designer Sheaffa Delince at Francis Hendy Inc. in NYC.
What made you want to come to the School of Fashion now?
While interning at Francis Hendy, my focus shifted away from design and more towards marketing and promotions. After a few months of interning, I decided to go back to school for my masters and the Academy would be the best place to do that.
How do you like San Francisco?
San Francisco is a change from NYC but I like it.
Have you found any favorite spots in SF yet?
I can't say I've found a favorite spot but I have been to Lorie's Dinner one too many times.
Are you working while going to school?
I started working at a loan company as a customer service representative a couple weeks ago.
What do you look forward to doing this semester?
This semester I'm looking forward to getting to know San Francisco better and working on my designs.