By Brittany Furber, BA Fashion Journalism
The School of Fashion provides the foundation for building one's skills for real-world experiences through the projects and assignments included within its coursework. There are also many opportunities available to students that will allow them to enhance their knowledge and abilities beyond the school's curriculum. The exchange program is one instance where students can accomplish such feats. Olivia Rocquemore is one student that desired to take the learning experience beyond the Academy of Art University campus.
Rocquemore received a BFA in Fashion Design in 2021. Their focus began with womenswear before shifting toward non-binary design. Rocquemore is currently participating in the London Exchange Program. Flore Morton, School of Fashion Associate Director, explains that this program at Kingston University in London features courses in draping, patternmaking, fashion culture, design, professional practices, and portfolio.
Rocquemore, who is now in their second semester at Kingston, begins by explaining that they have "always wanted to go to London." They later add, "This was one of the cities that I was hoping to potentially move to and design in."  Rocquemore states, "When we were working on our senior thesis, I realized I'm not exactly ready to finish with school. I felt like I had a lot more to learn." As a result of this desire to continue their education, fulfill long-held goals, and experience London, they jumped at the chance to apply when the opportunity arose.
Rocquemore had a few goals going into the exchange program. They detailed these goals by stating, "The main goal was to help to build more of my portfolio. That way, I would be able to get better with the skills I had, but also showcase where my skills were at after finishing the program."  Rocquemore wanted to use this opportunity to elevate their skills, in garment construction and presentation to the level where they would feel most comfortable. They also express a desire to become a more rounded designer. Rocquemore aims to accomplish this by using this time to experience different learning styles and acquire unique knowledge from this location.
Recounting their path in the program thus far, Rocquemore explains that they took the Professional Practice course last semester. During this course, they had the opportunity to create designs for names like ASOS, Old Navy, and a brand of their choice. They selected the brand Peter Do, in addition to ASOS and Old Navy. Rocquemore notes that this semester, they are designing for the Spanish footwear and accessories label Uterqüe. They have also taken classes in product design and technical drawing. Rocquemore feels that these courses allowed them to concentrate and assess what areas they needed to improve and "where [their] strengths were." They have also had the opportunity to learn how to create designs based on a brand's demographics, psychographics, and aesthetic tendencies. They state, "I was able to learn how to make my own aesthetic and cater it to the brand that I am designing for." They feel that these newly acquired and enhanced skills will benefit their future professional pursuits.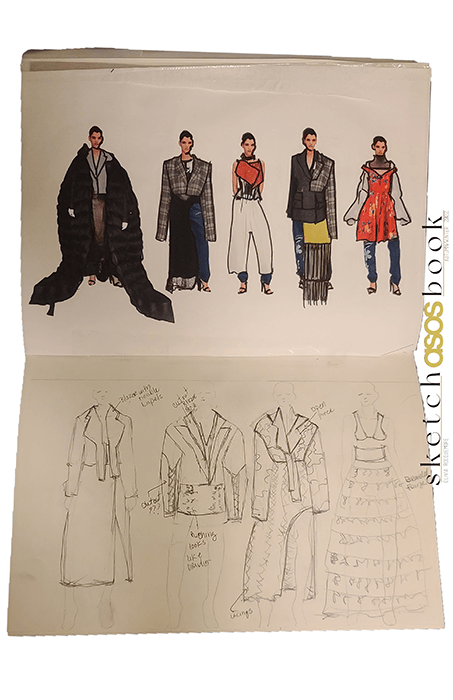 For the remainder of the program and their time in London, Rocquemore wants to embrace a few additional opportunities offered by Kingston. They want to help Kingston's senior students prepare for their collections as well as intern at a company such as Simone Rocha, JW Anderson, Yuhan Wang, Erdem, Bora Asku, Richard Malone, Vivienne Westwood, Nicholas Daley, Roksanda, or Temperley London.
When asked about what advice they would give to students who want to participate in the program in the future, Rocquemore states, "I think my biggest advice is to be open." They emphasize that one shouldn't come into this experience stressed out about how it will go and what could go wrong. They add, "Just come in with an open mind. Because if you do that, then you'll see the positives in all of the aspects of what you're learning and how you are learning it." They note that one should be prepared to experience different learning styles.
Overall, one can gain insight from observing and learning about Rocquemore's positive experience with the student exchange program thus far. We can glean from Rocquemore's experience that it is best to take on an opportunity, such as this one, with passion, commitment, and a willingness to embrace the unfamiliar. It also seems that it is wise to consider all the circumstances that accompany studying abroad and go into the experience with a positive mindset, desire to learn, and an openness to new approaches.