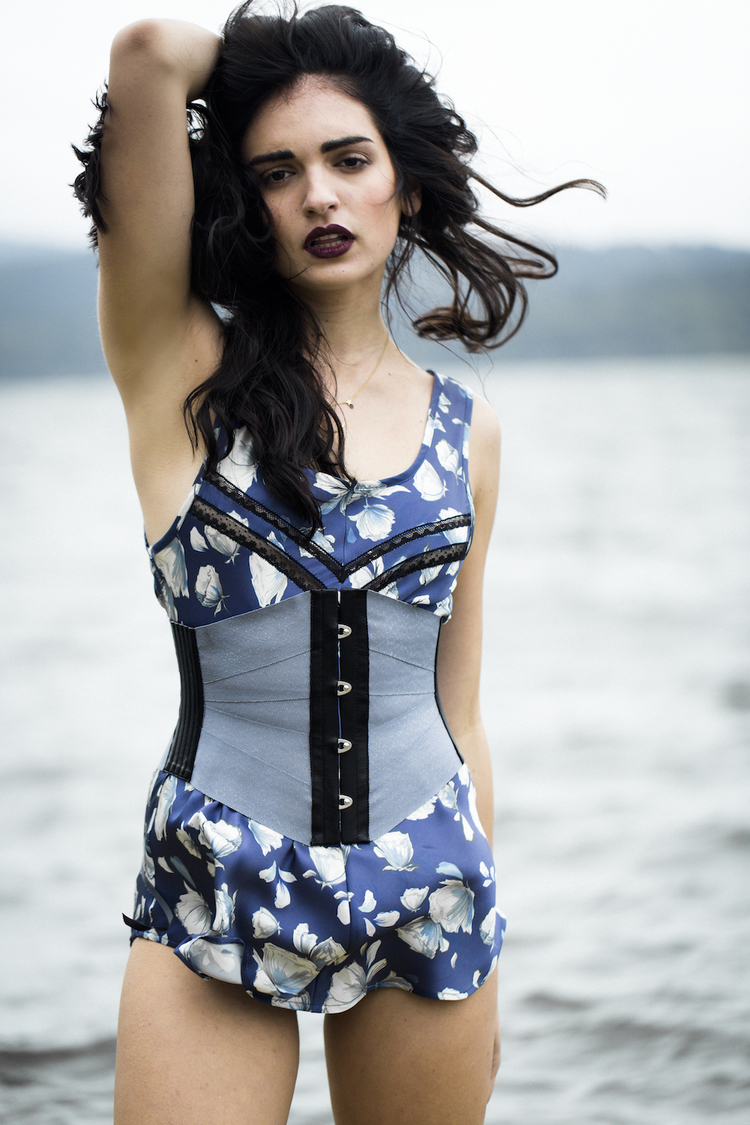 For  brides that don't settle for the "usual," San Francisco based Lingerie Designer Stephanie Bodnar is your go to for that special night or a daily wear of vintage inspired lingerie. Bodnar is the creator of  EVGENIA a brand that is inspired by the 1920's. Her pieces have french details, floral prints and color pallets that personally take me back to vintage photography and current colors we see in Mexican architecture and nature.
I recently had the amazing opportunity to interview Bodnar, and even though this time of the year is quite busy for her business she took some time to answer a few questions via email. As a Fashion Design Student I took the opportunity to ask Bodnar for advice in how to break in the fashion industry, and she of course provided me with great advice.
Below my interview you can find her campaign video and website for incredible Lingerie Wear, you won't regret seeing what her creativity and hard work delivers.
Yesenia Franco: What products and/or services do you provide?
Stephanie Bodnar: I make fine lingerie for the modern heartbreaker. I specialize in silk pieces with French insertion lace detailing, an embellishment which was popular in the 1920's. I also make ribbon corsets.
YF: How long have you been in business?
SB: I started my business as Honey Cooler Handmade in early 2011.
YF: How did you choose the name for your business?
SB: The first name, Honey Cooler Handmade, came from my love for the 1920's – "honey cooler" is Deco-era slang for a kiss. My new name since my rebranding at the Fashion Incubator is Evgenia. Eugenia is my middle name and the name of my Ukrainian grandmother – I chose it because of its personal importance to me (it in fact, IS me), and its nostalgia for days gone by. It has an old word feeling which I adore and the "V" spelling lends an air of sexiness to the name as well!
YF: What is your marketing strategy?
SB: I sell online and in several boutiques across the country. I also have a small boutique within a boutique at the Artful Gentleman space in SoMA. I reach my customers through social media and word of mouth. I've had some lovely press pieces written about Evgenia over the years and those always help to bring an audience!
YF: What was the most difficult aspect of starting your business?
SB: Building a customer base – that is still a challenge for me! I started on Etsy where people tend to spend less money. My pieces are quite a bit more expensive than most of Etsy lingerie, so it's hard to compete! Once I got into my first brick and mortar store, things started to pick up a bit for me. The transition of making one-of-a-kind pieces to actual collections with size runs was a huge challenge as well, but one that ultimately made it easier to reach out to boutiques.
YF: What is the biggest day-to-day challenge in operating your business?
SB: My biggest challenge is wrangling everything! I'm the only person running this business with the exception of an intern. I do absolutely everything, from designing to making samples, to hand grading my patterns, keeping my books, running sales and events, making my printed collateral, reaching out to boutiques, all social media, blogging, promotion, planning photo shoots… the list goes on and on. The biggest challenge is being able to tackle all these tasks, because truthfully nothing can get neglected, and although I love the design aspect, it's only about 10% of the work I do.
YF: What is your biggest reward in operating your own business?
SB: Making sales and reaching customers! It's so exciting to see your work validated by a purchase. It means you're on the right track and that people understand and appreciate what you do!
YF: What advice would you give to young entrepreneurs?
SB: Be ready to be everything in your business and be ready to work a lot. I can't speak to every entrepreneurial venture, but as far as fashion goes, ask yourself how much time you're willing to sacrifice for your dream. Be honest with yourself. Fashion is not a 40 hour work week if you're on your own. It's much much more than that. I work basically all the time, 10-12+ hour days, often including weekends. There used to be a point when I really hated giving up my weekends for work. When I began to not mind, I knew I was doing the right thing. You should always be excited about what you do!
YF: Who or what inspires you to design?
SB: I love the aesthetics of eras gone by, so I often start my collections by looking at the silhouettes and graphic elements from those time periods. The 1920's, 30's and 40's are my favorites for lingerie! I have some awesome books and online resources I start with and then find ways to reach a modern woman with silhouettes that are inspired by other eras.
Written by Yesenia Franco (Originally posted in WordPress)