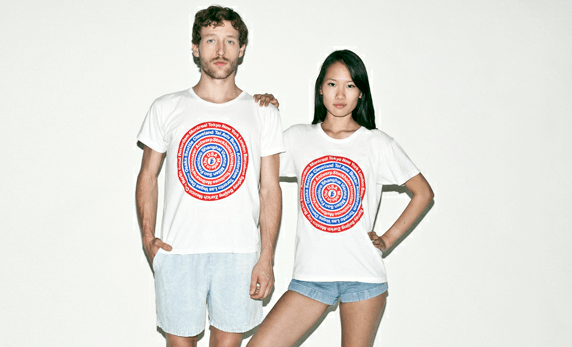 Photo Courtesy of American Apparel.
American Apparel is looking to spice up a few of their designs – and they want you to do it! They are asking artists, designers, and creative wunderkinds to customize one of their garments with an original design. There are no limitations on the design – it can be a photo, text, a drawing – whatever inspires you.
AA employees with choose a few finalists, and their designs will be sold online for a limited time, and customers will also be able to vote for their favorites. The design with the most votes and units sold will then take home the grand prize! All finalists will receive 5% of their design's sales along with 5 pieces of their customized product for free. And the grand prize winner will get the aforementioned, plus their design will be sold in select American Apparel stores around the world!
Follow the jump details. 
And – it's super easy to enter. Just download the template for the item you'd like to customize, add your design, and email your submission to designcontest@americanapparel.net with your full name, phone number, and artwork attachment. And for those of you with a million ideas racing through your head, you can send in as many submissions as you'd like!
Visit their website for the complete terms and conditions – good luck!