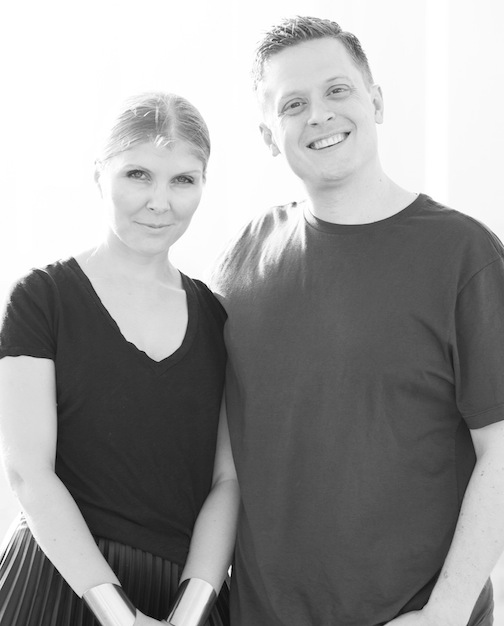 From day two of their undergrad orientation, 2002 BFA Fashion Design alum Monica Magdas Miller and Erik Miller have continued their shared love of fashion, design and each other! Monica, now the Senior Design Director for BCBGMAXAZRIA (and our VIP Guest at this past spring's May Graduation Fashion Show) and Erik, founder of Epiphany Eyewear, have been married for over 10 years! This past fall, Monica and Erick watched their respective style careers combine when Erick's eyeglasses accessorized the runway for BCBGMAXAZRIA's Spring 2014 show at Mercedes-Benz Fashion Week. Fashion School Daily caught up with one half of this all-star alumni couple as Monica shared with us her favorite memories from the School of Fashion, and how Erick's Epiphany Eyewear is changing how the world sees fashion.
What brought you both to the Academy of Art University? 
I loved the versatility of the school. I was debating between Interior Design and Fashion Design and the Academy of Art University offered both options. I had just arrived in the US, and the admission process was effortless. The staff was incredibly helpful, and made me feel welcome right away.
Erick's dream was to study 3D Graphic Design. He transferred from the University of Houston because AAU was, by far, the best equipped school with the best technology. The industry was still young at that time, and the University's excellent instructors from both Pixar and Lucas Arts made it an easy choice for him.
Tell me about your experiences at the School of Fashion. What is your favorite memory of your time as a student? Your biggest challenge?
Hard to decide! I loved my experience there, and I think my favorite time was during my senior collection. I was working on the Stoll knitting machines, and was obsessed with them! I was honestly sad to leave them behind when I graduated. A big portion of my senior collection was knitted on these machines.
My biggest challenge was in my first patternmaking class. I grew up in Europe, and I was accustomed to using the metric system for measurements. Switching to inches was completely overwhelming, but it quickly became second nature.
How do you feel your fashion education prepared you for your post grad career paths?
Upon graduation, both my husband and I were confident that we had been given a strong foundation for our careers…and we were right! Both of us were offered good opportunities upon graduating. We were very ambitious and determined so, with hard work and focus, everything came together.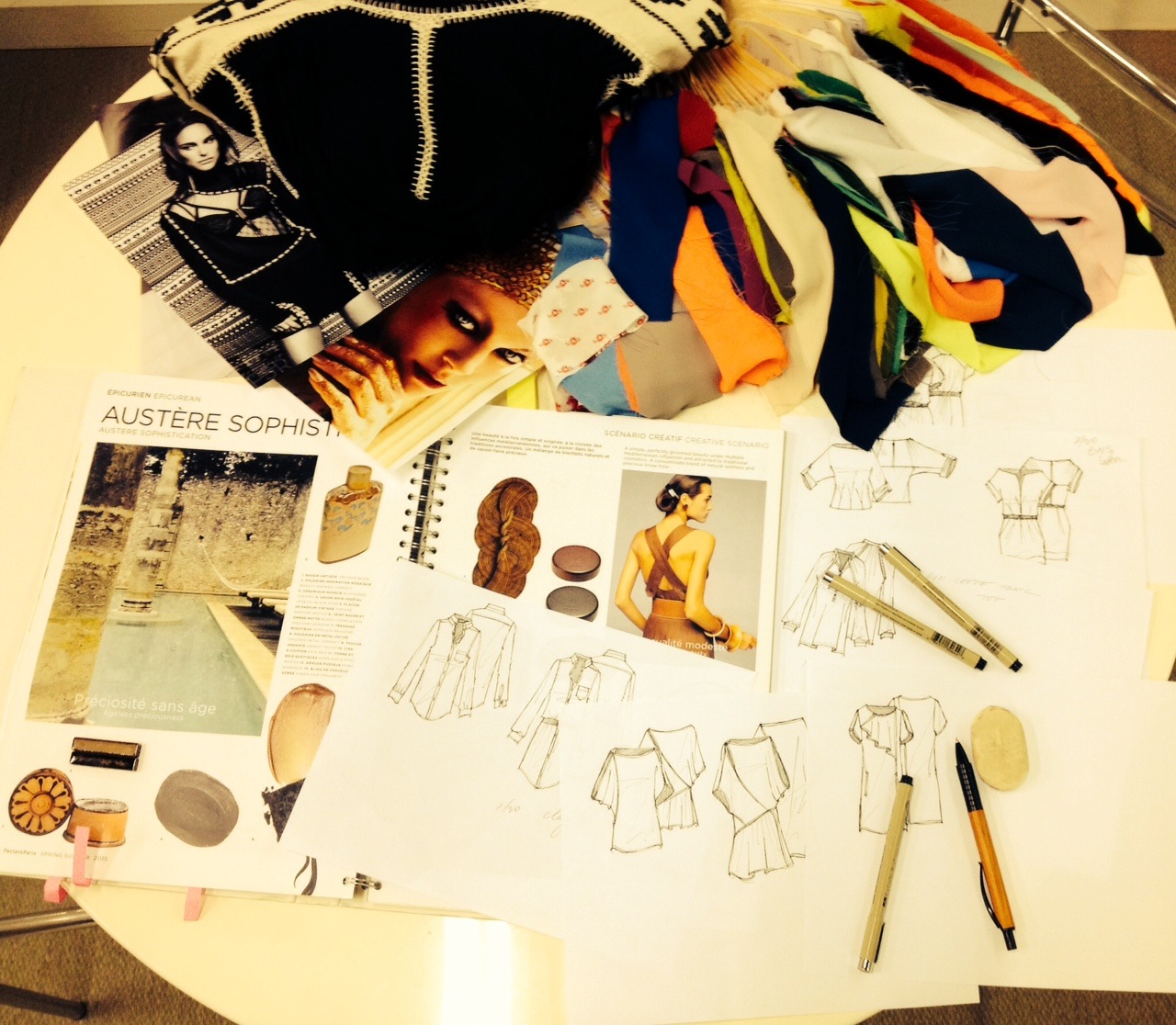 Inspiration from Monica's work space at BCBG's headquarters in Los Angeles. Image courtesy of Monica Miller.
BCBG and Hervé Léger showed their Spring 2014 Collections at Mercedes-Benz Fashion Week this past September. Tell me about your design team's different approaches to creating both collections.
The teams are incredibly talented and work closely with our Chief Creative Officer, Lubov Azria. The Hervé Léger product is almost entirely knitwear, and the ever evolving techniques and ability of the team never fails to impress me.
The BCBGMAXAZRIA collection is an extension of the BCBG ready to wear line which I focus on. The Runway line is sophisticated, feminine and aspirational. I am a huge fan!
[justified_image_grid row_height=400 height_deviation=50 ids="27315,27313″]

Looks from BCBGMAXAZRIA's Spring 2014 Runway. Images courtesy of Monica Miller.
How was Epiphany Eyewear involved with these productions? Tell me about the product.
The Epiphany Eyewear glasses were created by my husband and his incredible team. The glasses are the first product for his tech startup, Vergence Labs. The prototype was ready right before we left for Fashion Week. Lubov had a chance to see the glasses, liked them, and was very kind to endorse the line and give the product a test run. Unexpectedly, everything came together which was wonderful!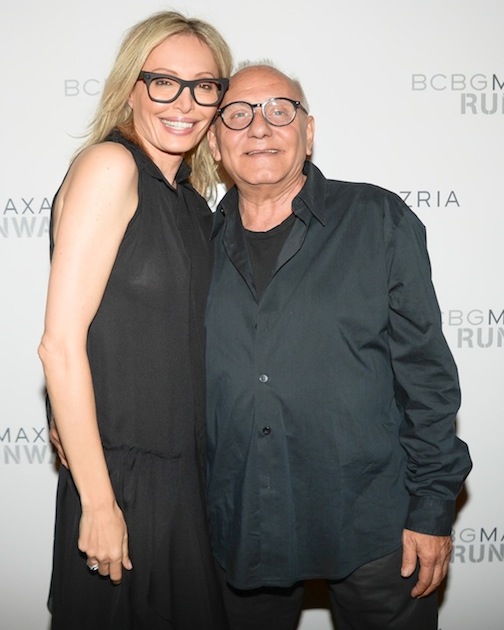 2013 Guests of Honor, Max and Lubov Azria of BCBGMAXAZRIA. Lubov wears Epiphany Eyewear (left). Image courtesy of Monica Miller. 
The product is centered on wearable technology. The glasses have a signature, timeless, shape and are suitable for both men and women. Their main property is capturing video effortlessly at any point in time. You discover things in the footage that you otherwise would have completely missed! That is the beauty of the product. The video can additionally be easily integrated and shared with all social media platforms out there.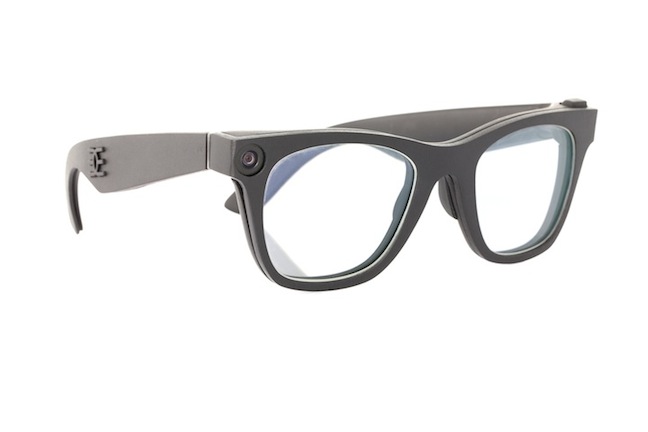 Epiphany Eyewear. Image courtesy of Monica Miller.
Any future husband/wife collaborations in the works?
Absolutely! Fashion and wearable technology go hand in hand. I truly believe that things will evolve at a fast pace in the next decade, and there are so many opportunities ahead of us. I am fortunate to learn about and experience both worlds through my career and my husband's enterprise.
If you could offer our students one piece of advice (to follow both during their time at the School of Fashion and pursuing their careers post grad) what would it be?
Do what you do out of passion, stay humble and be grateful. That is by far the best advice I could give. It is something I remind myself of every day.
For more information about Epiphany Eyewear, click here 
written by Ashley Castanos