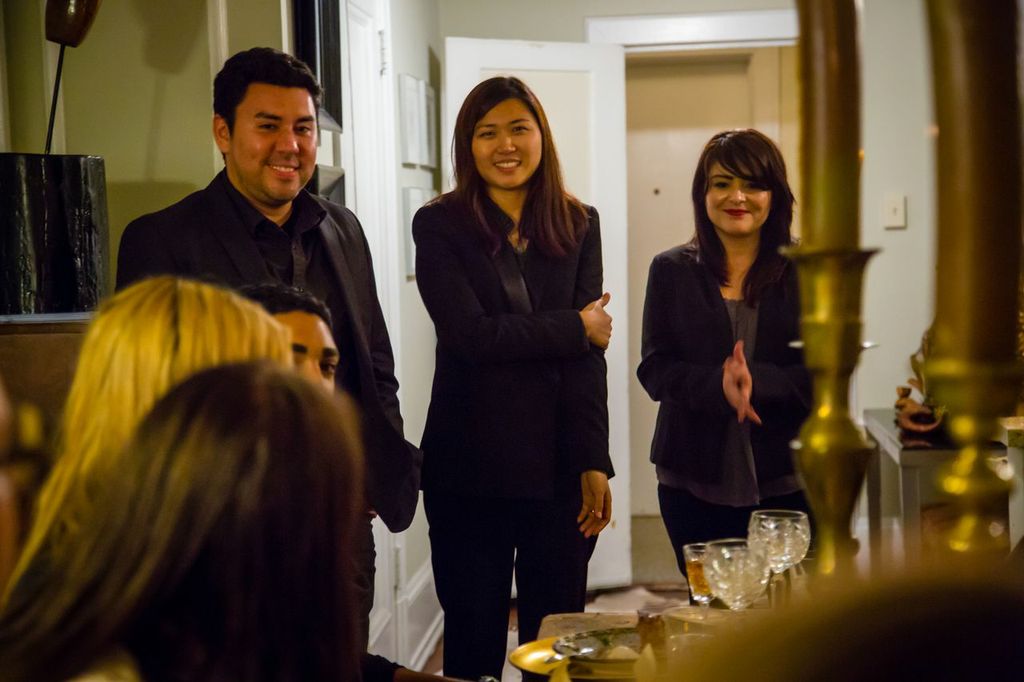 MFA Fashion Design alumna, Jisun Lee (center), with designer & pattern maker for The Factory, Walter Castro. Photo courtesy of The Evans Group.
Things got a little bit fancy in San Fran earlier this month as Bay Area based fashion design and production house, The Factory, debuted their first ever Custom Eveningwear Collection. The launch marks a new category for The Evans Group, targeting sophisticated clients and involving them in the haute couture process. Clients work individually with The Factory design team to select from the line's six staple silhouettes, and co-design every aspect of the gown including color and material, courtesy of The Factory's collaboration with Britex Fabrics. A key member of this design team is MFA Fashion Design alumna Jisun Lee who previously interned with The Factory while a student, and is now the house's full time seamstress and fashion illustrator. The made to order collection was showcased at a gorgeous private presentation, hosted by The Factory CEO, Jennifer Evans. FSD was able to catch up with Jisun at the event, along with her design partner and pattern maker, Walter Castro, to find out how this design duo is dressing up San Francisco.
What has your experience been like launching a fashion design / production house in San Francisco? 
JL: I feel so lucky to have my job at The Evans Group in the city where I live and love. The Evans Group provides services for starting designers and small business owners to have production ready patterns and first samples to launch their own line. It is amazing to see people my age come into where I work to achieve their dreams, and it is such a great feeling to be able to help them to make it happen. I would like to have my own line and business someday, and The Evans Group is the perfect place to learn and grow. It is an inspiring place to work, and gives me motivation to pursue my dream.
WC: This project has been great mainly due to the collaboration with Jennifer and the rest of the team. I think we came up with a really great base of silhouettes for customers to choose from. We also showed a nice range of decorative elements, from a simple beaded belt to a full, hand-sewn, lace overlay.  Of course the possibilities are endless (which is kind of the point with custom clothing at this level) to really give the client something uniquely special and personal, both with the process and the final product.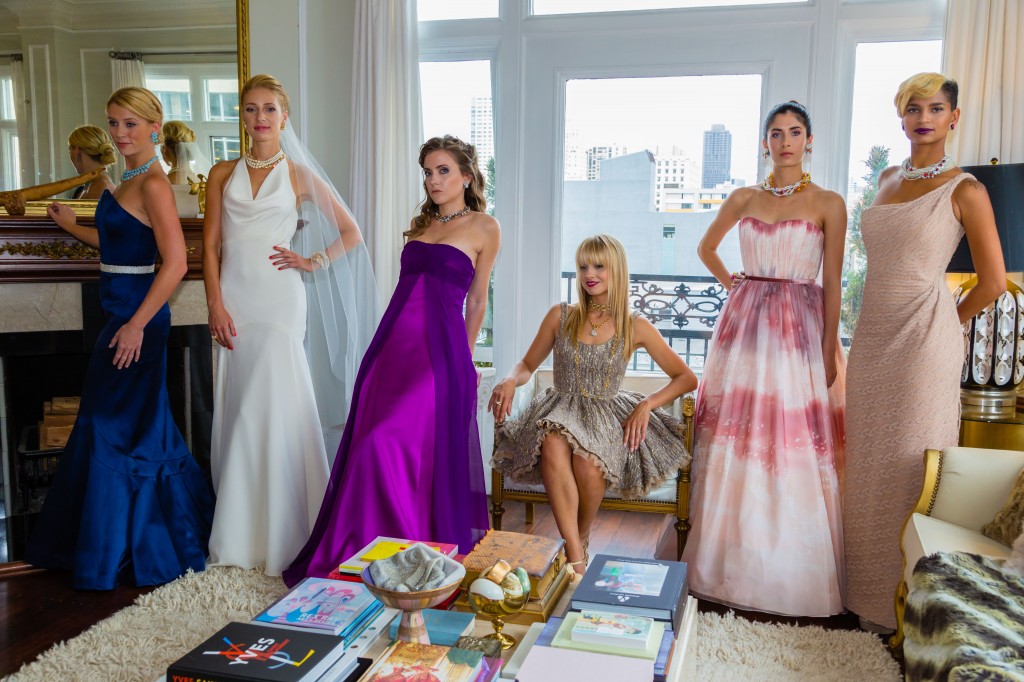 Custom Eveningwear by The Factory. Photo courtesy of The Evans Group.
How has creating the Custom Eveningwear collection for The Factory been different than your previous design experiences?
JL: [Previously, I've had more experience] with tailoring and designing everyday garments. Eveningwear has been something very new to me. Also, creating a custom gown requires different types of technical and skilled labor. While preparing the collection, I learned a lot from Walter, who had worked for a high-end bridal boutique in the city for a long time. Working with him made me fall in love with gowns and dresses. Through this collection, I feel that I have found my inner femininity.
WC: This project was a bit different for me because I really got to oversee the entire construction process of the gowns, which was a wonderful opportunity.
Of the six styles, which gown is your favorite?
WC: I think my favorite piece in our collection is the ballgown. The gown best represents a combination of design and construction for me, and  I think it utilizes the amazing printed silk chiffon from Britex in a terrific way. The idea was that the ruching on the bodice cinches into the small of the waist with a delicate velvet ribbon, and then releases into a full, floaty skirt.
JL: Personally, I would love to wear the ballgown!
Jisun, how do you think your collaboration with Liza Quiñones on your Spring 2013 MFA Graduation Collection prepared you for your design role with The Factory?
JL: Collaborating with Liza taught me how to share ideas and be able to compromise. I try to be flexible and open minded when I am working with others.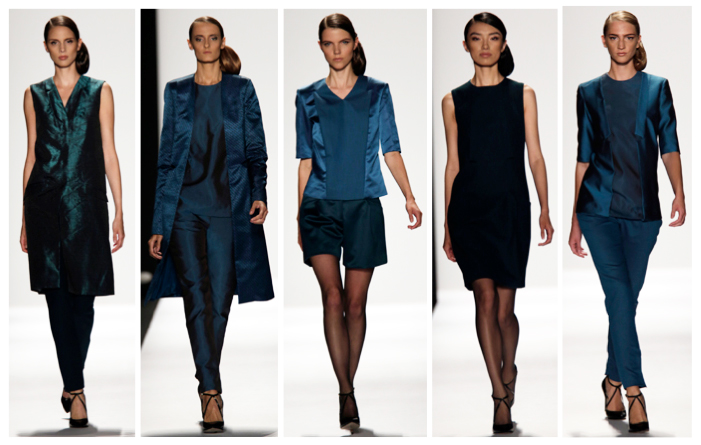 Select looks from Jisun Lee's Spring 2013 collection with MFA Textile Design student Liza Quiñones. Photos courtesy of Randy Brooke / WireImage.
Walter, your design background included your role as a bridal couturier design assistant. On a day of "I Do's" what is the biggest bridal "Don't" women should know in selecting their wedding dress or any type of formal evening gown?
WC: The best advice I have for a bride is to be comfortable. Weddings are amazing, but they end up being long days for the brides. Comfort is important both physically and how the gown makes you feel. This is why fit is so important. Also, if a big white wedding gown isn't your thing then do something else: an amazing cocktail dress, a simple sheath or maybe something vintage. It's important to think about what you want for your wedding, and to really make it your own.
Who would be your dream client to design a gown for? For what event?
JL: I would love to design a gown for my all time favorite fashion icon, Sarah Jessica Parker, for the Met Ball.
WC: I'm not very celebrity driven, but I think it would have been amazing to create something for Marilyn Monroe or Dusty Springfield (who is a personal icon of mine).
Shop the latest designs from The Factory online at www.thefactorylabel.com, and for more "Alumni Updates" click here.