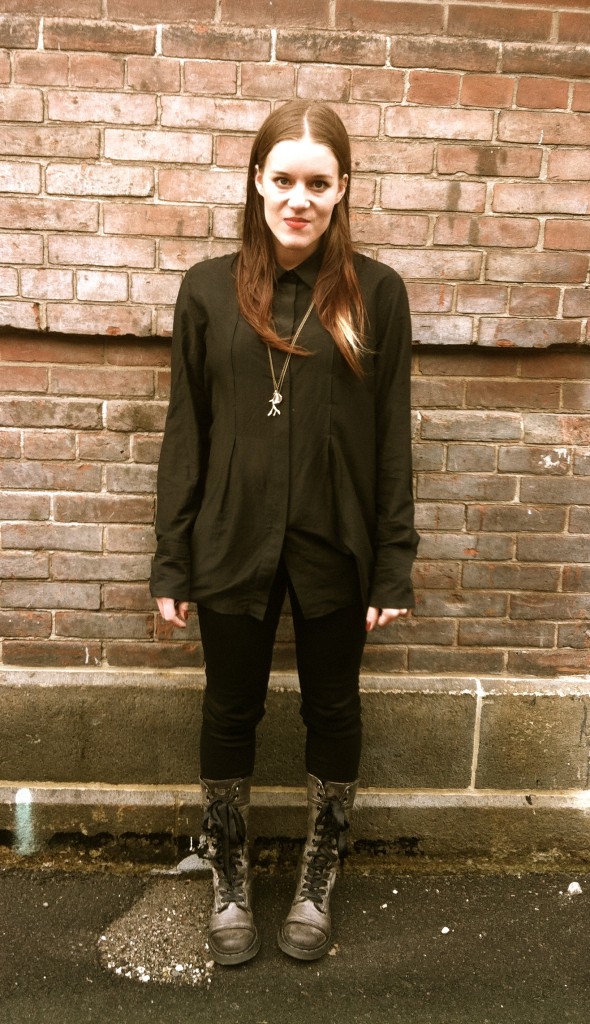 Jannika Lilja graduated from the School of Fashion in May 2011 with a BFA in Fashion and Knitwear Design, and was awarded an internship with the year's Guest of Honor, Yigal Azrouel. After stints with some of the industry's biggest names, Jannika landed a job at Free People as an Assistant Designer in their sweaters division. Fashion School Daily caught up with the alum to talk about her post-graduate adventures and her awesome new job!
Tell us a bit about your background, when did you first become interested in fashion?
I was born and raised in Helsinki, Finland. Different art forms have dominated my life since the beginning. I have hardly put the pen down since the first time I picked it up, I devoured every single art and sewing related elective throughout my school years in Finland, and I have always had this strange obsession with drawing girls and their outfits.
You could say I didn't have to think twice when asked: "What do you want to do when you grow up?". I also spent 16 years as a synchronized ice skater achieving the World Champion title with my team in 2006 – an experience that taught me everything about hard work and achieving your dreams. After my skating career was over, I decided to take a leap to new surroundings to pursue my other goals and the Academy of Art University in San Francisco was the answer.
What was your experience as a student? Any favorite memories?
I had a fantastic experience in the School of Fashion, I only have the best memories. The teachers are what make the school so great – the ability to work with such experienced professionals is outstanding.
The most valued moment of my student years is from a design class at the end of my sophomore year. I had a collaborative discussion about my inspiration for a collection with the professor of the class, and he was able to guide me to a direction that was new to me. This specific project ended up being the one that shaped my view point as a designer and it has stuck with me ever since. He helped me find myself and I'm forever thankful for that.
You were selected to intern with Yigal Azrouel after graduating, can you tell us about the experience?
I was very excited for my internship with Yigal – I got to move to New York! About two weeks into my internship I was lucky enough to be picked to work one-on-one with Yigal as his illustrator. I helped him as he designed the Spring '12 collection which was an amazing experience. Some time after my internship was over he called me to offer me a job as his assistant, so I went back and continued working with him on Pre-Fall and Fall '12.
[justified_image_grid row_height=300 height_deviation=100 ids="21697,21695″]

You also worked with Rodarte and Donna Karan–what did you learn while at these positions?
I had a quick but extremely pleasant stay at Donna Karan. I interned with the Collection Sweaters team after the Yigal internship. It was fun to concentrate just on sweaters for a bit and I enjoyed learning about the process. They gave me an opportunity to design and be responsible for my own work, from swatches to draping the body to taking care of techpacks. It was great to see a big corporation be so warm, trusting and welcoming.
I've had a long and lovely relationship with Rodarte that started from a chat at a party with a fellow student and ended at New York Fashion Week. I have been taking care of Rodarte's fittings and alterations during fashion week for six seasons now. It has taught me a lot about what goes into making a show happen–patience, confidence, and the ability to work efficiently in an extremely high stress environment. I continue to admire the creativity and endless imagination of Kate and Laura and always look forward to working with them.
How did you land the job with Free People?
I got an email from an URBN INC recruiter and about two weeks later I was at an interview at the headquarters in Philadelphia and was offered the job by the time I got back to New York – and I took it!
What is a typical day like?
Since we work on 12 deliveries a year for both our retail and wholesale lines, the calendar fills up with many meetings with the buying and merchandising teams, the president and design directors, our own sweaters team and many more.
In between the meetings is a constant process of knitting swatches, researching trends, mocking, fitting, sending out design packages, communicating with the factories and setting up styles with tech designers.
What do you love most about your job?
The best thing about my job is the knitting lab we share with the other URBN INC brands. We have several different machines (I've even learned to use two new ones) we get to knit with daily. I haven't heard of another company with such an amazing facility for sweater designers.
The most challenging but rewarding part has been adjusting to a fast fashion/mass market environment and designing into an aesthetic very different from my own. This journey has taught me a lot and made me a much more versatile designer.
Any advice you can offer to students?
Start building your network while in school – you never know who you might meet and where they can take you. Work hard, explore your abilities, push yourself to the limits and be creative – this is your time for it!
Intern while in school as much as you can – you are expected to have plenty of experience before landing a paid job. And, of course, have fun and enjoy – being a student is pretty amazing.
What are your interests outside of fashion?
More fashion..? I spend my nights at home or at the local corner spot glued to my sketchbook, further building the eerie world I started creating in school. I hope to one day have the chance to share it, but at the moment it's under development.
I spend the weekends in Brooklyn visiting my other half, watching movies at Nitehawk Cinema and enjoying the vibrant life of New York.
Where have you found inspiration lately?
One of the projects I'm currently working on at home is a collection inspired by Edward Gorey books and the Sami culture of Lapland (area reaching over the north of the Nordic Countries). Think creepy line drawings meets vintage photographs of reindeer farmers.
[justified_image_grid row_height=400 ids="21694,21696″]

For more Alumni Updates, click here.