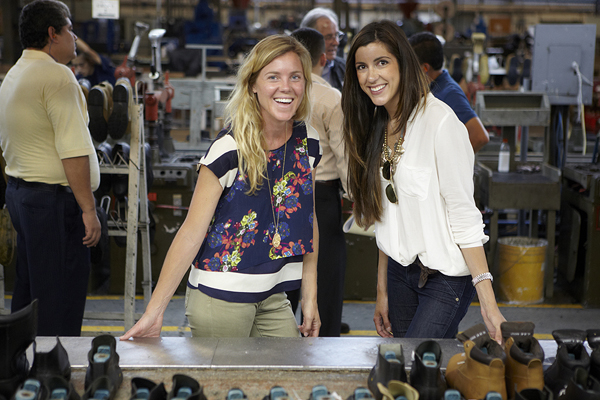 Cristina Palomo (right) with business partner Megan Papay on a visit to their factories.
Today's Alumni Update is with Cristina Palomo, whose new shoe line, FRĒDA SALVADOR, has us head over heels! FRĒDA, which she designs with her business partner Megan Papay, offers an array of gorgeous flats and boots in supple leathers and soft pony hair, proving that you don't have to sacrifice comfort for amazing style. Cristina was kind enough to talk to Fashion School Daily about starting her own line, finding inspiration, and the most important things she learned as a student!
What was your major and year you graduated?
In 2007, I graduated from the University of San Diego with a Bachelor's degree in Business Administration, an emphasis in Marketing and a minor in Italian. In 2010, I graduated with a MFA in Fashion Merchandising from Academy of Art University. During the Fall 2009 semester, I moved to Italy to study Technical Footwear Design and Construction at Ars Suttoria School in Milan.
What job(s) did you hold after graduation?
After graduating from undergraduate school, I worked at Neiman Marcus in the Personal Shopping department. After a year, I decided to go back to school and enrolled at Academy of Art University to receive my MFA. After graduation, I worked for local footwear brand Anyi Lu as an associate designer. A year later, I set out to start my own line.
What prompted the idea to start your own shoe line?
I was born into a shoemaking family. My grandfather was a shoemaker and my father followed in his footsteps. For me, the smells of leather hides and freshly-made shoes are nostalgic. This career path was inevitable for me.
When it came time to launch my own collection, my business partner, Megan Papay, and I felt that two things were missing from women's footwear…the first was affordable luxury.  FRĒDA SALVADOR was built on the belief that high design and luxury materials should be accessible at a contemporary price point.  We hand-selected the highest quality leathers from Brazil and Italy, knowing that they will get better with wear.  Our shoes are meant to last season after season, year after year and still look great.
The second missing category was flats and boots as "statement pieces"!  For so long now women have been investing in statement heels and then buying ballerinas to keep in their handbag.  We wanted to offer flats and boots that excite women just as much as their favorite pair of heels.  Flats and boots that "make your outfit."  Flats and boots that look polished, sexy, feminine and kick-ass all at once.
Follow the jump to read more!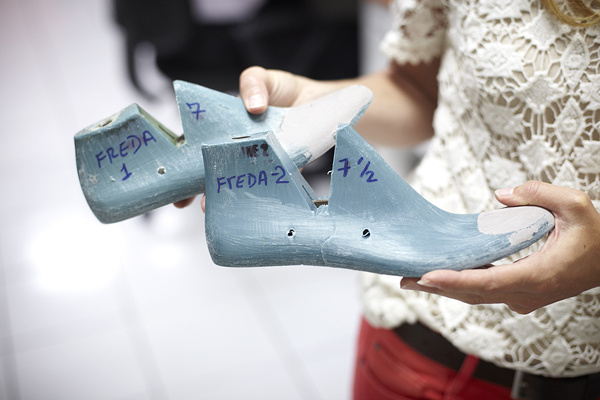 Lasts (shoe forms) at the factory.
How did you come up with the name FRĒDA SALVADOR?
Megan and I felt strongly about creating a "fictional" woman that embodies strength, individuality, confidence and power.  We wanted our name to be bigger than us…Anyone can be FRĒDA SALVADOR…you, me, our customers…anyone.  We want our women to feel like they are the brand.
The name FRĒDA came from our mutual obsession with the life of Frida Kahlo. She embodied passion, determination, and strength. FRĒDA is also a play on words. Phonetically it sounds like "Free to" or "Free the." We name our styles nouns or verbs that would be fitting to the end of these phrases, such as FRĒDA LIVE and FRĒDA BE. SALVADOR is a way of paying homage to El Salvador, where I am from as well as where the shoes are manufactured.
How would you describe the brand's DNA and the FRĒDA SALVADOR customer?
The FRĒDA SALVADOR brand is about individuality and self expression through style.   We celebrate adventure and journey, therefore we offer statement shoes that are made to be worn!
The FRĒDA SALVADOR woman is urban, expressive, confident, stylish, busy, daring and sophisticated, likes to travel, enjoys art, fashion, food, wine…enjoys life!  She is on the go more often then not, and wants to look stylish, even if she is just running into the market. Clothes matter, shoes matter, because they are her silent way of saying, "this is who I am."
What was your inspiration for the fall collection?
Our inspirations for Fall 2012 came from how much traveling Megan and I do together.  We are constantly visiting our factories and suppliers in Europe and Latin America, where we visit our favorite stores, linger at cafes…just people watch.  Italian style specifically had a big influence on our collection.  BUT, we are also very California!  Our studio is in Sausalito, which still has that 60's/70's hippie/rocker vibe.  Individuality is encouraged and celebrated. There is just a "lifestyle" here that is so powerful…art, music, food, and wine are all a big part of our lives. We design shoes that we want to wear everyday to just…live….and look good!
What have been the most challenging and most exciting aspects of starting your own company?
Starting our own business and brand was something we both dreamed of for so long.
Designing and all things associated with the process came very natural to us. It is where our strengths lie…what we are good at.
Our biggest challenge has been knowing when to relinquish control and delegate other matters to other people. We live in a world where time is hindering and we are not able to do it all…we have to let go and allow for others to do what they do best which allows us to focus on what we do best…designing. This was challenging since FREDA SALVADOR is our "baby".. and letting go can sometimes be scary.
Our biggest achievement and what we are most excited about was finding the right people who shared our vision. We have a fabulous showroom and sales team, an amazing PR firm, and someone helping us with business and operations. Because of this, we've been able to focus on designing a collection we are very proud of.
What tools did you learn in school that you use now? And is there anything you wish you had spent more time studying when you were a student?
At the end of the day FRĒDA SALVADOR is a business not just a brand. As much as our passion lies in designing, we also have to be really smart business people. We have relationships with retailers like Saks Fifth Avenue and Anthropologie, that depend on our good business choices not just our creative choices. We have to provide them with a product that is high in quality, delivered on time, and will sell.
Researching and interpreting trends is a daily activity in our studio. Setting up tech packs and sourcing the right suppliers is essential season after season. Constantly staying on top of our finances is imperative for us as a start-up. These are all tools I learned in school.
Because math does not come natural to me, I wish I had spent more time with Judi Toerge!
What advice would you give to anyone looking to start their own line?
Make sure you are passionate about what you are offering!  There is SO MUCH WORK involved and when it is your own business, a lot of the work involved is stuff you may not enjoy doing.  I feel very lucky because even on the hardest, most frustrating days I never lose my passion for FRĒDA…I never lose sight that I love my job and my company and that it is all worth it.  There is never that feeling of wanting to throw in the towel…in fact, every challenge has made me work harder!
What is on the horizon for Freda Salvador?
FRĒDA NATION!  Of course we have dreams to see FRĒDA take the world by storm.  At the moment we are channeling that excitement into our debut collection of Fall 12 and then Resort and Spring 13.  We can only look out so far right now because we want to give proper attention to the "here and now".  We are excited about the addition of wedges and sandals for Spring 13, but most excited about having a successful debut season this August.
Click through for a preview of their debut collection!
[imagebrowser id=10]
And be sure to follow FRĒDA SALVADOR on Facebook, Tumblr, Twitter, and Pinterest!
For more Alumni Updates, click here.