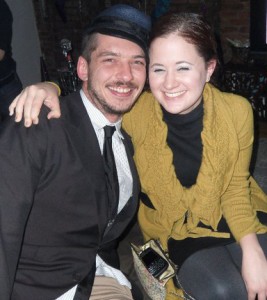 Fashion School Daily caught up with Andrew Wedge and Amelia Statler, two 2010 B.F.A. Fashion Design Graduates trying to stay warm in New York City.
What are you doing?
ANDREW: I am currently interning for Oscar De La Renta in their furs division.
AMELIA: I am interning at Vena Cava and looking for full-time/freelance design work. I previously interned with Diane von Furstenberg and Elisa Palomino.
Have you been working longer hours as Fashion Week approaches?
ANDREW: It's getting pretty crazy, but honestly, the hours are always very long at Oscar. I spend anywhere from 9-13 hours a day in the studio, depending on how the collection is coming along. So far it's been an incredible experience. Everyone on the team is extremely talented and knowledgeable, and the time and love that goes into each piece is astounding.
AMELIA: Vena Cava has pretty set hours but things have been more hectic. I have been doing more pattern making, cutting fabric, and running to and from factories.
How cold has it been there lately?
ANDREW: Miserably cold, I have never experienced such a cold winter. The key is long underwear!
AMELIA: NYC has been FREEZING. There has been snow on the ground for over a month and every day is below 40 at least!
What is a must have item for your closet living in NYC?
ANDREW: Oscar De La Renta fur! Shameless promotion for Oscar aside, I'd say it's important to mix up your closet in NYC. It's important to have your basic black pieces, but also you have to have fun with your wardrobe, and mix in unique pieces. I've been going through a weird overall phase out here, so lots of vintage military overalls are making their way into my closet.
AMELIA: My heavy Diane von Furstenberg coat and American Apparel nylon leggings. I wear them under pants or tights. Many layers are a must here.
What is your favorite thing about NYC?
ANDREW: My view from my bedroom window definitely. I am living in the East Village and my window looks right out onto the Empire State Building, it's incredibly beautiful.
AMELIA: My favorite thing about NYC is how many interesting creative types there are here as well as countless museums and galleries. There are never ending sources of inspiration to be found all over the city and I have learned so much since coming here.