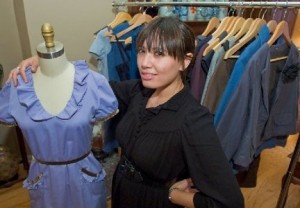 School of Fashion alumna, Elsa Brodmann recently appeared in the New Orleans paper, the Times-Picayune where she talked about her line Ottilie Brodmann and her work in the industry. Here's a little snippet of what she said in the article:
When Elsa Brodmann was growing up, her parents wouldn't let her watch much TV. When she did get a chance to settle in front of the small screen, it often was tuned to old movies from the 1950s and '60s.
"Other girls my age had a crush on Luke Perry. I had a crush on Gene Kelly and James Cagney," said Brodmann, who changed her name from Jennifer to Elsa a few years ago, in part inspired by one of her favorite designers, Elsa Schiaparelli.
Brodmann's affection for old-school entertainment explains the vintage aesthetic that runs through her 2-year-old label, Ottilie Brodmann, (pronounced Oh-til-yah) named after her grandmother, a dressmaker in Germany. Photo by: Matthew Hinton/ The Times-Picayune
To read the entire article, click here.